Whether you're replacing an outdated AV receiver or adding your first one, you want more from the component than outstanding sound. Along with audio, you want a receiver that produces immersive images. It also helps if it allows for a flexible installation. Not everyone has their entertainment systems configured the same, and you want an AV receiver that seamlessly fits into your setup.
The Denon AVR-X3700H receiver seems to deliver everything you want and more. You get amazing audio and video quality, along with a flexible installation. It even has a low lag time for gamers. However, before you decide it's the perfect addition to your system it's a good idea to take a closer look at the receiver. (>>> Check it's current price on Amazon)
Denon AVR-X3700h Review of Specs:
There's a lot to like about this AV receiver from Denon, but you also want to make sure the component lives up to its' advertising.
Flexible Installation
You aren't limited on how you set up the receiver. Along with HDMI, USB, and ethernet ports, you also have outputs for a preamp and up to 11 speakers. You can use a wired or wireless setup and even a combination of both. You have the flexibility to configure your entertainment system the way you want.
With 9.2 channels you can have impressive surround sound in one room. You also have the option of using some of the channels for a different zone. Enjoy your favorite tunes in one area, while someone else watches a movie in another room. You can divide the channels between zones to play the same or different audio.
Audio Quality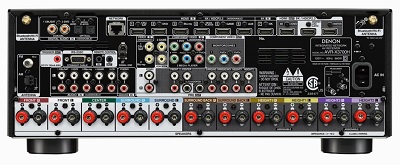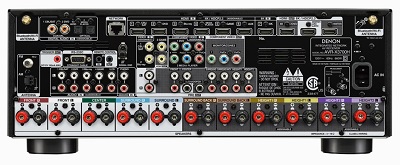 Each channel boasts 105-watts of power. You get clear audio with plenty of power to push sound throughout the room. You don't need to worry about dead zones with either a 5.1.4 or 7.1.2 speaker setup.
The AVR-X3700H receiver also comes with Dolby Atmos sound processing for more immersive audio. It also works with speakers in-ceiling and creates three-dimensional sound effects. With Dolby Atmos height virtualization, combined with DTS Virtual: X you don't need high or ceiling mounted speakers to fill the room with great sounding audio.
Image Quality
Not everyone considers image quality when they're shopping for an AV receiver, but it will affect your visual experience once it's connected to your entertainment system. You won't have a problem with image quality from the Denon AV receiver.
You'll enjoy realistic, vibrant colors and crisp details from discs and streaming content. The receiver automatically converts analog to HDMI video. It also upscales compatible content from HD to either Ultra-HD, 4K, or 8K resolution. Whether you're watching a movie or playing a game you won't have any problems seeing the on-screen action. This Marantz SR6015 vs Denon AVR-X3700H comparison might be relevant too.
Consumer Impressions
Once consumers get past its sturdy weight, the receiver weighs over 27 pounds, they appreciate it's flexible and easy installation. The large number of ports combined with the receiver's wireless capabilities makes it easy to connect apps and devices. It also produces audio and video that no one can complain about.
Pros
Flexible installation
Video upscaling compatibility
Dolby Atmos supported sound
Wired and wireless connectivity
Multiple, powerful channels
Cons
Even though input lag is acceptable for gamers, the receiver is not compatible with all 4K/120Hz pass-throughs
You can not use different audio or video sources, USB, Bluetooth, or network, for separate zones
Conclusion
You can do more with an AV receiver than connect your stereo and TV. Now you can connect both wired and wireless devices, while also creating a surround sound experience in your home. When it's time to replace an old receiver or buy your first one, the Denon AVR-X3700H is worth taking a look at. (>>> Check it' current price on Bhphotovideo)
It is a hefty component, but it also comes with 9 105-watt channels. Along with multiple in/outputs, you can also wirelessly connect devices and download apps. With image upscaling, movies, shows, and games appear crisp and clear.
REFERENCES AND FURTHER READING: