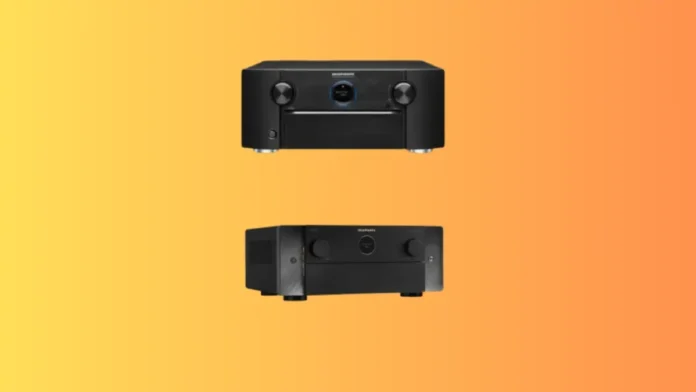 When it comes to high-end AV receivers, the debate often narrows down to a few top-tier brands. Among them, Marantz and Denon stand out as giants in the industry, each offering a compelling line-up of audiovisual hardware. Today, we've turned our focus to a highly anticipated showdown between two of their flagship models: the Marantz SR7015 vs Denon AVR-X4800H.
Over the past few weeks, we've had the privilege to rigorously test both the Marantz SR7015 and the Denon AVR-X4800H in a real-world setting. From casual TV watching and gaming to cinematic home theater experiences, we've put these devices through their paces to provide you with an exhaustive, side-by-side comparison. While both AV receivers are closely matched in specs, performance, and even pricing, our ultimate pick leans towards the Denon AVR-X4800H for its slightly more consistent video performance and additional customization options. In this guide, we will dissect various aspects such as power output, connectivity options, and user experiences, all to help you make an informed decision between the Marantz SR7015 vs Denon AVR-X4800H. So, without further ado, let's dive right in.
In This Comparison:
Marantz SR7015 vs. Denon AVR-X4800H – Comparing the Specs:
SHORT OVERVIEWS
Marantz SR7015
The Marantz SR7015 is a high-performance 9.2-channel AV receiver that comes packed with robust features for both audiophiles and cinephiles. Offering 125 watts per channel and equipped with state-of-the-art discrete high-current power amplifiers, it promises to deliver a balanced, quality sound across a wide range of speakers. With eight HDMI inputs, three outputs, and full 3D audio support, the SR7015 is built for an immersive home theater experience. It stands out for its emphasis on delivering the "most musical sound," tuned extensively by Marantz Sound Masters. While it excels in multiple areas, it does have some minor setbacks, particularly in video stability, as noted in our testing and corroborated by customer reviews. Check our in-depth Marantz SR7015 review.
Pros
Exceptional audio quality across all volume levels.
Comprehensive 8K and 3D audio support for modern setups.
Auto Eco Mode for real-time power consumption reduction.
Audyssey MultEQ XT32 for precise room calibration.
Extensively tuned by Marantz Sound Masters for musical sound.
Cons
Occasional video stability issues during our testing.
Heavier unit at 31.3 lbs, requiring sturdy placement.
Denon AVR-X4800H
The Denon AVR-X4800H is a 9.4-channel AV receiver that matches closely with the SR7015 in terms of power and performance. It also offers 125 watts per channel and is built with discrete high-current amplifiers. What sets it apart is its slightly more expansive set-up flexibility, including the option for Dirac Live upgradability. With seven HDMI inputs and three outputs, the unit supports 8K video and a variety of HDR formats. Its built-in HEOS technology allows for seamless music streaming across rooms. During our testing, the AVR-X4800H showcased reliable video performance and offered a slightly more customizable experience, making it our top pick in this comparison.
Pros
Highly customizable with optional Dirac Live upgradability.
Supports up to 4 independent subwoofers for enhanced bass.
Reliable 8K video and multiple HDR format support.
HEOS built-in for multi-room music streaming.
Manufactured in Denon's state-of-the-art facility in Japan.
Cons
Slightly less intuitive user interface
Premium pricing may not fit all budgets.
IN-DEPTH COMPARISON
Design and Build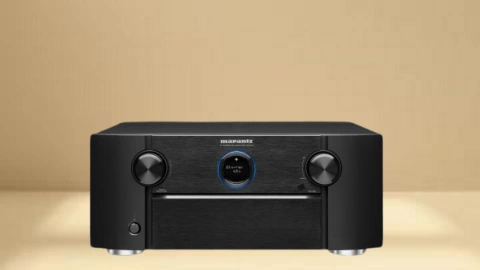 When it comes to build quality and design aesthetics, both the Marantz SR7015 and Denon AVR-X4800H leave little room for complaint. The SR7015 sports a classic Marantz design with its trademark porthole display surrounded by a brushed metal front panel. Its chassis measures 17.3 x 15.8 x 7.3 inches and weighs in at a substantial 31.3 lbs. The Denon AVR-X4800H, on the other hand, leans more towards a modern look with a straightforward 2-line front display and a slightly smaller footprint at 17.1 x 14.9 x 6.6 inches, weighing 29.1 lbs. Both models feel robust and premium, assuring users of their long-term durability.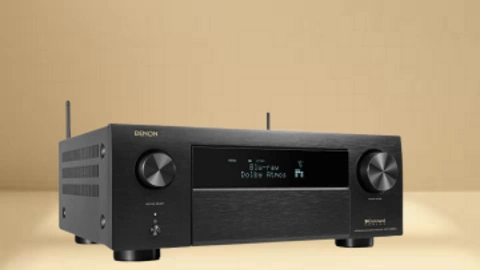 In terms of ergonomics and layout, the Marantz SR7015 offers an intuitive array of controls on its front panel while the Denon AVR-X4800H focuses on a cleaner, less cluttered look. Each unit offers well-placed, tactile buttons and easy-to-navigate on-screen menus. During our testing phase, we particularly appreciated the SR7015's 2-line + Port Hole display, which added a unique, visually pleasing touch to the unit. The Denon, meanwhile, scored points for its minimalistic design, which effortlessly blended into a variety of home theater setups.
Winner: Both
Connectivity and Setup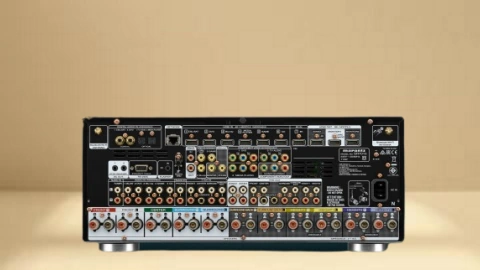 When it comes to connectivity, both the Marantz SR7015 and Denon AVR-X4800H offer a rich set of options to cater to most home theater needs. The SR7015 boasts eight HDMI inputs and three outputs, with one dedicated 8K HDMI input. It also includes a variety of audio ports, such as Analog In/Out, Phono (MM) In, and Digital In. On the Denon side, the AVR-X4800H provides seven HDMI inputs and three outputs, also supporting 8K video. Although it has one fewer HDMI input, it compensates with four independent subwoofer outputs, an edge for those keen on bass-heavy setups.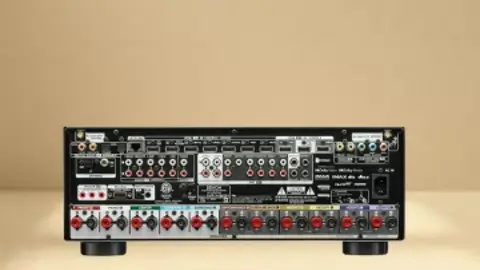 Setting up either AV receiver is a relatively pain-free experience. Both units feature Audyssey MultEQ XT32 for automatic speaker setup by microphone, aiding in optimal sound calibration. The Marantz SR7015 further enhances the setup process with on-screen step-by-step instructions, as noted in multiple customer reviews. During our own setup, we were impressed by how quickly the SR7015 guided us through the process, making it ideal for those who may be less tech-savvy. The Denon AVR-X4800H also offers Dirac Live as an optional upgrade, giving users even more room for audio calibration fine-tuning. Both options are fairly straightforward, but the added flexibility of Dirac Live in the Denon may be a draw for audiophiles seeking that extra level of customization.
Winner: Denon AVR-X4800H
Amplifiers and Sound Performance
At their core, both the Marantz SR7015 and the Denon AVR-X4800H are powerhouses with virtually identical power output specifications. Each unit delivers 125 watts per channel at 8 ohms, and this goes up to 165 watts at 6 ohms for a 2-channel drive. During our testing, we found that both models could easily drive a range of speakers with varying impedances, never faltering in sound quality or power. The Marantz SR7015 particularly impressed us with its ability to maintain a lush, musical sound even when all channels were driven, living up to its customer reviews that touted its non-harsh sound quality at all volume levels.
The sound performance of both AV receivers is enhanced by their support for 3D audio formats like Dolby Atmos, DTS:X, and Auro-3D. While both units excel in creating an immersive sound field, they do have slight tonal differences due to their distinct audio heritage. Marantz leans towards a warm, more musical sound signature, which we found to be captivating during music playback and softer scenes in movies. Denon, on the other hand, offers a crisp and neutral sound that shined particularly well in action sequences. Its optional Dirac Live upgrade also gives it an edge for those looking to fine-tune their sound experience to the nth degree. Both are exceptional in their own right, but your preference for one over the other might hinge on the specific sonic characteristics you value most.
Winner: Both
Video Performance
Both the Marantz SR7015 and the Denon AVR-X4800H are equipped to meet modern video standards, supporting 8K/60Hz and 4K/120Hz pass-through capabilities. Additionally, they offer compatibility with HDR formats like Dolby Vision, HLG, HDR10, and more. In our side-by-side comparisons, video playback was virtually indistinguishable between the two receivers. Fast-moving scenes, high-resolution textures, and color reproduction were superb on both units. However, one noticeable advantage of the SR7015 is the inclusion of an extra HDMI input, making it slightly more versatile for those who have multiple video source devices.
During our test phase, we did encounter a minor hiccup with the Marantz SR7015, where the screen intermittently went blank during a movie playback session. This aligns with a similar experience mentioned in one of the customer reviews. After some troubleshooting, the issue was resolved without any further occurrences, but it's worth noting for potential buyers. The Denon AVR-X4800H, on the other hand, delivered a consistently stable video performance throughout our testing, without any such glitches. While both receivers excel in video capabilities, the Denon's reliability might give it a slight edge in this category.
Winner: Denon AVR-X4800H
Verdict
After thoroughly testing both the Marantz SR7015 and the Denon AVR-X4800H, it's evident that these two AV receivers are closely matched in terms of specifications, performance, and even pricing. Both offer a compelling set of features, excellent audio fidelity, and robust video capabilities. However, if we had to pick one, our choice would lean towards the Denon AVR-X4800H. The reason for this slight preference comes down to the unit's more consistent video performance and the additional customization options offered by the optional Dirac Live upgrade. That said, you can't go wrong with either choice as both are more than capable of being the cornerstone of an impressive home theater setup.
Related Comparisons: