A 7.2-channel speaker system is the ideal size for many home theaters and entertainment spaces. We've picked out the best 7.2 receiver models and compared them side-by-side so you can choose the one that best fits your home. As you'll see, each one excels in different areas and all of them have strengths that could make them the best receiver for you.
Best 7.2 Receiver 2023 – Top picks:
Home Theater
The quality of the video and audio signals matters most of all the factors when you're buying a receiver for a home theater. You want a receiver that can support at least 4K signals, and many of today's receivers go a step further and offer 8K support, which can keep them from becoming obsolete as cinema technology improves.
All of the receivers on this list can function well in a home theater. The Marantz Cinema 60 goes beyond 8K support to also offer 8K upscaling on half its HDMI inputs. The Denon AVR-S960H goes a step further, with 8K upscaling available on all its HDMI ports and support for cinematic audio through Dolby Atmos and DTS:X.
Best home theater receiver: Denon AVR-S960H
Music
A receiver with discrete amplifiers for each audio channel is the first thing you should look for if you want a true high-fidelity sound. The amount of power that goes to each channel is important, too. More power means you can push the speakers harder without distortion, ultimately giving you a louder output without any change in audio quality.
Most Denon receivers, including the AVR-X2800H and AVR-X760H, have Audyssey MultEQ room correction and compressed music enhancement features, ensuring music sounds its best in any space, regardless of the file format. However, the Parametric Acoustic Optimizer (YPAO) used by the Yamaha RX-V6A gives it the lead over its competition from a music listening standpoint. This analyzes your listening area, reducing dead spots and evening the sound across the space so you'll hear your music the way it was intended no matter where you are in the room.
Best receiver for music: Yamaha RX-V6A
Gaming
Gamers want a good picture and sound quality just like home theater users, but there's another factor to consider: lag time. Receivers with technology like Quick Frame Transport (QFT), Auto Low Latency Mode (ALLM), and a Variable Refresh Rate (VRR) won't add lag or introduce issues like frame tearing, giving you the same smooth playing experience you'd have straight through your TV.
The frame rate is another key consideration for gamers. A receiver with a 120Hz or higher frame rate at 4K will give the smoothest game play and reduce the risk of issues like frame tearing. The Denon AVR-S760H and AVR-X2800H both offer this, along with the lag reduction technology above. Their only drawback is that they sometimes have issues connecting to the latest-generation systems, particularly the Xbox series X. That's not an issue reported for the Marantz Cinema 60, which matches those Denon receivers for responsiveness, making it a great choice for gaming through any platform.
Best receiver for gaming: Marantz Cinema 60
Smart Features
Most receivers on the market today are at the least compatible with a voice control service or two, and can be wirelessly connected to speakers in other rooms using services like MusicCast, HEOS, or AirPlay2.
Those who are looking for full smart home integration from their receiver will want to look at a Denon model. Along with voice control, they support services like Control4 SDPP that simplify automation routines.
Best smart features: Denon AVR-X2800H
---
Denon AVR-X2800H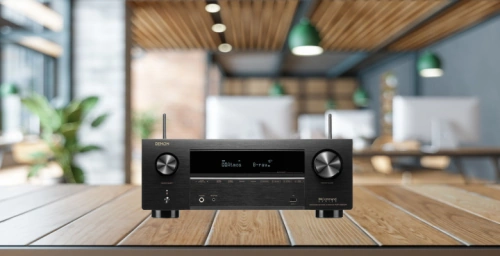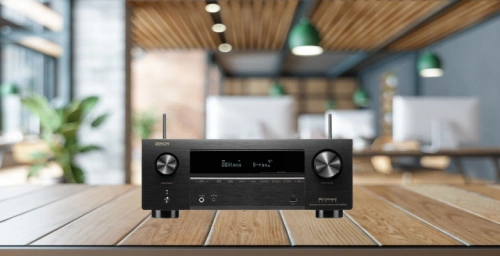 The Denon AVR-X2800H brings powerful sound to any space. Its discrete 7-channel amplifier drives speakers with up to 95 watts per channel, with Audyssey MultEQ calibration to fine-tune the sound. It also supports the technology for immersive 3D sound, including Dolby Atmos Height Virtualization and multiple DTS formats. Support for HEOS multi-room music means you can enjoy that same high quality sound in multiple rooms at once and control them easily through the HEOS app.
The visual performance of the Denon AVR-X2800H is just as impressive. Three of its six HDMI inputs support 8K/60Hz pass-through, with 4K/120Hz pass-through available for all inputs. This is paired with support for HDR10+, Dolby Vision, and HLG, ensuring the accuracy and realism of everything you watch through it.
The AVR-X2800H also gets high marks from a usability standpoint. The included microphone gives it automatic sound calibration capability, precisely adjusting the speaker output to match the needs of the space. Unfortunately that microphone can't be used for voice control. It supports services like Amazon Alexa and Google Assistant but you'll need a third-party device to use them. On the plus side, it also supports home automation services like Josh.ai, and can be controlled using your phone through the Denon AVR Remote app.
Pros
Powerful, high-quality sound output
Multiple 3D sound formats
Automatic sound calibration
Video resolutions up to 8K
Works with multiple home automation services
Multi-room music capability
Cons
No built-in microphone for voice control
Only 3 HDMI ports offer 8K support
Full review: Denon AVR-X2800H
---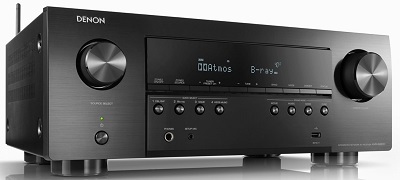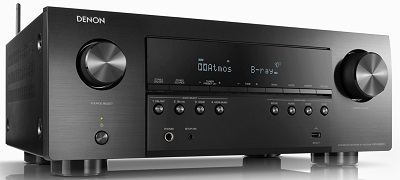 In terms of the display and build, the Denon AVR-S960H looks very similar to the X2700H above, and gets similarly high marks for usability. Support for 3D audio and an 8K/60Hz pass-through give it good performance in both home theater and gaming applications, especially since it can upscale content to 8K if you have a suitable projector or TV.
The Denon AVR-S960H is a great choice for listening rooms. Each of its 7.2 channels has a discrete 90-watt power amplifier to support a wide array of speakers and ensure the integrity of the sound signal. In Auto Eco Mode, it automatically adjusts the output based on volume settings, saving on energy costs when you don't need the drivers at full power.
The hands-free control options of the Denon AVR-S960H are broad, with support for most popular voice control and automation systems. It also offers wireless speaker connections through HEOS so you can coordinate the speakers across your home, so it's use isn't just limited to your home theater.
Pros
8K upscaling on all HDMI ports
Discrete amplifiers improve audio quality
Auto Eco Mode optimizes sound and power usage
Immersive 3D audio
Lag-free gaming
Supports voice control and automation systems
Built-in multi-room music
Cons
Lower maximum speaker output
---
Marantz Cinema 60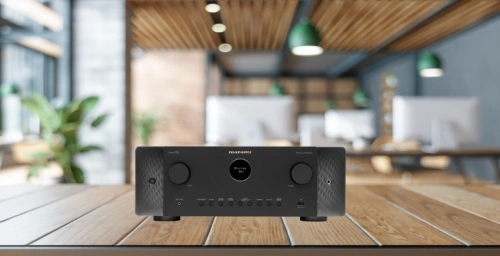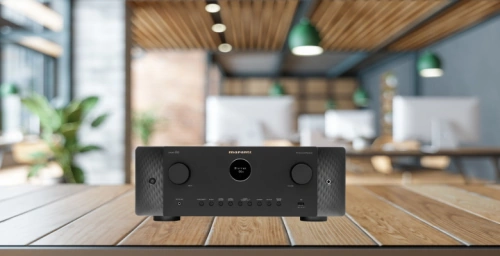 For the ultimate visual quality from your home theater content, the Marantz Cinema 60 is the top receiver on our list. Not only does it support 8K resolution, it can upscale 4K or 1080p content to near 8K quality. It also supports the full array of video signal technology like HLG and HDR10+, ensuring the contrast and color are as impressive as the picture detail.
The range of features on the Marantz Cinema 60 make it a very versatile receiver. Gamers will appreciate its lag-reduction features, while music lovers can enjoy their favorite songs easily thanks to built-in streaming through services like Pandora, Spotify, and SiriusXM. It also supports HEOS multi-room music and is compatible with voice assistants like Apple HomePod or Amazon Alexa.
The Marantz Cinema 60 delivers on the audio quality, as well. It supports Dolby and DTS multi-channel surround sound, including Height Virtualization upmixing, with Audyssey automatic room measurement to optimize that sound to your home theater space. Its proprietary HDAM amplification makes it an especially great choice for listening to music, with a MDAX2 compressed audio enhancer to bring the highest quality to file formats like MP3.
Pros
8K resolution with upscaling
Exceptional 3D sound
Audyssey MultiEQ room correction
Low lag for gaming
Supports multiple streaming and voice control services
HEOS multi-room music
Easy control through Marantz remote app
Cons
8K only available on 3 HDMI ports
Fewer 3D sound options than other receivers
---
Yamaha RX-V6A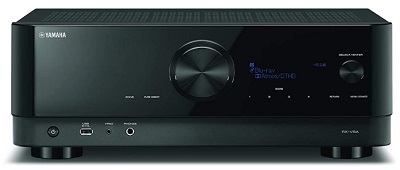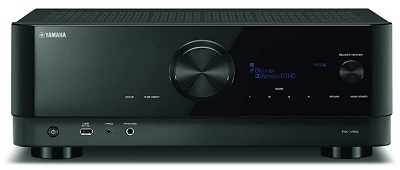 The Yamaha RX-V6A is a great receiver for those who want high audio quality at the best possible value. Its YPAO system (Yamaha Parametric Room Acoustic Optimizer) measures the sound quality across the room and adjusts accordingly, giving you a sound that's perfectly matched to your space without the need for manual configuration.
From a home theater and gaming standpoint, the Yamaha RX-V6A matches the performance of the receivers above. This includes low lag and high refresh rate for gamers, as well as 8K upscaling and support for visual technology like HDR10+.
The Yamaha RX-V6A is an ideal option for people who like streaming music, working with services like SiriusXM, TIDAL, Amazon Music, Pandora, and many others. It has other wireless control and connection options, too, with support for MusicCast multi-room music and voice control through Siri, Alexa, or Google Assistant. The flip side of this is that its wired inputs and outputs are limited, so it may not be the best choice for more complicated home theater setups. For our more in-depth review of the Yamaha RX-V6A click here.
Pros
Strong visual quality and gaming performance
Wirelessly connect speakers through MusicCast
Automatically optimizes sound to suit your space
Supports a wide array of music streaming services
Voice control compatible
Cons
Limited wired inputs and outputs
---


Many 7.2-channel receivers are on the bulky side, and that can make it a challenge to find one for a smaller entertainment system. The Marantz R1711 has a slim, compact design perfect for rooms where space is at a premium, while still giving users a wide array of wired inputs and a large, detailed display for adjusting inputs and settings.
The Marantz NR1711 has the video technology support most look for in a modern home theater receiver, with 8K upscaling through the HDMI ports and Quick Media Switching to eliminate video delays. It also supports audio technology like DTS and Dolby Audio, with Height Virtualization for 3D sound. Its only weakness from a sound standpoint is its power. Each audio channel has a discrete amplifier, but each is only driven by 50 watts. This lowers the maximum volume before the sound starts to distort, something that will mostly be a concern in larger rooms.
The remote and front display of the Marantz NR1711 are intuitive to learn and use, making this a convenient choice from a usability standpoint as well. It also has full voice control support through Google, Siri, Alexa, and Josh.ai, so it's easy to integrate into most smart homes.
Pros
8K video upscaling with HDR
Realistic, 3D sound for music and movies
Extensive connectivity options
Slim, space-saving profile
Auto Eco Mode reduces the power consumption
Voice control and home automation capability
Cons
May be prone to distortion at higher volumes
---
Denon AVR-S760H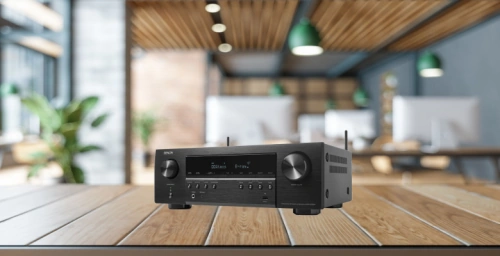 If you need 7.2-channel sound on a budget, the Denon AVR-S760H is a receiver you should know about. It brings users discrete 7-channel amplifier and 3D sound through Dolby TrueHD, Dolby Atmos Height Virtualization, or DTS for a very affordable price. The main thing you'll sacrifice for that low cost is power, and its 75 watts per channel is among the lowest on the list. Having said that, though, it can still drive most speakers to fill a small to medium-sized home theater space with sound.
The 8K support of the Denon AVR-S760H is especially impressive for the price. Three of its HDMI inputs have an 8K/60Hz pass-through, while all of them support lag-reduction technology like ALLM and VRR that make it a smart choice for gaming.
We also appreciate how easy the Denon AVR-S760H is to set up and use. The built-in Setup Assistant provides step-by-step guidance that even a complete beginner can understand. Features like the Dialogue Enhancer and Audyssey Dynamic EQ and Dynamic Volume make it easy to optimize the sound to your space and content. To control the receiver, you can use the included remote, the Denon remote app, or voice commands through services like Alexa, Google Assistant, Siri, or Josh.ai.
Pros
Video resolutions up to 8K
7-channel amplifier with 3D sound support
Audyssey dynamic EQ and MultEQ sound adjustment
Low lag for gaming
Easy to set up and use
Compatible with multiple voice control agents
Cons
Less power per channel than other options
8K not supported on all HDMI ports
Full review: Denon AVR-S760H
---
What's the Verdict?
The differences between these receivers are often subtle. While the Yamaha RX-V6A is the overall best choice for music listening (>>> Find on Amazon.com), for example, the 8K resolution and 3D sound support of the Denon AVR-X2800H and AVR-S960H make them a better choice in a home theater. For value, the combination of low cost and impressive features on the Denon AVR-S760H making it very appealing for home theater owners on a budget.
The bottom line is, there's no one perfect receiver—it's all about what fits best in your home. We hope the reviews and comparisons here can be a guide as you're looking for your ideal receiver.
FAQs
What does 7.2 mean on a receiver?
This refers to the number of distinct audio channels it can handle, something that's particularly important in a home theater context. The first number refers to speaker channels while the second is subwoofer channels. A 7.2-channel receiver can send 7 discrete speaker channels, along with 2 discrete subwoofer channels.
What is the difference between a 7.2 and a 7.1 receiver?
A 7.2-channel receiver has an additional subwoofer channel compared to a 7.1-channel receiver. In a single space, that means more low-end power from your sound system, especially in larger rooms where a single subwoofer may not provide enough volume. This also allows for the receiver to have a separate subwoofer in multi-room setups, for example a 5.1-channel system in the home theater and 2.1-channel sound in another room for music.
Do you need 7.2 for Dolby Atmos?
Not necessarily. The minimum for Dolby Atmos surround sound is a 5.1-channel system, with five speaker channels and one subwoofer. The main advantage of 7 speaker channels is for 3D surround sound, with the extra two speakers mounted overhead in a 5.1.2 configuration.