Marantz is one of the most respectable names in home theater sound. They are known for great sounding units that are durable and performance-oriented. The Marantz NR1711 looks to fill a niche in the market by providing full-size features in a slim chassis that can fit on smaller entertainment centers. This review will examine the pros and cons of the Marantz NR1711 receiver so you will know whether it is the right AVR for you. (>>> Check on Amazon)
Marantz NR1711 Review of Specifications:
Audio Playback
The NR1711 is a 7.2 channel setup you can configure for multiple different scenarios including 5.1 and 2.1. All seven channels feature 50 watts RMS of power, so you know that this unit rocks. Audio capabilities include Dolby Atmos with Height Visualization and the best available surround sound realism. If you have never heard a Marantz receiver before, be prepared for an immersive sound so clear and full, it seems like you can touch it.
Built-in HEOS connectivity allows you to create tw zones in different areas to expand your music listening options even further. With wireless HEOS speakers, you can play music in one room while watching movies in another.
This is an excellent starter AVR. It offers the ability to expand your system as you purchase speakers and lets you get fantastic sound quality with a small 2.1 system in the meantime.
Video Playback
Video playback is capable of upscaling to a full 8k resolution to give you the best possible image quality available today. Six HDMI ports offer upscaling to UHD 4k resolution and frame rates as fast as 120 Hz. Not only will you watch the newest DVDs and Blu-Ray discs in stunning, high-definition color, your video game experience will be next level.
You'll find all of the high-quality features you'd expect on higher-priced options including HDR10 and HDR10+. You'll see your old favorites in a new way and notice details you've never seen before when watching video on this unit.
Pros
Discrete design
2 channels
Dolby Atmos technology
Vibrant images
Power-saving mode
Cons
The A/V receiver may not be powerful enough for larger areas
Connectivity Features
This receiver is an excellent centerpiece for expanding your playback options. It works with Sony Playstation 5, xBox Series X, turntables, karaoke machines, and other ways you enjoy music and video. It makes a fantastic compliment to a projector, too. You'll get the most amazing images on a big screen when you run video through a projector.
Your favorite Assistant programs are all compatible. You can use Amazon Alexa, Google Assistant, and Apple Siri through AirPlay 2 to control your receiver. Built in Bluetooth 5.0 and WiFi make it a snap to stream music from popular apps like Pandora, Spotify, or even from MP3 players.
Setup and Tuning
Setup can be a bit of a challenge with any multi-channel AVR and this unit is no different. You will use a built-in microphone and follow on-screen prompts to set and adjust the speakers in your configuration for the most optimal sound. The Marantz system works well, but is a source of frustration for people who are not tech-savvy.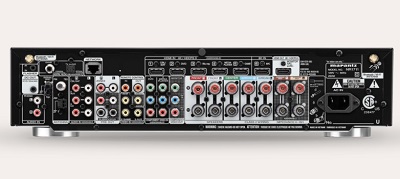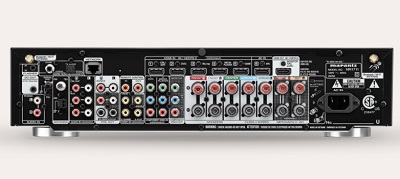 Known Issues
Many buyers of this receiver report that in order for you to get the most out of it, you'll need to have compatible equipment. In some cases, you only need new HDMI cables capable of handling 2.1 protocol. In other instances, you may need to buy a new television. Several people report issues using computer monitors and older televisions when attempting to use video game devices. The most common problems include dropped video signal, static, and a failure to connect.
Customer service has become a sore spot for loyal Marantz fans over the years. Nearly every customer who reports contacting customer service has a negative or nonexistent experience. We think that no response to customer questions is even worse than bad responses, so this is something you should keep in mind. Marantz belongs to a conglomerate called Sound United that includes Polk Audio and Denon.
Conclusion
The Marantz NR1711 is an excellent slim-chassis AVR that is a perfect beginning point to building a larger system. It offers you the ability to expand with different speaker combinations, video and audio playback sources, and is ready for 8k resolution when it eventually goes mainstream. (>>> Find the  current price on Bhphotovideo)
This is a great buy for the experienced AVR user also, since it is somewhat cumbersome to set up and tune and may require periodic investigation as to the source of dropped signals, improper source connections, and other minor bugs.
If there is one big knock against this unit it's that customer service isn't taking care of customer issues. Other than that particular problem, the Marantz NR1711 is a fantastic entry-level home theater receiver with the features you want most at a reasonable price point.
REFERENCES AND FURTHER READING: