You expect a lot from an A/V receiver. In a sense, it is the heart of your entertainment system. How it performs affects audio and video quality.
Poor performance is something you won't have an issue with from these two receivers. Comparing the Denon ACR-X2700H vs the Marantz NR1711, you'll quickly see you have nothing to worry about. You get Dolby Atmos sound, a dynamic picture, along with the other features you expect like voice control and multi-room technology.
Both AV receiver models are worth taking a look at, but there are a few differences. You will get a more powerful sound from the Denon AVR-X2700H (>>> Check on Amazon), but the NR1711 comes with an Eco mode that reduces energy usage. You may be able to make a choice based on first impressions, but it's still a good idea to know a little more about the components.
Denon AVR-X2700H vs Marantz NR1711 Side by Side:
You'll notice that you get many of the same features when comparing the Denon AVR-X2700H vs Marantz NR117, but they also have a few differences that may make one a better fit in your home.
Audio Quality
With Dolby Atmos and Height Virtualization, audio is crisp and clear. These technologies work to recreate the three-dimensional playback to put you in the middle of the music no matter where you are sitting. DTS:X, DTS HD Master, and Virtual technology further optimize your home theater audio.
You get the same number of channels with both the Denon AVR-X2700H and the Marantz NR1711, but they differ in power. With the Denon AVR-X2700H, you get 95 watts per channel with a four-ohm impedance. The Marantz NR1711 advertises only 50 watts per channel with the same resistance.
The technical similarities of the Denon AVR-X2700H vs Marantz NR1711 are not surprising since the two brands are both owned by the same company. The primary difference that matters is the sound. Both have excellent sound quality and range. The Denon AVR-X2700H has a sound that is described as warm and laid-back. Marantz was designed around proper tone and is often described as having an enveloping sound quality.
Both models use the same Audyssey MultiEQ program for auto speaker calibration that ensures your music playback is immersive and moving. The Audyssey dynamic volume and the Audyssey dynamic EQ offer all of the tuning flexibility that the average home theater enthusiast could ask for.
Better Audio Quality: Denon AVR-X2700H
Video Quality
The Denon AVR-X2700H vs Marantz NR1711 are evenly matched in video quality. All ports are 4k resolution at 60 Hz with video upscaling on one port to 8k at 60 Hz. Each AV receiver offers plenty of flexibility to connect your favorite devices in the most optimal way possible.
Both support Dolby Digital and Dolby Vision protocols to provide the most realistic image possible. A dedicated HDMI input allows you to connect with television using enhanced Audio Return Channel technology.
Special gaming modes are ideal for consoles and PC gaming systems. Both receivers offer ports to connect for 4k resolution at a blazing 120 Hz. Auto low latency mode and Variable refresh rate technology provide the most realistic and smooth graphics possible.
Better Video Quality: Denon AVR-X2700H & Marantz NR1711
Connectivity
The most common connections to either the Denon AVR-X2700H vs Marantz NR1711 will be via HDMI. The Denon AVR-X2700H provides two outputs compared to one offered by the Marantz NR1711 but both have six ports to connect sources.
In comparison, both the Denon AVR-X2700H and the Marantz NR1711 have similar options for sources. They offer a phono input for turn tables, digital and coaxial options, and assignable RCA ports to connect Blu-Ray players, gaming consoles, and other options.
Both the Marantz NR1711 and the Denon AVR-X2700H feature built-in Bluetooth and Wi-Fi that allow wireless streaming of audio sources using a smartphone. They are compatible with Spotify, Pandora, and other streaming services. Both offer voice control using Amazon Alexa or Google Assistant. Apple AirPlay 2 allows iOS users to connect with Siri.
Better Connectivity: Denon AVR-X2700H
---
Denon AVR-X2700H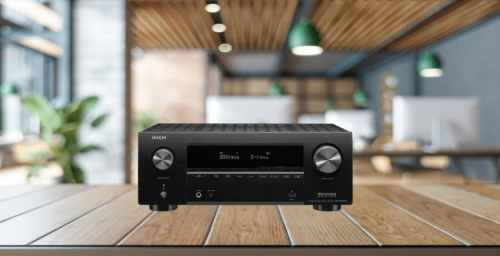 Get lost in 3D sound with the AVR-X2700X from Denon. Dolby Atmos ensures you hear crisp audio and clear dialogue. Add in Dolby Height Virtualization and DTS:X technology and you'll feel like you're sitting in the theater. It also means you don't need ceiling speakers for an immersive experience. Sound flows throughout the room thanks to 95 watts at 4 ohms.
Videos are just as impressive. Dynamic HDR and HDR10+ produce sharp colors and crisp details. A 120 Hz refresh rate keeps frames playing smoothly, along with the Quick Media Switching mode. A 4K passthrough delivers realistic images, and the A/V receiver is also 8K ready. You should know the receiver does not support all 4K content.
When it comes to setup, it's hard to beat the 7.2 channel X2700H. It comes with an award-winning Audyssey tuning system. You won't have any problems setting up the receiver and connecting your external components. With 6 HDMI ports, 2 outputs, and a USB port, you have plenty of connections.
Built-in HEOS technology allows you to set up your speakers in multiple rooms in your house. The Denon AVR-X2700H also comes with wireless streaming. You can stream the same or a different song to any room in your house. Voice-control compatible with Amazon Alexa, Google Assistant, and AirPlay with Siri makes it easy to control the receiver.
Pros
Offers a broad range of digital and analog signal options to hook up any device you want
Full support for Dolby Digital processing offers high-quality audio and video playback
Well-suited for a house with larger spaces
Cons
Larger size in comparison with the Marantz NR1711
---
Marantz NR1711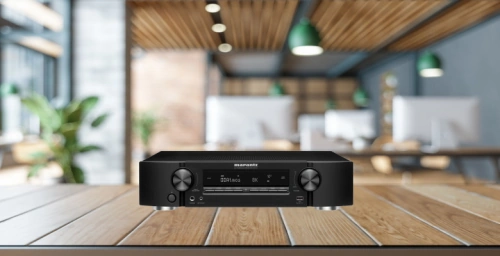 The Marantz NR1711 is a compact A/V receiver ideally-suited to spaces that require a compact component. It offers a 7.2 channel system that Marantz is advertising at 50 watts per channel with a four ohm load. That makes it more appropriate for bookshelf speakers rather than large floor standing units. Dual outputs provide signal for power subwoofers.
Quick Media Switching technology and a 120Hz refresh rate keep gaming content playing smoothly. Dynamic HDR, HDR10, and HDR10+ technology produce realistic images with vibrant colors. Gaming mode provides stutter free performance even from the most demanding games.
The Marantz NR1711 includes HEOS technology that lets you set up speakers in different rooms. Built-in support for voice control makes it a breeze to control the receiver. You also have multiple options on how you set the speakers up. You can choose a 2.1, 5.1, or 7.2 setup depending on your needs.
You have plenty of ports for external devices. There are 6 HDMI inputs and one going out. A 4K passthrough and 8K upscaling ensure the receiver won't become outdated.
Pros
Slim size makes installation in smaller spaces convenient without giving up features
Perfect design for enthusiasts looking to build a whole home experience
Excellent option for hooking up a turn table to get the most from that vintage vinyl collection
Cons
The A/V receiver may not be powerful enough for larger speakers
---
Conclusion
The Denon AVR-X2700H vs Marantz NR1711 comparison shows that the Denon model is more powerful and versatile. It is an AV receiver that can handle the highest resolution movies, produce stunning sound quality even from compressed sources, and offers advanced technology to meet the needs of gamers.
You have to listen carefully to hear much difference between the quality of the Marantz and Denon models we compared today. They both offer numerous options and processing features to create surround sound effects. The additional power and flexibility of speaker configurations of the Denon AVR-X2700H make it a winner over the Marantz NR1711 (>>> Find on ProjectorScreen.com).
REFERENCES AND FURTHER READING: