You expect a lot from an A/V receiver. In a sense, it is the heart of your entertainment system. How it performs affects audio and video quality.
Poor performance is something you won't have an issue with from these two receivers. Comparing the Denon ACR-X2700H vs the Marantz NR1711, you'll quickly see you have nothing to worry about. You get Dolby Atmos sound, a dynamic picture, along with the other features you expect like voice control and multi-room technology.
Both A/V receivers are worth taking a look at, but there are a few differences. You will get a more powerful sound from the Denon AVR-X2700H (>>> Check on Amazon), but the NR1711 comes with an Eco mode that reduces energy usage. You may be able to make a choice based on first impressions, but it's still a good idea to know a little more about the components.
Denon AVR-X2700H vs Marantz NR1711 Side by Side
You'll notice that you get many of the same features with both A/R receivers, but they also have a few differences that may make one a better fit in your home.
Audio Quality
With Dolby Atmos sound and height virtualization, audio is crisp and clear. Sound isn't blocked by objects in the room, so you don't have to deal with dead zones. You hear the same great audio, no matter where you are sitting. DTS:X and Virtual technology further optimize audio.
You get the same number of channels with both receivers, but they differ in power. With the X2700H, you get 95/8 W/Ohm, compared to 50/8 W/Ohm with the NR1711. The Denon receiver produces a louder sound without distortion. The Marantz model does come with an Auto Echo Mode that reduces power usage without compromising on sound quality.
Better Audio Quality: Denon AVR-X2700H
Video Quality
The two A/V receivers are evenly matched on video quality. You won't have any complaints. Along with a 4K and 8K passthrough, you have dynamic HDR and HDR10+ support. Colors are bright and realistic from dark to light hues.
A fast 120Hz ensures smooth frame-by-frame action. Live sports and action-packed movies won't have issues with blurring. The refresh rate is also good news for casual gamers, but neither receiver has a latency speed avid players will love. It's a little slow for some first-person games.
Better Video Quality: Denon AVR-X2700H & Marantz NR1711
Connectivity
It doesn't matter how immersive the audio and sound are if you don't have enough connections. It's a crucial factor to consider, and these receivers are almost the same. You get 6 HDMI inputs with both components, but the X2700H has 2 outputs compared to one with the NR1711.
Voice-control compatibility is built-in with both receivers, along with HEOS wireless connectivity. You can connect speakers in multiple rooms and listen to different tunes.
Better Connectivity: Denon AVR-X2700H
---
Denon AVR-X2700H Review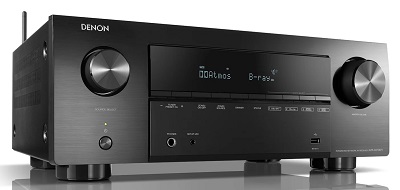 Get lost in 3D sound with the AVR-X2700X from Denon. Dolby Atmos ensures you hear crisp audio and clear dialogue. Add in Dolby Height Virtualization and DTS:X technology and you'll feel like you're sitting in the theater. It also means you don't need ceiling speakers for an immersive experience. Sound flows throughout the room thanks to 95/8 W/Ohm of power.
Videos are just as impressive. Dynamic HDR and HDR10+ produce sharp colors and crisp details. A 120 Hz refresh rate keeps frames playing smoothly, along with the Quick Media Switching mode. A 4K passthrough delivers realistic images, and the A/V receiver is also 8K ready. You should know the receiver does not support all 4K content.
When it comes to set up, it's hard to beat the 7.2 channel X2700H. It comes with an award-winning onscreen assistant. You won't have any problems setting up the receiver and connecting your external components. With 6 HDMI inputs, 2 outputs, and a USB port, you have plenty of connections.
Built-in HEOS technology allows you to set up your speakers in multiple rooms. The receiver also comes with wireless streaming. You can stream the same or a different song to any room in your house. Voice-control compatible with Alexa, Google Assistant, and Siri make it easy to control the receiver.
Pros
2 channels
Dolby Atmos and Height Virtualization
Award-winning online setup assistant
Powerful sound
Multi-room
Cons
The 4K passthrough does not support all 4K content
---
Marantz NR1711 Review

The Marantz NR1711 is a compact A/V receiver that delivers a powerful sound across its 7.2 channels. With 50/8 W/Ohm, you can easily fill a small room with impressive audio. Dolby Atmos and Height Virtualization produce exceptional sound quality. DTS:X technology produces virtual sound effects without the need for upward-firing speakers.
Quick Media Switching technology and a 120Hz refresh rate keep content playing smoothly. Dynamic HDR, HDR10, and HDR10+ technology produce realistic images with vibrant colors. Details are clear even in darker scenes.
HEOS technology lets you set up speakers in different rooms. Built-in support for voice control makes it a breeze to control the receiver. You also have multiple options on how you set the speakers up. You can choose a 2.1, 5.1, or 7.1 set up depending on your needs.
You have plenty of ports for external devices. There are 6 HDMI inputs and one going out. A 4K passthrough and 8K upscaling ensure the receiver won't become outdated.
Pros
Discrete design
2 channels
Dolby Atmos technology
Vibrant images
Power-saving mode
Cons
The A/V receiver may not be powerful enough for larger areas
---
Conclusion
There are reasons to choose the Denon AVR-X2700H and pick the Marantz NH1711. Both produce the same image quality and come with similar onboard features.
You do get a more powerful sound with the X2700H (>>> Find on Bhphotovideo). It is a good choice if you want to fill larger rooms with quality audio. You also get an extra HDMI output with the Denon A/V receiver.
The sound may not be as powerful with the NH1711, but you won't complain in smaller areas. It's a good choice for apartments or homes with shared walls. You get optimal audio quality without disturbing the neighbors. It also comes with an energy-saving mode.
REFERENCES AND FURTHER READING: