Marantz and Denon were once competitors in the home audio market, but these days, both companies are under the umbrella of Sound United, along with Polk Audio. This lets the two former competitors share technology, which can make it difficult to determine which receiver is better.
Today, we will look at the Marantz NE1711 vs Denon AVR-X1700H to determine which is a better receiver. In our experience, some people will like the particular sound of one or the other, and that should really be the determining factor since these two have very similar specs. We like the Denon AVR-X1700H personally, and below we will show you why (>>> Find on Amazon).
Marantz NR1711 vs Denon AVR-X1700H Side by Side:
Marantz NR1711
Denon AVR-X1700H
Video
8K/60Hz, 4K/120Hz
8K/60Hz, 4K/120Hz
Amplifier
7.2 Channel (50W per channel)
7.2 Channel (80W per channel)
Sound
2.1, 5.1 or 7.1 Dolby Atmos
5.1 or 7.1 Dolby Atmos
Wi-Fi
Yes
Yes
Bluetooth
Yes
Yes
Price

Find on Amazon





B&HPhotoVideo

Find on Amazon





B&HPhotoVideo
Power Channels
An AVR is all about getting the best sounding music to your speakers and making even the most familiar tracks sound nuanced and new. There are lots of ways this is accomplished, including various audio protocols. One of the key factors is power. The more power a receiver offers, the better you tunes will sound at all volumes. Too little power and you'll miss many of the fine details and you'll have to turn the volume way up just to hear it. With the same resistance speakers connected, the Denon provides more power than the Marantz, and that's one of the things we like about it right off the bat.
Winner: Denon AVR-X1700H
Audio Processing
There are a variety of ways that the audio signal can be processed by the AVR to give you enhanced audio. Common processing protocols include DTS:X, DTS:HD, and Dolby Atmos. Some receivers will also offer the ability to recreate 3-dimensional audio to give you a fully immersive sound stage. These two receivers share the same technology, file playback capabilities, and limitations. Neither is capable of 3D audio, but both include Dolby Virtual Height Actualization.
Winner: Marantz NR1711 & Denon AVR-X1700H
Video Processing Capabilities
Connecting your AVR to your television or projector opens up a world of entertainment options. Not only do you get enhanced audio protocols, but you'll also get video pass through capabilities that make your favorite movies and shows more fun to watch. As with the audio processing tech, both of these AVR's offer up to 8k at 60 hz processing, though you'll likely use 4k at 120 hz far more often.
Winner: Marantz NR1711 & Denon AVR-X1700H
Connections
A limitation of any AVR is how many things you can connect at one. Both of these devices have complex back panel connections that feature six rear HDMI inputs and a front-panel HDMI output. The difference between the two is that Denon is using the latest HDMI protocol on three of the rear inputs and the front output, but Marantz does not offer this upgrade on any of the HDMI ports.
Marantz offers more numerous RCA connections, including two 3RCA inputs on the back panel. Denon provides only two RCA connections, but also offers dual optical TOSLINK ports, while the Marantz receiver carries only one optical port. Both provide a 12v trigger and similar Wi-Fi/ Bluetooth antenna.
Winner: Denon AVR-X1700H
Wireless Control
These days, everyone is streaming music, movies, and content. Both of these receivers provide the opportunity to stream files, and both offer the same level of playback of lossless files to give you high-fidelity quality when streaming. The main difference lies in the protocol used by each company. Denon wins out with the most modern Bluetooth and Wi-Fi protocols on an otherwise level playing field.
Connecting your AVR to your other home devices is simple with both designs as they both allow for Amazon Alexa, Google Assistant, and Apple Siri, along with third party products including josh.ai.
Winner: Denon AVR-X1700H
---
Denon AVR-X1700H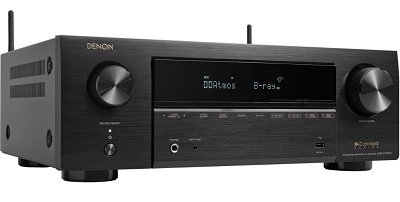 The X1700H is the newest mid-price option from Denon. It features a 7.2 channel maximum configuration and offers as much as 120 watts of power per channel with low-impedance speakers. It can also be configured as a 2.1 or you can set your audio room up using overheads. It offers lots of versatility for customizing and building out the best possible home theater system.
The combination of Dolby Atmos, Virtual Height Actualization, and DTS:X or DTS-HD ensures you'll hear every note just the way the artist intended you to hear it. With a frequency range that extends beyond the range of human hearing on both ends, this AVR will give you a realistic, lifelike soundstage that feels as though you are in the middle of the music.
Gamers will love the full suite of special protocols incorporated into this design that makes sure you get the most from your console or PC gaming system. It offers incredibly low lag and high refresh rates to prevent stuttering so that you won't miss any of the action even when things are going fast and furious.
The Denon audio video receiver is also HEOS-ready so you can set up wireless HEOS speakers in a separate room and pump audio completely separate from the main unit. HEOS does use two channels, so you'll limit your main audio room to a 5.1 system.
Pros
Easy to set up and offers amazing features and sound quality
Cons
Can be difficult to find as it is a new product
---
Marantz NR1711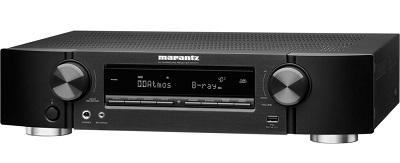 Marantz introduced the NR1711 in 2020 at the height of the chip shortage, and as such, some of the earliest designs lacked some of the key features buyers wanted. Most of those issues have now been worked out and you are certain to get a great audio video receiver that functions the way you want it to today.
This is a 7.1 channel system right out of the box, but it is also flexible enough to be perfect for expanding from a 2.1 system to larger and more complete audio environments. It offers up to 100 watts per channel with low-impedance speakers
Among the things that the NR1711 is capable of offering is the ability to stream 8k content, one of the features that made this AVR desirable in the first place. This is the latest form of entertainment and more content is being introduced every day in 8k resolution.
The Marantz offers similar gaming concepts to the Denon AVR, but it is only available on one HDMI source. For our more in-depth Marantz NR1711 review, click here.
Pros
Provides the unique Marantz sound loved by generations of audiophiles
Cons
---
Conclusion
We really like this new receiver from Denon and we think you will too. It provides the ultimate in high-end features that you will want, an excellent resolution and full gaming suite options, and also looks great. The Marantz is a good receiver and there is actually very little that separates the two, but we think that the extra year that Denon spent developing the X1700H shows with the advanced features available (>>> Check on Bhphotovideo).