You have made up your mind that buying an all-in-one receiver isn't going to give you the audio performance that you crave, so you have started shopping for integrated amplifiers. You know that you want your music to rock, but you don't want to lose that high-fidelity sound, either. In fact, you want the best sound possible and that's why you've settled on buying one of the newest and best integrated amplifiers from Cambridge Audio. Now, you want to know about the differences of the Cambridge Audio CXA61 vs CXA81.
We are going to show you everything you want to know about these fantastic audiophile-level amplifiers. These are among the most popular amplifiers in the world and are the best-selling amplifiers in Great Britain. The reason is simple- they are phenomenal at producing deep, rich, detailed music.
Cambridge Audio CXA61 vs CXA81 Side by Side:
| | Cambridge Audio CXA61 | Cambridge Audio CXA81 |
| --- | --- | --- |
| | | |
| Amplifier | 2.1 Channel (60W per channel) | 2.1 Channel (80W per channel) |
| Frequency response | 5Hz - 60kHz | 5Hz - 60 kHz |
| Weight | 18.3 pounds | 19.14 pounds |
| Wi-Fi | Yes | Yes |
| Bluetooth | Yes | Yes |
| Product Dimensions | 16.9 x 13.4 x 4.5 inches | 13.43 x 16.93 x 4.53 inches |
| Price | Find on Amazon | Find on Amazon |
Power Output and Consumption
These two integrated amplifiers are identical in all ways but one: power output. The CXA81 provides 80 watts RMS power at an 8 ohm resistance while the CXA61 provides 60 watts. With a four ohm speaker resistance, the CXA61 will make 90 watts to the CXA81's 120 watts. The difference in power is due to a smaller toroidal transformer in the CXA61. The difference also results in a weight difference of 12.8 ounces.
Due to the higher power level, the CXA81 uses 150 watts more power than the CXA61 at 750 watts to 600 watts. While that isn't a terrible difference, it does mean the CXA81 is more expensive to operate. The higher power consumption also means that the CXA81 will have a  hotter operating temperature. It is a good idea to always have plenty of airflow around your amplifier, and even more so when dealing with high consumption units.
Cambridge Audio CXA61
Pros
Perfect amplifier for a studio or listening room
Ideal for most music lovers, particularly for rock & roll
Lots of connectivity options
Cons
The tone is not adjustable
Not bass-heavy
Common Features
Advanced DAC
The CX line of amplifiers is intended to provide the most full and natural tone of your favorite music. The amplifiers will provide the perfect balance and tone to reveal the nuances of your favorite songs. This is accomplished using a sophisticated digital-to-analog converter. Both units feature identical ESS Sabre ES9016K2M DACs. Digital audio files up to 32 bit/384 kHz are realistically brought to life with every sound fully displayed.
Connectivity
These amplifiers feature a wide array of connection options to tailor your installation. They have four unbalanced RCA connections on the back panel and an MP3 input on the front. The back panel is home to a coaxial input along with two TOSLINK optical inputs and a USB-B port. Bluetooth aptX HD connectivity is built into the CX-series.
Cambridge Audio CXA81
Pros
Tons of power when you want to rock
Perfect balance of tone and balance for most types of music
Lots of ways to connect
Cons
Doesn't provide as much bass as some users prefer
Big price jump over the next model for limited gain
Outputs
The amplifiers feature symmetrical left and right channel outputs to your speakers. There are outputs for adding a subwoofer and connecting to a preamp. A 3.5mm headphone output is located on the front of the amplifiers.
Sound Performance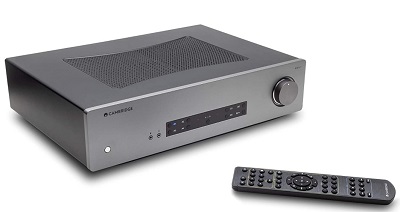 Cambridge Audio is known for a unique, "British" sound. The sound is best described as being mid-focused with somewhat less bass and treble. The sound is sometimes described as being "warm." The CX-series operate between less than five Hz all the way up to 60 kHz. These amplifiers are capable of producing every frequency you can hear from the lowest bass to the highest treble.
What makes the sound of these amplifiers truly unique is the natural, realistic way every tone is produced. From minute details like the sound of the guitarists fingers sliding on the strings to rhythms you never could hear before because of the muddiness of the audio quality, the CX-series will give you a dynamic sound stage.
How To Choose Between the Two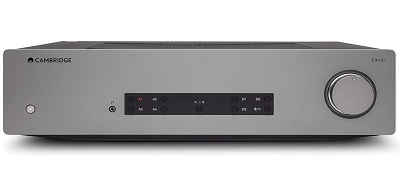 It might be hard to make a decision between which one of these amplifiers to buy. Because they have the exact same features and functions, you'll need to make your decision on practical terms. Buyers who have a small studio or listening area won't gain much value in the higher wattage the CXA81 provides for example. Your decision may also come down to financial: the CXA81 is $300 more expensive.
If you have spent big money on your speakers and they are eight ohm speakers, the CXA81 might be a better decision. It would also be a better decision for larger rooms or even outdoor spaces where the extra power is necessary.
Conclusion
The Cambridge Audio CX-series of amplifiers are built on a tradition of excellence. They are the best-selling amplifiers in Great Britain and have been for many years. The differences between these two amplifiers may seem rather small, and for many people, the differences won't matter much because these are truly excellent amplifiers.