The Yamaha RX-A4A is a 7.2-channel AV-receiver that provides the latest in technology to provide you with the ultimate in home theater audio experience. We walk through the features with this Yamaha RX-A4A review to detail what makes this one of the top-performing products on the market. (>>>Find on Amazon)
A home theater needs the power and performance of a proper audio-video receiver to provide the ultimate in authentic and natural sound. From intense action-packed movies to deep and emotional music -and lets not leave out the importance of dynamic audio while gaming- the Yamaha RX-A4A offers features you need and the promise of capabilities you'll want in the future.
YAMAHA RX-A4A Review of Specifications:
| | YAMAHA RX-A4A |
| --- | --- |
| | |
| Video | 8K/60Hz, 4K/120Hz and 4K/60Hz |
| Amplifier | 7.2 Channel (110W per channel) |
| Sound | Dolby Atmos, DTS:X capable |
| Wi-Fi | Yes |
| Bluetooth | Yes |
| Price | Find on Amazon |
Let's start right out with the simple facts: this is a high-end audio-video receiver. You should expect to get the best and most current features and capabilities when you are shopping for a receiver in this range. We are going to dive right in, because we know you want the most important features first.
Surround Sound Capabilities
First and foremost, you want to have the flexibility and versatility to incorporate the speakers you want with your system to provide the optimum sound stage. The Yamaha makes it easy by allowing up to a 7.2 channel system you can use to add ceiling-mount speakers, rear surrounds, front, center and subwoofers that will give you a complete experience.
Surround AI Technology
Are you the type of person that has specific preset EQ balances for specific types of media? Yamaha built this receiver for you. Using sophisticated AI technology, the receiver instantly analyzes content and provides an appropriate surround sound response. That means you'll get deep bass when explosions happen, but you'll also hear the warble of a muted trumpet far off in the distance, all in real time with a natural fade.
Dolby Atmos with Height Actualization
We love AVR systems that have long-term upgradability. When you go from a sound bar or television speakers, you might not be ready to go with a full-blown seven speaker setup. Maybe you've got a couple decent speakers and an okay sub, but you still want the best experience. That's where Atmos with Height Actualization comes in. It automatically creates the effect of ceiling mounted front and rear speakers to give you movement and space in your audio.
Digital Signal Processor Technology
Using the power of DSP technology, the Yamaha RX-A4A can produce an accurate 3D rendering of any audio track. The technology allows the receiver to process each signal to create an artificial sound field to recreate the effect of an 11.1 surround sound system from a properly connected 7.2 channel system.
Video Processing Technology
Amazing audio is wonderful, but when you are selecting an AVR in this category, you want even more. That means processing movies and video games up to an available 8k at 60 Hz with a future upgrade. Right now you can enjoy 4k resolution processing at a blazing-fast 60 Hz. A future upgrade will allow you to enjoy 4k resolution at up to 120 Hz for the smoothest possible experience.
Connectivity Options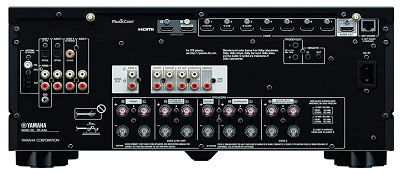 These days most people stream music. The Yamaha receiver allows streaming of music through all of the most important programs including Pandora, AirPlay2 with Siri, and Amazon Alexa. You'll have full access to voice control regardless of your favorite integration system.
Multi-Zone Technology
The Yamaha RX-A4A provides you with MusicCast compatibility to incorporate wireless speakers in multi-zone areas. This technology lets you play music independently in different areas. You can set it up in your game room or kitchen, even on the patio, while your primary system is running in the family room.
Other Advanced Technology
Put it this way; if you want the best possible access to protocols that allow the highest possible experience, this is the receiver for you. It has a full gaming suite of systems to enhance the audio and visual experience while providing a fast bit rate for smooth, stutter-free gaming. You can get the most from the newest systems like the Sony Playstation PS5 and Microsoft xBox Series-X consoles. You'll experience a more in-depth gaming experience with the technologies this receiver uses that will make the game that much more real.
Conclusion
The Yamaha RX-4A4 provides the latest possible technology to create an immersive sound environment unlike anything else. It has proven itself as a durable and reliable unit while offering the necessary upgrades for the future that will allow you to experience the world in a whole new way. The ability to expand from limited systems to more complex home theater arrangements gives the Yamaha an edge when it comes to buying a receiver that is going to be the backbone of your system for years to come (>>> Check on Bhphotovideo).
REFERENCES: