You don't have to spend a lot to get a solid AV receiver. You also don't have to give up audio or video quality. Both Denon and Sony market budget-friendly components that come with everything you need in a basic audio and video receiver.
The Denon AVR-S540BTand Sony STR-DH590 come at a similar price point, and both are 5.2 channel receivers. Before you close your eyes and grab one, they also have a few differences.
The STR-DH590 produces better audio and comes with advanced surround sound functions (>>> Find on Amazon). When it comes to connectivity and ease of setup, the S540BT is the winner.
Want to know about these AV receivers, keep reading to learn about their specifications.
Denon AVR-S540BT vs Sony STR-DH590 Side by Side:
| | Denon AVR-S540BT | Sony STR-DH590 |
| --- | --- | --- |
| | | |
| Video | 4K/60Hz | 4K/60Hz |
| Amplifier | 5.2 Channel (140W per channel) | 5.2 Channel (145W per channel) |
| Sound | Dolby Vision | 5.1 Dolby Atmos |
| Wi-Fi | No | Yes |
| Bluetooth | Yes | Yes |
| Price | Find on Amazon | Find on Amazon |
Audio Quality
The DH590 by Sony produces amazing audio with minimal impedance. The 5.2 channel receiver boasts 90 watts of power. It's enough to enjoy cinematic sound effects and clear dialogue. Where the receiver stands out, is with its S Force Pro technology. Using a two-speaker setup, you can get the illusion of surround sound.
With 70 watts of power from the 5.2 channel S540BT, you can still fill a small to mid-size room with clear audio. However, you won't get virtual surround sound without adding multiple external speakers.
Best Audio Quality: Sony STR-DH590
Video Quality
The two receivers are tied when it comes to video quality. Using the passthrough, you can enjoy 4K images. Details are crisp and a dynamic contrast ensures colors are rich and vivid. Both receivers support HDR10, HLG, and Dolby Vision.
You can enjoy cinema-quality images at home with either AV receiver.
Best Image Quality: Denon AVR-S540BT & Sony STR-DH590
Ease of Installation and Set up
You aren't going to have a problem installing either receiver. The DH590 is about a pound lighter than the Denon model, but both weigh under 20lbs. You can easily fit either one on a shelf or in a cabinet. Both also come with automatic calibration optimizing the audio to fit the room's dimensions.
The S540BT also comes with Denon's award-winning onscreen setup assistant. It walks you through all of the setup steps. Four quick-select functions let you save your preferred audio settings.
Easiest to Install and Set up: Denon AVR-S540BT
Connectivity
You get Bluetooth connectivity with both components, along with an HDMI monitor output and two for subwoofers.
The S540BT also comes with HEOS support and a USB port. It also comes with more HDMI inputs than the Sony receiver. You have multiple connection options for streaming music and content.
Best Connectivity: Denon AVR-S540BT
---
Denon AVR-S540BT Review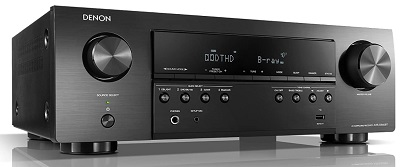 The Denon AVR-S540BT is an affordable 5.2 channel receiver with 70 watts of power. You aren't going to rock anyone out of the house, but you will enjoy impressive audio. Onscreen images are crisp and vibrant, thanks to advanced technologies.
A 4K passthrough and 140W per channel produces bright images with dynamic contrast. 4:4:4 color sampling ensures accurate images and audio. Add in HLG and HDR technologies, combined with Dolby Vision, and you get immersive, realistic onscreen images.
Connectivity is never a problem with the Denon receiver. Along with five HDMI inputs and Bluetooth connectivity, the receiver also comes with a front located USB port. The Denon HEOS link is a great bonus. You can play audio from eight devices to create a multi-room sound system.
Pros
HEOS compatibility
5 HDMI inputs
70 watts
4K passthrough
Bluetooth enabled
Cons
The receiver is lacking in surround sound capabilities.
It does not come with a phono input
---
Sony STRDH590 Review

The Sony STRDH590 produces cinematic quality sound at an affordable price. Along with 90 watts of power, the 5.2 channel receiver comes with virtual front surround sound. The S Force Pro technology only needs a two-speaker setup to give you the illusion of 3D sound. Movies, music, and dialogue are crisp and clear throughout the room.
Automatic calibration makes setup a breeze. The receiver automatically optimizes sound for the space. Multiple in and outputs allow you to connect your components, and you can even stream audio from your Bluetooth devices. With Bluetooth Standby, you can use your phone to control the receiver.
Dolby Vision gives you immersive images with or without using the 4K passthrough. HDR10 and HLG technology ensure dynamic and realistic colors.
Pros
Virtual front surround sound
Bluetooth connectivity
Easy to control
HDR10 and HGL support
4K passthrough
Cons
The receiver does not come with a USB port
---
Conclusion
You aren't going to be disappointed with either AV receiver. Comparing the Denon AVR-S540BT vs Sony STR-DH590, both come with 5.2 channels and produce the same high-quality images.
The Sony STR-DH590 produces better audio quality (>>> Check on Bhphotovideo), but the Denon AVR-S540BT comes with more connectivity. It's also a little easier to set up, thanks to the onboard assistant.
Choosing between the receivers may come down to if you want optimal audio quality or connectivity.
REFERENCES AND FURTHER READING: