Denon and Sony are both known for producing high-quality audio products that let you enjoy immersive sound at home. While both brands have plenty of reasons why their AV receiver may be a better option, they do have some differences. These are evident as you're comparing the Denon AVR S750H vs the Sony STR-DH790.
The STR-DH790 comes with more video features. It produces sharper, brighter images. The AVR-S750H is the winner in sound quality (>>> Find on Amazon). The Denon receiver is also a little easier to install and comes with built-in HEOS support.
Each of these receivers has something to recommend, but it deciding between the two can still be tough. Sometimes, it helps to take a closer look at their specifications.
Denon AVR-S750H vs Sony STR-DH790 Side by Side:
| | Denon AVR-S750H | Sony STR-DH790 |
| --- | --- | --- |
| | | |
| Video | 4K/60Hz | 4K/60Hz |
| Amplifier | 7.2 Channel (140W per channel) | 7.2 Channel (145W per channel) |
| Sound | 5.1.2 Dolby Atmos | Dolby Atmos |
| Wi-Fi | Yes | No |
| Bluetooth | Yes | Yes |
| Price | Find on Amazon | Find on Amazon |
Audio Quality
You get Dolby Atmos sound with both AV receivers. The audio is crisp and realistic. Both models also deliver immersive 3D sound but use different technologies. The STR-DH790 uses DTS:X technology, while the Denon model comes with Dolby Atmos Height Virtualization support. Objects in the room won't interfere with audio quality.
The AVR-S750H produces a clearer sound with eARC support. It takes care of most interference and distortion problems. You hear amazing sound effects, clear dialogue, and crisp music from any source.
Best Audio Quality: Denon AVR-S750H
Video Quality
Connect your 4K TV into either receiver and enjoy Ultra HD images. These receivers produce bright, vivid images from live shows and streaming content. HLG and HDR10 technologies are standard, along with 4:4:4 Pure Color sub-sampling. Colors are accurate across the spectrum.
Onscreen images are brighter with the Sony receiver. The Str-DH790 supports Dolby Vision. You get immersive images, similar to what you see in the movie theater.
Best Video Quality: Sony STR-DH790
Connectivity
AN AV receiver is useless when you can't connect your external devices. You won't have this problem, no matter which model you bring home. The receivers come with HDMI ports, along with analog and digital optical connections. Bluetooth support is also standard, making it easy to stream content.
The AVR-S750H has more HDMI ports than the Sony receiver. It also supports more music streaming services. Best of all, the Denon receiver comes with onboard HEOS support. You can control speakers in multiple rooms.
Best in Connectivity: Denon AVR-S750H
Ease of Use and Installation
Setting up the receivers is a breeze, but the AVR-S750H is a little easier. It comes with an on-screen set-up assistant. It even walks you through the EQ settings, so you can easily optimize audio quality.
Using the Denon receiver is just as easy. It comes with Amazon Alexa support. You can ditch the remote and use your voice to control the receiver. The Sony model does not support voice control, but it does come with an easy-to-use remote.
Easiest to Use and Install: Denon AVR-S750H
---
Denon AVR-S750H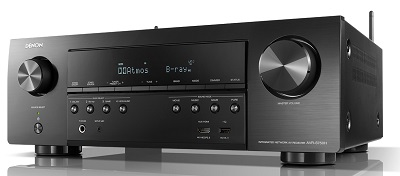 The Denon AVR-S750H is a seven-channel AV receiver with 75 watts of power. Dolby Atmos Audio, combined with Dolby Atmos Height Virtualization produces realistic 3D sound. Add in eARC technology, and all you hear is an incredible sound. Music, dialogue, and sound effects are crisp and clear without any interference.
Image quality is almost as impressive as the sound. Color sub-sampling gives you dynamic onscreen images. Picture quality is further enhanced with HLG and HDRO10 support. 4K images are bright with plenty of detail.
Where the receiver stands out is with its connectivity. It comes with six HDMI inputs and one going out. You can also connect Bluetooth-enabled devices, and the AVR-S750H supports most of the popular music streaming services. Add some wireless speakers, and you can take advantage of HEOS support. You can control your speakers in different zones. Click here for our more in-depth Denon AVR-S750H review.
Pros
75 watts per channel
HEOS support
Multiple HDMI ports
Dolby Atmos Height Virtualization
Voice-control compatible
Cons
Onscreen images may not be as sharp and clear as some consumers like
---
Sony STR-DH790

The Sony STR-DH790 is a seven-channel AV receiver capable of producing realistic images and immersive audio. Dolby Atmos support ensures audio is crisp and clear, while DTS:X technology gives you the illusion of 3D sound. Objects in the room won't muffle the audio regardless of where you are sitting. Automatic calibration optimizes the sound to fit your room's dimensions.
When it comes to image quality, the STR-DH790 shines. Along with Hybrid Log-Gamma and HDR10 support, the receiver also boasts Dolby Vision technology. You get an immersive, dynamic image from your connected 4K TV. The colors are bold and bright, with plenty of contrast.
Installing the receiver is a breeze. The inputs are labeled, and you can stream content via Bluetooth support. The receiver has a slim profile, measuring a little over five inches in height. It fits easily onto most shelves and AV cabinets.
Pros
7 channel AV receiver
Slim profile
Dolby Vision support
Automatic audio calibration
Bluetooth support
Cons
The receiver may not offer enough connectivity for more robust entertainment systems
---
Conclusion
Comparing the Denon AVR-S750H vs the Sony STR-DH790 makes it easier to see which receiver is the best one for your setup.
If image quality is key, the STR-DH790 delivers. It's also easy to install and produces Dolby Atmos-supported sound.
The AVR-S750H is the winner in sound quality, and it offers more in the way of connectivity (>>> Check on Bhphotovideo). It doesn't produce as dynamic a picture as the Sony receiver, but it comes out ahead in other areas.
It comes down to what you want and need from an AV receiver.