Denon is one of the top companies producing high-fidelity audio video receivers. The company is known for incredible sound quality reproduction and units that take advantage of the latest in useful technology and advanced components. This Denon AVR-S750H review will explain the unique features and show you the best way to use this advanced AVR from Denon. (>>>Find on Amazon)
Denon AVR-S750H Review of Specifications:
| | Denon AVR-S750H |
| --- | --- |
| | |
| Video | 4K/60Hz |
| Amplifier | 7.2 Channel (140W per channel) |
| Sound | 5.1.2 Dolby Atmos |
| Wi-Fi | Yes |
| Bluetooth | Yes |
| Price | Find on Amazon |
The Denon AVR-S750H is a 7.2 channel receiver for powering your home audio theater system. It incorporates some of the best features of high-end receivers in a unit that is more affordable for consumers looking to make the jump from television speakers or soundbars.
Audio Connections
Each of the seven powered channels uses the latest in High-Bandwidth Digital Content Protection protocols (HDCP 2.3). Each channel provides up to 75 watts RMS power to drive quality speakers with precision. Speaker terminals are standard, one of the few areas that you'll notice a manufacturing cost savings on this impressive AVR.
Dual subwoofer channels are for sending signals to powered woofers. You'll also have the option to assign certain channels to a multi-room setup. This AVR is designed to be an excellent choice for consumers getting into home theater. It can power speaker setups from a 2.1 channel, 3.1 channel, 5.2 channel, or 7.2 channel, giving you the freedom to start small and grow your system.
Audio Capabilities
The S750H doesn't disappoint when it comes to accessing the most advanced technology. It features a full suite of Dolby capabilities including Dolby Digital Height Actualization technology that can simulate the effect of ceiling mounted speakers from a 7.2 channel surround sound system. The tech is so good that you'll forget that you are watching a movie or listening to a song because you'll feel like you are there.
Built-in Bluetooth allows you to wirelessly stream your favorite tracks from virtually any streaming service. The AVR works with Pandora, Amazon Music, Spotify, and dozens of others. The receiver also has the capability to work flawlessly with Amazon Alexa, Google Assistant, and Siri with Apple AirPlay 2 so you can control your music and movies with your voice while opening up tons of possibilities for a smart, connected home entertainment experience.
Pros
Excellent receiver for beginning to build a home theater system
Provides unbelievable realism and sound movement
Allows for multi-room expansion using HEOS speakers
Cons
Some consumers have experienced some reliability and durability issues
Customer service has degraded since Denon was purchased
Video Capabilities
The Denon AVR-S750H is perfect for driving content to your 4k-compatible television. The receiver gives you pass through capabilities of 4k resolution. Your videos will not only sound better due to the advanced capabilities of the receiver, they will also look fantastic.
Five HDMI inputs are located on the back of the unit with an additional input on the front panel. An HDMI output on the back provides further connectivity options. The combination of ports provides plenty of room for video game consoles, Blu-Ray players, and numerous other devices so that you can get the most from your experience in the simplest way possible.
Tuning Abilities
Denon uses the award-winning Audyssey MultiEQ tuning system to adjust the output for each speaker channel to maximize the efficiency. The easy-to-use system lets you set the ideal volume and timing for each individual channel according to the placement of the speaker and the unique shape of your room.
Audyssey MultiEQ gives you the ultimate in frequency control to fine-tune every facet of the audio output. The tuning system also makes it simple to add speakers, upgrade to better speakers, and incorporate different multiroom systems using the wireless capabilities and HEOS speakers. This comparison might be useful too
Experience the Denon Sound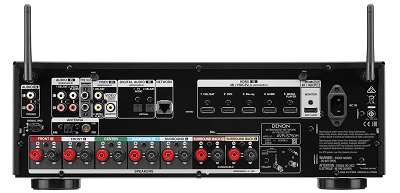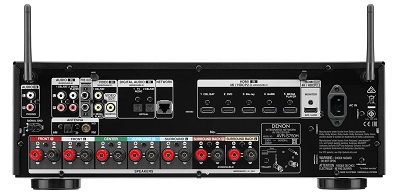 At this price point, you might not expect to be blown away by the sound quality, but you'll find the audio from this unit to be exceptional. The receiver handles high-res streaming with ease to let you hear nuanced details of your favorite tracks like you've never heard before.
Digital enhancements to the sound processing make this one of the best options for gamers. It allows for full 4k pass through to get the cleanest, most realistic video along with heart-pounding powerful audio that gets you in the game.
Conclusion
The Denon AVR-S750H is an excellent choice for anyone looking to step up their home theater game without spending a fortune. This unit offers expandability and a great tuning ability to get the most from any room, even those that are less than ideal (>>> Check on Bhphotovideo).
REFERENCES AND FURTHER READING: