These two AV receivers offer an affordable way to upgrade your home theater with some of the most useful features. We took a close look at what sets these two high-quality AV receivers apart to bring you the facts you need when choosing the Yamaha TSR-700 vs Denon AVR-S750H (2019).
We have found that if you are looking for an AV receiver for gaming and want the ability to take advantage of the newest high-resolution movies and television screens you'll prefer the Yamaha TSR-700 over the Denon AVR S750H (>>> Find on Amazon).
Yamaha TSR-700 vs Denon AVR-S750H Side by Side:
| | Yamaha TSR-700 | Denon AVR-S750H |
| --- | --- | --- |
| | | |
| Video | 8K/60Hz, 4K/120Hz | 4K/60Hz |
| Amplifier | 7.1 Channel (100W per channel) | 7.2 Channel (165W per channel) |
| Sound | 5.1 Dolby Atmos | 5.1.2 Dolby Atmos |
| Wi-Fi | Yes | Yes |
| Bluetooth | Yes | Yes |
| Price | Find on Amazon | Find on Amazon |
Yamaha TSR-700 vs Denon AVR S750H Quick Facts
These receivers both offer the advantage of having numerous powered channels with options to connect seven channels directly and options to signal to dual powered subwoofers.
Incorporating technologies like Dolby Atmos and Dolby Vision into a user-friendly design gives these high-end products the approachability to make them suitable for anyone who simply is looking to transform their home theater.
For many people, the sound quality of the Yamaha TSR 700 will be less authentic and real, while others find the Denon AVR S750H to lack some of the nuances of older Denon sounds. Buyers should try to find opportunities to hear both systems in action at the same time because the ultimate preference is highly subjective.
With that said, buyers who are looking for the best AV receiver for their home theater system need to know about the key features and unique technologies each receiver offers.
Key Features of the Yamaha TSR-700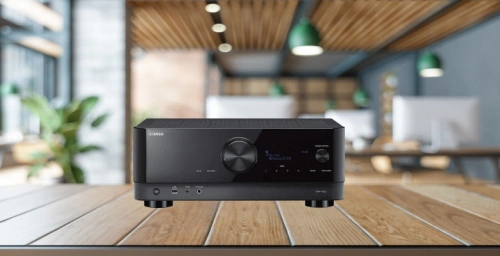 This AV receiver will run configurations up to 7.2. It provides plenty of power up to 100 watts per channel on the seven powered channels. If that sounds like a lot to you, it is. You'll get incredibly realistic audio that fills your room. This receiver features the latest YPAO with R.S.C. tuning capabilities that make setting your speakers straightforward and simple.
The old days of spending days trying to tune your new AV receiver for your room are over. Yamaha uses a microphone plugged into the phono input on the front to allow you to easily adjust the time delay and frequencies for each channel.
Audio Capabilities
You'll get fully featured audio capabilities including Dolby Atmos, DTS:X and Neural:X with the Yamaha TSR-700. Gamers will find ALLM, VRR, QFT, QMS features for the most mind-blowing sound effects and tracks imaginable.
The combination of Dolby Atmos technologies with the stunning realism using the various special gaming modes transforms your AV receiver into a full-fledged home theater system with outstanding audio quality.
Expandability
Built-in MusicCast lets you expand your system and add separate zone audio in different rooms with wireless speakers. HDMI inputs allow you to connect a variety of devices and media with stored content for easy playback.
A digital signal processing system ensures that every ounce of your music comes through clear and intact. This AV receiver will give even low-res files excellent sound quality. A phono input makes it simple to connect your turntable to get that classic vinyl sound from your state-of-the-art entertainment system.
Video Capabilities
You'll find support for an 8k resolution pass-through on a dedicated HDMI port with 4k, 60 Hz pass-through on the other channels. A future update will enable 4k, 120 Hz pass-through for unreal action, sports, and gaming.
Specific HDMI connections make this one of the best av receivers for gaming and the low-lag input also provides you with an unparalleled home theater system. Dolby Vision ensures that you'll have the best movie theater experience in your home.
Streaming and Control Functions
Most of the popular streaming music services work on the Yamaha TSR-700 AV receiver. Pandora, Spotify, SiriusXM, and dozens of other streaming apps are preloaded for convenience and to enhance the home theater experience. This receiver is compatible with Alexa, Siri, and Google Assistant for simple and easy voice control.
Built-in Bluetooth connections make it simple to stream content from your favorite compatible device wirelessly. The Yamaha TSR 700 is simple to connect and provides you with easy access to an immersive home theater experience.
Pros
Lots of power per channel
Excellent surround sound setup creates realistic sound
Ready for the future
Cons
Can be somewhat buggy
Buyers will have to wait for updates to take advantage of the most advanced features
More in-depth Yamaha TSR-700 review
---
Key Features of the Denon AVR-S750H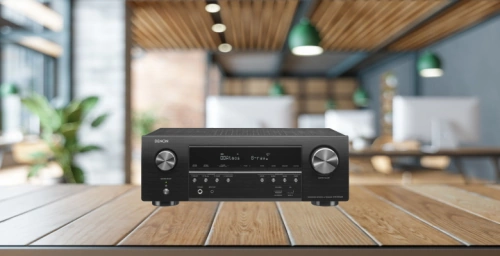 This AV receiver features the ability to configure up to a 7.2 surround sound system. The AVR-S750H features a standard output of 75 watts on each of the seven powered channels. The features of this unit provide excellent surround sound capabilities and an immersive 3D environment with spectacular sound quality.
Tuning
The popular Audyssey tuning system from Denon makes tuning the receiver for your room simple as you'd expect from these high-quality AV receivers. This tuning system uses a microphone and advanced technology to not only identify the best location for speakers, but also to artificially improve the sound quality by creating the impression of surround sound from as few as two speakers.
Audio Capabilities
Denon provides you with Dolby Atmos, DTS:X, and Virtual:X. Dolby Atmos Height Virtualization makes it possible to tune frequencies for an artificial yet realistic 3D sound. You can set up a 5.1 and a 2 channel in a separate room using HEOS technology and speakers. This package of features will give you excellent sound quality and performance particularly in smaller rooms.
Video Capabilities
The Denon AVR has native 4k, 60 Hz video resolution on all HDMI ports. It works great for movies and gaming to provide crystal-clear and stutter-free images. HDCP compatibility provides 4k UHD pass-through to compatible televisions. For our more in-depth review of the Denon 750h, click here.
Streaming and Control Options
Music streaming is simple with built-in Bluetooth and WiFi connectivity. Streaming apps that include Pandora, Spotify, and Google Music are onboard. This receiver is compatible with Google Assistant, Siri, and Alexa. Compressed Audio Restorer improves the sound of lossy music files for a better listening experience.
Pros
Allows for dual subwoofers
Tuning is simple
Cons
Only capable of 4k resolution at 60 Hz
Terrible customer service
---
What Sets These Two Receivers Apart
These two receivers have many of the same capabilities. While the Yamaha TSR-700 does provide the potential for 8k resolution, it isn't currently functioning out of the box. In some cases, this has been resolved as of August 2022 through either firmware updates or by adding components depending on the route taken by manufacturers.
There is a strong likelihood you will find older Yamaha and Denon receivers that are capable of displaying 4k/60 Hz and in some cases even 8k/ 60 Hz, but they may require updates and upgrades.
There is no doubt that 8k resolution will become a standard over the next several years, so having the ability to take advantage of this resolution from one of today's best AV receivers will be a benefit down the road. Already, video gaming consoles are debuting video games in 8k resolution to provide an unreal experience.
Where the two AV receivers are separated is in the quality of the sound. The Denon lacks the punchy power you would expect as a result of the underpowered channels. When used in smaller rooms, it is adequate, but for true enthusiasts looking for the best audio quality and volume, the AVR S750H lacks power compared to Yamaha.
The Yamaha produces better quality, volume, and depth of music, making it the ideal choice for the latest gaming consoles and 3D movies. The setup procedure isn't as detailed as Denon, but does an excellent job. The Yamaha is going to be a good choice for gamers, movie enthusiasts, and audiophiles alike. Combine it with high-quality speakers for the ultimate home theater experience.
The Deal-Breaker for Denon
Denon was once a legendary company with a loyal following that couldn't conceive of ever purchasing home audio equipment from another company. Since the company was merged into Sound United along with Marantz and Polk Audio, product quality has declined noticeably. While it isn't uncommon to deal with somewhat buggy products, many buyers say that the overall quality of components has dropped off leading to a higher-than-normal rate of breakdowns.
When buyers reach out to Denon for help, a great number have reported that the company ignores phone call and email service requests and forces buyers to use specific repair facilities for repairs. The worst part of this is that this company was once known for outstanding customer service.
Today, you are lucky to get a response from them. Almost every buyer who has had any type of issue with a Denon receiver and needed help has come away infuriated at the lack of service from the company.
There is no excuse for poor service, so this issue is a deal breaker.
Conclusion
We like the awesome future-proof features of the Yamaha TSR-700 vs Denon AVR S750H. Despite the lack of a second subwoofer channel, we found it to be superior sounding in all of our tests. While we typically like Audyssey, the stripped-down base version included with the Denon receiver is far less useful than the advanced YPAO system Yamaha uses.
We have enough experience to know that high-performance AVRs sometimes have problems and the easiest way to resolve problems is through customer service. Yamaha is responsive, helpful, and makes sure that the customer is taken care of while Denon isn't available.
In many instances, Denon owners have taken their broken or defective units to independent repair facilities even though the product is under warranty because they can't get customer service at Denon to respond. That one difference is enough to make us choose the Yamaha TSR-700 as the better of these two mid-priced options.
The Denon AVR S750H is geared toward entry-level music enthusiasts or audiophiles looking for an affordable option and the features and functions reflect that goal. It performs very well with audio and is a great choice for use with a turntable.
Despite boasting many of the same features and functions, movie buffs and gamers are going to appreciate the options available including special gaming modes, excellent connectivity, and simple voice control procedures to make the Yamaha TSR-700 a top pick over the Denon AVR-S750H (>>> Check on Amazon).
REFERENCES AND FURTHER READING: