For those with a smaller home theater system, you don't necessarily need a beast of a receiver—or the high price tag they carry. A more streamlined model like the Onkyo TX-SR494 can be a convenient way to control your speakers and devices.
In this Onkyo TX-SR494 review, we'll break down the features and capabilities of the receiver so you can see if it meets your needs. With support for 3D audio and 4K video resolutions, the TX-SR494 is an exceptional receiver for watching movies, with the features, connectivity options, and user-friendly control most buyers need at a great value. (>>> Check current price on Amazon)
Onkyo TX-SR494 Review Specs:
| | Onkyo TX-SR494 |
| --- | --- |
| | |
| Video | 4K/60p |
| Amplifier | 7.2 Channel (160W per channel) |
| Sound | 5.2.2 Dolby Atmos |
| Wi-Fi | No |
| Bluetooth | Yes |
| Price | Find on Amazon |
Receiver Setup and Navigation
The set-up process for the Onkyo TX-SR494 is fast and straightforward. It's designed to be plug-and-play, with a helpful Quick Start guide that makes it easy to connect speakers and devices. The receiver comes with a microphone for automatic audio calibration through AccuEQ, balancing and adjusting the surround sound system to your space for truly immersive audio.
Now, the rear panel of the Onkyo TX-SR494 is more streamlined than what you'll find on other receivers. This is a strength from a simplicity standpoint but does limit its device versatility. For most modern home theater systems, the 4 HDMI ports will be enough, but it lacks VGA and component hook-ups for older and specialized equipment.
This Onkyo receiver also offers wireless connectivity thanks to built-in Bluetooth. It pairs quickly with devices to both send and receive signals. Once a device is paired, it recognizes it automatically and smoothly streams music from phones, tablets, and computers when you want to listen to your favorite songs.
The Onkyo TX-SR494 is just as easy to use as it is to set up. Its front panel display makes it easy to adjust the volume level or switch inputs and it has a pretty robust on-board EQ, giving audiophiles all the tools they need to optimize the balance and settings to their tastes. There's also a headphone jack on the front panel (or you can pair wireless headphones with the aforementioned built-in Bluetooth).
Along with the front panel, the receiver comes with a remote control that, like the front panel, strikes a great balance between functionality and simplicity. Dedicated EQ buttons and input selectors make it easy to operate your surround sound system, adjust the audio settings, or switch between TV and music sources.
The only major navigation features this Onkyo receiver lacks are hands-free options. While you can listen to music wirelessly, it doesn't support any voice control services. It does have 12V Trigger, RS-232, and other networking connections, and supports Zone B audio for multi-room music setups.
Pros
High volume output with exceptional sound quality
3D sound with Dolby Atmos Height Virtualization
Supports 4K visual resolutions with HDR10 and HLG
Adjust sound with subwoofer EQ and AccuEQ
Easily pair peripherals and devices via Bluetooth
Covered by 2-year parts and labor warranty
Cons
Limited input options
No Wi-Fi connectivity
Audio Quality
The Onkyo TX-SR494 receiver supports 5.2.2 3D speaker configurations using Dolby Atmos Height Virtualization surround sound technology. Adding overhead speakers to the standard 5.1 surround set-up gives you a more immersive sonic environment so you can truly get lost in whatever you're listening to.
For home theater applications, the TX-SR494 receiver supports DTS-HD Master Audio and Dolby TrueHD DTS decoding. Its audio features also include Dolby Surround, DTS Neural:X upmixing, and Dolby Surround upmixing. This combination of technology helps the receiver maintain the integrity of the signal for crisp dialogue and powerful effects. You can further tweak that balance with features like the vocal enhancement on the remote.
Audiophiles will appreciate the Advanced Music Optimizer, letting you listen to your favorite songs with the same exceptional clarity and quality you'll enjoy when watching movies. The receiver backs this up with a high-current power supply and up to 160 watts of power per channel, along with a wide frequency response of 10Hz-100kHz. That translates to a high output with excellent detail and balance across the frequency range. Check our other picks in a similar price range.
Video Quality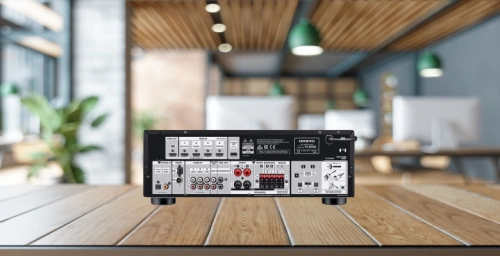 The Onkyo TX-SR494 is 4K ready, with a 60Hz, ARC-ready pass-through on all its HDMI inputs. It supports all the latest video signal formats, including Dolby Vision, High Log Gamma (HLG), and HDR10, so you'll see movies and TV shows the way they were intended. It also supports the full 4:4:4 color space, giving you the full range of available hues for both TVs and projectors.
Something else we appreciate about the TK-SR494 receiver is that you'll get the same HDR and ARC support from all its HDMI inputs. Many receivers have different pass-throughs depending on which port you plug into. With this receiver, the picture quality will be the same no matter where you connect your content sources.
One word of warning here for gamers: this receiver doesn't have lag-reduction technology like ALLM or VRR. This may not be an issue for casual gamers, especially if it's hooked up to a gaming projector or other highly-responsive display. However, we wouldn't call it a "gaming receiver" and serious or professional players may want to consider other models with these latency-reduction features.
Onkyo TX-SR494 Review: What's the Bottom Line?
There aren't a lot of bells and whistles on the Onkyo TX-SR494—and that's one of its strengths. This receiver is simple to set up and use, while still providing a top-notch A/V experience. Its 7.2-channel support is plenty to provide immersive sound with room-filling output power in most home theaters. Its only drawback in our view is its limited connectivity, but this won't be an issue for a lot of users since it has the connections most modern equipment uses. Overall, the Onkyo TX-SR494 (>>> Check on Bhphotovideo) offers a lot of value for anyone who needs a home theater receiver.