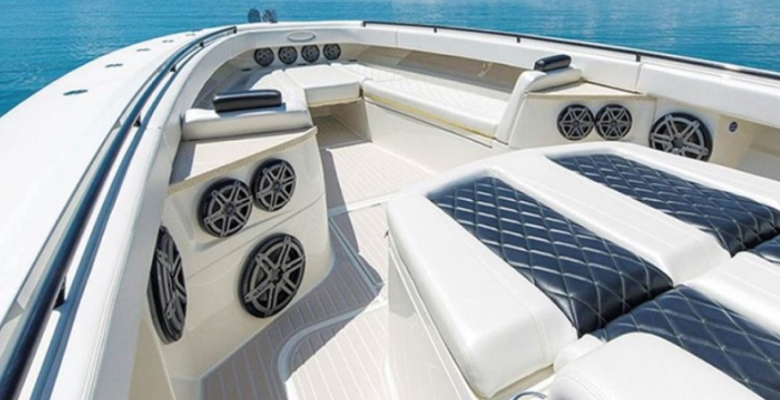 A great set of speakers for your boat let you enjoy your time on the water even more. Marine-grade speakers have unique features to ensure long-life in wet environments. There are lots of good products on the market, but you want the best marine speakers for your boat. We put this list together to show you some of the best marine speakers for 2022. You'll find a product here that meets your needs no matter what type of boat you've got.
Best Marine Speakers for 2022 – Top Picks:
| | Skar Audio SK8M | Rockville RWB90B | Rockford M0-65B | Kicker 45KM84L | Garmin MS-FR6022 | Infinity 622MW |
| --- | --- | --- | --- | --- | --- | --- |
| | | | | | | |
| Speaker Size | 8 Inches | 8 Inches | 6.5 Inches | 8 Inches | 6 Inches | 6.5 Inches |
| Speaker Maximum Output Power | 500 Watts (Pair) | 300 Watts | 100 Watts | 300 Watts | 200 Watts | 225 Watts |
| RMS Power | 250 Watts (Pair) | 200 Watts | 50 Watts | 150 Watts | 150 Watts | 75 Watts |
| Impedance | 4 Ohms | 4 Ohms | 4 Ohms | 4 Ohms | 4 Ohms | 8 Ohms |
| Sensitivity | 90.5 dB | 98 dB | 88 dB | 92 dB | 90 dB | 92 dB |
| Price | Find on Amazon | Find on Amazon | Find on Amazon | Find on Amazon | Find on Amazon | Find on Amazon |
Best Marine Speakers Product Reviews
Skar Audio SK8M 8" Speakers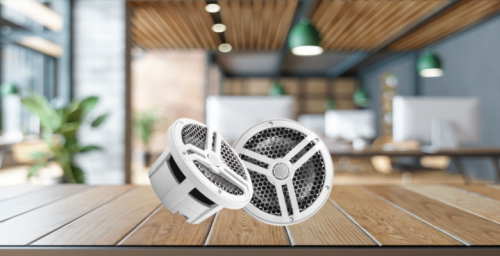 This is a pair of 8-inch marine-grade speakers from Skar Audio. They feature high-quality components that are sealed from the elements. Skar builds these for serious power and with an 250 W RMS rating Skar calls "conservative", you can be certain everyone on the water will hear you. An 8" speaker provides you with most of your midtones and some bass frequency, but you'll be surprised at the deep, feel-it bass from these speakers. A marine-grade 1" silk dome tweeter gives you crystal clear highs and the butyl surround and a microfiber composite mineral-filled cone rock the midrange frequencies. The two-piece design helps to eliminate tonal crossover between the tweeter and the speaker to reproduce accurate sound at any volume.
Key Features
● 8" speaker, sold as a pair
● Microfiber mineral-filled cone
● Butyl surround
● 1" silk dome tweeter
● 250 W RMS
● 4 ohm impedance
● Available in white or black
Pros
Excellent sound quality and volume
Durable design
Cons
Lacks IP-rating for weatherproofing
Requires an amplifier to get the most from this set of speakers
---
Rockville Audio RWB90B 8" Speakers
Wakeboard speakers feature mounts to attach to the bar. This set of 8" wakeboard speakers from Rockville are ready-to-mount out of the box so you can quickly and easily add beats to your boat. The 360-degree swivel mount lets you direct the speakers where you want them. Power handling is 200 watts RMS per speaker so you'll want to match these up with an amplifier to get the most out of them. A mica-injected cone and Santoprene surround provide durability and excellent frequency response. A polyamide 1" marine-grade tweeter provides high- and mid-frequency coverage to balance the excellent bass response from these speakers.
Key Features
• 8" enclosed wakeboard speakers, sold in a pair
• 200 watts RMS, 300 watts peak, 600 watts peak total
• Polyamide tweeter
• Mica-injected cone with Santoprene surround
• 4 ohm impedance
• Fits bars with 1.26" to 2.87" diameter
Pros
Easy to install
Excellent bass response
Great for use in a Jeep or a wake boat
Cons
Included hardware isn't marine grade
Enclosures are better than the sound quality of the speakers
---
Rockford Fosgate MO-65B 6.5" Speakers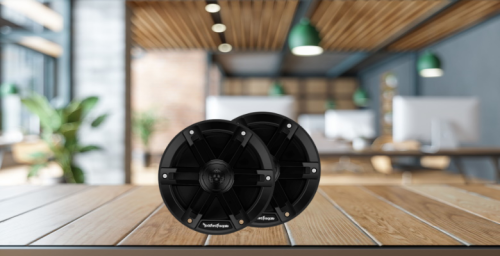 Rockford Fosgate makes some seriously great sounding speakers, and this addition to the world of marine audio doesn't miss a beat. This is an ideal upgrade speaker when you are replacing low-quality factory equipment. You'll get a better, clearer sound with the MO-65s in your boat. While the power handling of 65 watts RMS seems low compared to other speakers on this list, it reflects the purpose of the speaker. These are a true mid range frequency speaker and you won't need to drive them with a huge amp to get the full range of frequencies from them. The speakers are fully-sealed to keep out the elements and feature an IP-X6 rating certifying they will resist occasional splashes of water, fog, and salt.
Key Features
• 6.5" Marine grade mid-range speakers, sold in a pair
• 65 watts RMS, 250 watts peak power handling
• 4 ohm resistance
• IP-X6 water resistance rating (not waterproof)
• Available in black or white with non-removable grills
Pros
Perfect upgrade for factory speakers
Outstanding sound quality above the price range
Cons
Won't produce enough bass for most systems
Not intended to be used with a large amplifier
---
Kicker 45KM84L 8" Coaxial Speakers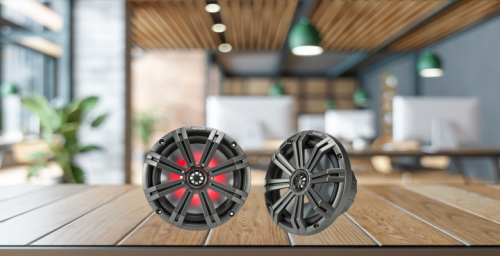 Kicker is a great company for building powerful speakers and has earned a solid reputation for their marine-grade units. These 8" coaxial marine speakers are an ideal compliment to your growing sound system. They provide deep, solid mids and add midrange and high frequencies through the separate tweeter. If the sound wasn't enough, Kicker tossed in bright red LED lighting to take your experience to the next level. These speakers require at least 150 watts for optimum performance and have a peak handling of 300 watts. You will appreciate these speakers when you are running an amplifier and speakers dedicated to high- and mid-range frequencies to compliment the deep mids. For our more in-depth review of these speakers click here.
Key Features
• 8" coaxial marine speakers, sold in a pair
• 150 watts RMS each, 300 watts peak, 600 watts max, pair
• 4 ohm resistance
• Exceeds ASTM specifications for moisture, dust, fog, and salt exposure
• Injection-molded cone, Santoprene surround
• Built-in red LED lighting
Pros
Good looking and easy to install
Provides excellent mid-range response
Cons
Lacks high frequency balance
---
Garmin MS-FR6022 Fusion 6" Speakers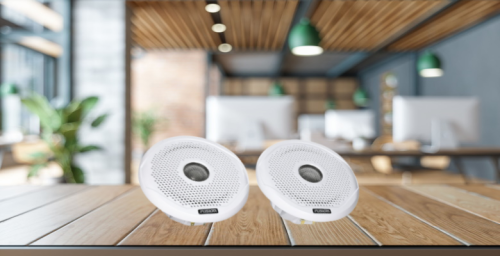 These 6" two-way marine speakers from Garmin are ideal upgrades for factory speakers or compliments to larger mid-range coaxial systems. These can handle lots of power, making it easy to add essential frequencies to your amplified system. Each speaker has a peak wattage handling of 150 watts. Garmin uses a complex process to heat press a woven fiber composite material to create the cones for these speakers The lighter and more rigid design means better frequency response and superior resistance to UV rays, fog, and salt. These speakers make an excellent starting point when you are building a new system and work great in off-road vehicles.
Key Features
• 6" two-way marine speakers, sold in a pair
• 200 watts peak, each
• 4 ohm resistance
• CURV cone
• Titanium tweeter
• Engineered to reduce navigation interference
Pros
Great add-on for larger systems or factory replacement speakers
High-efficiency design reduces battery draw
Cons
Some buyers report defective speakers
Doesn't provide bass frequencies, so they may sound underwhelming on their own
---
Infinity 622MW 6.5" Two-Way Speakers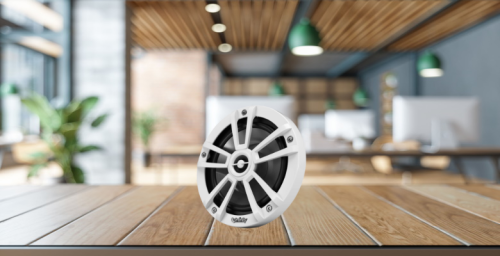 Infinity speakers are some of the finest marine speakers you can buy at a great price. This pair of 6.5" two-way speakers will blow your factory speakers out of the water. They have clear and crisp midrange and high frequencies, while providing a little bass to help out bigger speakers. Each speaker handles 75 watts RMS with a 225 watt peak power handling. A splash-resistant design and UV treatment on the grill and basket help to minimize the effects of nature.
Key Features
• 6.5" to-way marine speakers, sold in a pair
• 75 watts RMS, 225 watts peak, each
• 8 ohm resistance
• UV-treated grill and basket
• Polypropylene cone, butyl surround
Pros
Affordable upgrade over factory speakers
Good sound quality
Cons
Inconsistent build quality
Included hardware isn't marine grade
Misleading advertising regarding power handling and lighting features
---
Marine Speakers Buyers Guide
When you are looking to buy marine-grade speakers you need to find a product that will handle the type of boating you do. If the speakers are going on a boat that is for pleasure cruising, you'll worry less about water resistance than on a wakeboard boat that is frequently wet. Some manufacturers will give you information on how well their product performs, usually through the IP-rating system. Higher IP-rating numbers indicate better weather resistance.
Power handling is important, but you'll also need to factor how much power you are supplying. A factory head unit usually generates 18-20 watts per channel, so you'll need a decent amplifier for any speaker that has an RMS value around 100 watts or higher in order to get good sound. There are a number of excellent marine-grade amplifiers available to help you rock the boat.
There are some key features you should look for. A marine grade speaker should have sealed terminals and some manner of resisting spray. All of the speakers on this list will accomplish that, with some designs being more appropriate for really wet boats than others.
How you plan to mount the speakers also matters. Some of the speakers on the market are "free-air" designs that are not intended to be installed in a box. They work better when there is no resistance behind the speaker. Other designs will require some type of an enclosure to perform at their peak. Many people who are dissatisfied with their sound system have the wrong speakers for the application.
Most sets are available in black or white, with a few products offering interchangeable grills to match your interior. A few designs provide lighting options using LED diodes. These systems can add a new level of drama to your on-water party boat.
---
Conclusion
No matter what type of boat you are outfitting, you'll find an excellent product on this list that will meet your needs. These speakers are tested and trusted by boaters all over the world and have earned reputations for quality and durability in real-world use. You can buy a set of speakers for your boat that will give you years of enjoyment and stunning sound quality.