When it's time to upgrade the tunes in your boat, a set of brand-new coaxial speakers can make a huge difference. Today, we give you this Kicker 45KM84L review.
There are lots of options you might think about before buying new marine speakers and these 8" coaxials check all the most important boxes. Let's get in-depth about what makes these speakers special and sets them apart from other sets on the market. (>>> Find on Amazon)
Kicker 45KM84L Review of Specifications:
| | Kicker 45KM84L |
| --- | --- |
| | |
| Speaker Size | 8 Inches |
| Speaker Maximum Output Power | 300 Watts |
| RMS Power | 150 Watts |
| Impedance | 4 Ohms |
| Sensitivity | 92 dB |
| Price | Find on Amazon |
Let's face it- the best looking, most affordable, easiest to install speaker in the world isn't worth beans if it won't perform when you need it to. Solid technical specifications are even more important to you when you are buying speakers for use in demanding conditions, like on your boat or ATV. Kicker sets itself apart from many companies because they build consistently high-quality speakers engineered for maximum performance in salt, fog, and dust.
Marine-Grade Tech
The reason you don't want to install regular car speakers on your boat is because the elements will quickly deteriorate the speaker components. Kicker goes above and beyond by treating every part of these speakers to prevent UV damage.
The injection-molded cones and Santoprene surround not only resist the effects of the sun, they provide outstanding movement and superior rigidity so you'll get the most out of these speakers, no matter what type of music you jam.
Kicker also made sure that moisture and dust can't penetrate the most sensitive parts of the speaker by fully sealing the motors, cones, and terminals. Once you install these speakers correctly on your boat, you'll have fantastic sound quality in the worst conditions possible season after season.
Pros
Durable speaker designed for use in marine applications
Excellent power handling ability from the mid-range woofer
LED lighting takes the experience to the next level
Cons
Some users report premature failures of the tweeters
Needs an amplifier to get the most out of them
Kicker even includes forged stainless steel hardware that is impervious to rust and corrosion. That really shows you how well-designed these marine grade speakers are and that Kicker is serious about giving you the ultimate in weather-proofing.
Sound Tech
A speaker that won't cut out in a little spray is ideal for your boat, but it needs to sound good too. If you haven't run Kicker speakers before, this is a great way to get into their products. These 8" coaxial speakers handle mid-range and add high-frequencies. They will provide some moderate bass in the lower midrange frequencies, but the 1" balanced dome titanium tweeters can be drowned out by the powerful mid-range frequencies.
Kicker advertises these speakers as operating between 30 and 21k frequencies, so count on more depth and mid-range power rather than expecting these speakers to replace 6.5" speakers often found in factory installations. You will want to add high-frequency speakers and probably a subwoofer to get the most out of the sound.
Power Tech
Kicker rates these coaxial 8" speakers at 150 watts RMS power handling. That means these speakers can take a beating and keep on kicking, so you should consider adding an amplifier to get the most from the Kicker 45KM84L speakers. A four-ohm impedance makes picking the right amplifier and head unit a simple process.
To get the most out of these speakers, Kicker developed a rigid basket design ensures stability under load and makes it easy to mount at the same time. A polypropylene cone and Santoprene surround are ideal for big-time power handling without distortion.
Kicker 45KM84L Installation and Appearance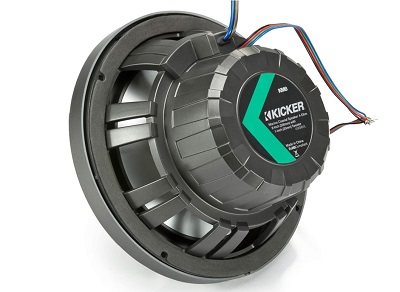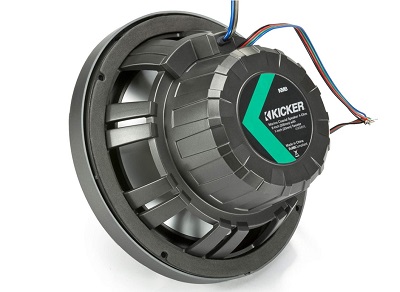 These 8" coaxial speakers are easy to install, a real plus when it comes to upgrading the audio on your boat. The marine design means they don't require an enclosure. You can mount these Kicker speakers in a free-air or infinite baffle system and still get great sound, just remember to take advantage of that high RMS value for the best sound.
You'll need a mounting hole of at least 6.75" and a depth of 3 5/16" to install these speakers. Optionally, you can install them in speaker pods that mount to wakeboard bars or even hang them from the roll bar on your ATV or Jeep for great tunes off-road.
Now that you know these speakers are going to sound great on your boat, you'll be even happier knowing how cool these look. Kicker includes two grill colors to match your interior. If that isn't enough, you'll love the LED lighting these speakers provide. An optional light controller lets you select between various red-green-blue combinations. LED backlighting takes your on-board audio to the next level and turns every outing into a dance party.
Conclusion
This Kicker 45KM84L review shows you that top-quality speakers with outstanding performance features and super-cool looks are easily affordable. You can upgrade the speakers on your boat in a matter of minutes with these marine-grade coaxial speakers from Kicker and enjoy big, bold, powerful music even when you're underway. Click here for our marine speakers buying guide.
These also make great options for off-road vehicles that tend to subject stereo equipment to harsh conditions. No matter what you install these speakers in, you will love the deep and realistic sound quality, durability, and awesome good looks.
In order to get the most out of these speakers, you should combine them with high-range speakers to help fill in vocals. A subwoofer will enhance the bottom end when you add an amplifier which is highly recommended to get the best performance from these Kicker 45KM84L speakers. (>>> Check current price on Amazon)