There are a lot of things that Cambridge audio receivers share, from the toroidal transformer that gives great sound to the similar cosmetics and aesthetics, not to mention the similar ease of use, but what we like most (even though it is not the greatest of all the Cambridge features) is the printed labels on the back.
It may sound silly, but connections are made easier with the printed labels that are both right-side-up and upside-down. When you are connecting a cable and can get in behind, you can read the right-side-up label and, when you lean over from the front, you can read the upside-down label. It's a little thing but it makes it easy to hook up cables.
The AXR100 and CXA81 share a lot, but there are some subtle differences that set them apart. We've got you covered when it comes to those differences. If you are unsure which model you want to buy, or if you just want some more information about which comes out in top, our Cambridge Audio AXR100 Vs. CXA81 review has all the details.
We've reviewed each receiver individually, but let's first take a look at what separates the two devices.
Cambridge Audio AXR100 vs CXA81 Side by Side:
| | Cambridge Audio AXR100 | Cambridge Audio CXA81 |
| --- | --- | --- |
| | | |
| Watts per channel | 100W | 80W |
| Frequency response | 5Hz - 50kHz | 5Hz– 60kHz |
| Dimensions (H X W X D) | 4.3" x 16.9" x 13.4" | 4.5" x 16.9" x 13.4" |
| Weight | 17.8 lbs | 19.1 lbs |
| Inputs | Analog (4), Toslink Optical (2), Coaxial, Stereo (3), Phono, FM | Analog (3), Toslink Optical (2), Coaxial, USB, RS, Trigger, IR |
| Outputs | Mono RCA, Stereo, Sub, Rec, Speaker | Pre, Sub, Trigger, IR, Speaker |
| Wi-Fi | No | No |
| Bluetooth | Yes | Yes |
| Price | Find on Amazon | Find on Amazon |
Power
With great power comes great responsibility, or maybe that does not apply to a stereo receiver. When it comes down to it, the power is not going to make a lot of difference for most music or audio streaming, but, as the music levels vary, the increased volume is going to be handled better. If you are a stickler for the best audio possible, you are going to want more power.
In a straight contest, there really is no contest. The Cambridge AXR100 has 100W per channel and the CXA81 has 80W per channel. If you want more power, go for the AXR100.
More power: Cambridge AXR100
Connections
When you take a look at the back of both devices, they may be set up in a different format, but they contain almost all of the same inputs and outputs. That means that you know exactly where you are with a Cambridge stereo receiver. The main difference between these two units is that the AXR100 comes with a dedicated phono input for a turntable and the CXA81 has a USB audio input.
For most devices, this will not make a difference, but it can if you need one of those connections. Overall, this won't come into play for most people, so it will more come down to personal preference.
More Video Features: Tie (But AXR100 if you have a turntable)
Added Features
Apart from the added power, these two devices offer you similar performance at a similar price. When we look a little deeper we can see that the AXR100 offers something that the CXA81 does not. It comes with 30 integrated AM and FM preset radio stations. You don't even have to connect the device to anything to start listening (except for speakers)
Added Features: AXR100
---
Cambridge AXR100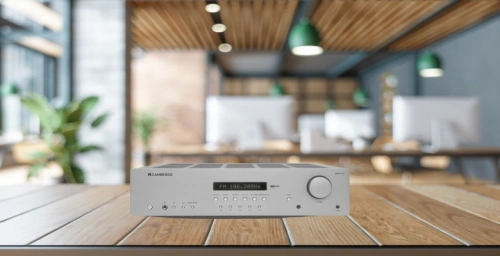 The Cambridge AXR100 brings a mix of basic features and high-quality audio. This means that this receiver is great for those who have never used a stereo receiver before, along with those who are looking for something a little better than the standard models. You get a lot of power from this device, with 100 watts per channel, and there are numerous standard connection options too. There are four analog inputs, so you can connect any audio sources, including AV, and there is also a dedicated phono connection for you to hook your receiver up to your turntable. Click here for our more in-depth Cambridge Audio AXR100 review.
When it is hooked up, you will get great audio performance. Granted, this is not the best stereo receiver out there, but it does pack a punch. With the powerful performance, you can crank your favorite tunes without distortion, and still get crystal clear audio in the delicate sections. The sound is pretty much what you would expect for the price. In essence, you are going to get what you want and nothing extra. That sounds maintains the quality over all the connections, including headphones.
The built-in Bluetooth allows you to connect wireless devices, though you might not have the best connection if the device is on the other side of your home. The remote is handy if you want to sit back and relax without having to get up and change the volume or radio station (of which, there are 30 integrated into the device).
Overall, this is a solid stereo receiver that will get the job done.
Pros
100 watts per channel
Toroidal transformer
Clean, crisp sound
30 pre-set radio stations
Intuitive use
Durable aluminum shell
Easy Bluetooth connection
Cons
Bluetooth range is limited
Horizontal cooling means it does not do well in tight spaces
No Wifi
---
Cambridge CXA81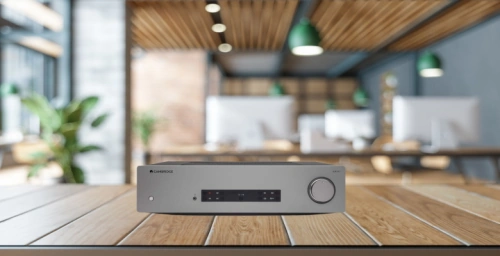 The CXA81 is an upgrade on a previous model and there are a few important additions that set it apart from its predecessor. The op-amps and capacitors have been upgraded, improving the overall audio performance, the USB input adds more connectivity, and the Bluetooth can be accessed without having to buy additional hardware (something that does come as standard with most stereo receivers).
When it comes to connections, there are a lot of them, giving you enough for almost any situation, but there is a phono input lacking, so this is not the device for you if that is a must. What it does have are coaxial and Toslink inputs that can handle 24bit and 96kHz, some-thing that many rival receivers cannot compete with. There are also a generous number of outputs on this compact machine and you can play multiple speakers at the same time or individually.
The sound is where it is at with this stereo receiver. The loud beats sound punchy and clear, with no distortion at high volume levels, and there are no distractions when you are playing at low volumes or listening to softer music. There is a balance that people are going to like, and that translates well to the casual and professional user. Play your loud heavy metal or some muted carols and marvel in the sound that is brought to both.
The price is around what you would expect from a device of this quality, and it may be a little high for some, but you do get what you pay for. If basic is what you are after, you can find other devices, but there are not many that give the same functionality and affordability. A great addition to a home entertainment system. Click here for our more in-depth Cambridge Audio CXA81 review.
Pros
True Hi-Fi stereo
Powerful 80 watts per channel
Handles 8-ohm and 4-ohm speakers
Lots of connections
Wireless connection
Compatible with 32-bit PCM files
Toslink capability
Cons
---
What's the Verdict?
Both of these devices give you exactly what you expect from a Cambridge stereo receiver. They have all the connectivity that you need, and it may come down to your personal connection preferences when it comes time to decide on the right one for you.
Having said that, there is a clear winner between the two. The AXR100 has slightly more power and comes with 30 preset radio stations. When looking at the two alternate connection options between the two, we believe that the phono input will be more valuable than the USB one.
If you are choosing between the two devices, we recommend the AXR100. (>>> Check current price on Amazon)
REFERENCES AND FURTHER READING: