Yamaha is well-known for producing high-quality electronics and it extends to their line of AV receivers which includes the RX-A2A vs the RX-V6A. The receivers are similar, making it hard to pick between the two. It helps to compare the two receivers side-by-side.
Comparing the Yamaha Aventage RX-A2A vs the RX-V6A, you see each is a 7.2 channel receiver. The receivers are equal in power and support the same streaming services. Even connectivity is similar, but there are differences. The RX-V6A is lower in price, but the RX-A2A comes with additional audio optimization features (>>> Find on Amazon). It also has a few extra functions missing on the RX-V6A.
Here's a closer look at each receiver so you can make an informed buying decision.
Yamaha Aventage RX-A2A vs RX-V6A Side by Side:
Yamaha Aventage RX-A2A
Yamaha Aventage RX-V6A
Video
4K/60Hz
4K/120Hz
Amplifier
7.2 Channel (100W per channel)
7.2 Channel (100W per channel)
Sound
5.1 Dolby Atmos
Dolby Atmos, Dolby Atmos with Height Virtualization
Wi-Fi
Yes
Yes
Bluetooth
Yes
Yes
Price

Find on Amazon




Find on Amazon





B&HPhotoVideo
Audio Quality
Both components are seven-channel receivers with 100W of power. It's more than enough to fill most rooms with audio. Dolby Atmos and DTS:X support optimize sound, so you hear crisp, clear audio.
While the RX-V6A produces impressive audio, the RX-A2A takes it a step further. Along with DTS Express support, the receiver also comes with Dolby Atmos Height Virtualization technology. You get the impression of having surround sound without adding upward-firing speakers.
Best Audio Quality: Yamaha Aventage RX-A2A
Video Quality
The receivers are evenly matched in video quality. You're ready for 4K and 8K content. They both come with an 8K passthrough and 4K upscaling technology.
Dolby Vision further optimizes image clarity. Content is true to the source. Add in HDR and HDR10+ support, and you get bright, accurate colors across the RGB primary color spectrum. The receivers also support 3-D content, so there's no limit to what you can watch.
Best Video Quality: Yamaha Aventage RX-A2A & Yamaha Aventage RX-V6A
Connectivity
An AV receiver is useless when you can't connect your external devices, but it's not a problem with either Yamaha model. The receivers come with the same number and type of ports. Even wireless options are the same.
The receivers come with built-in MusicCast and support most streaming services including AirPlay2. You can also connect most Apple products through the remote app. Seven HDMI inputs and one going out, ensure you can easily connect everything from a smart TV to gaming consoles, DVD players, and more. The receivers also boost a phono input so you can listen to your favorite records.
Best Connectivity: Yamaha Aventage RX-A2A & Yamaha Aventage RX-V6A
Ease of Installation and Use
Setting up either receiver is a breeze. The RX-V6A measures about one inch smaller and is a couple of pounds lighter, but it's not enough to make a difference during setup. You also aren't going to have any problems connecting your devices. The ports are labeled to prevent any confusion.
The on-screen interface is easy to navigate. The receivers also come with web browser control. Along with the included remote, they also support Alexa, Google Assistant, and Siri voice control. The RX-A2A also comes with a removable power cord. It can make it a little easier to install and move around as your entertainment system expands.
Easiest to Install and Use: Yamaha Aventage RX-A2A
---
Yamaha Aventage RX-A2A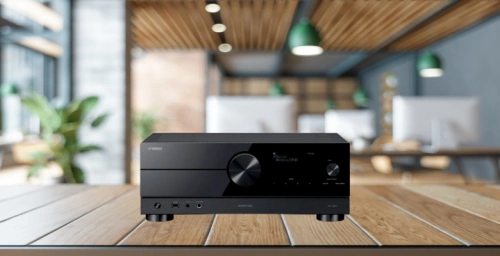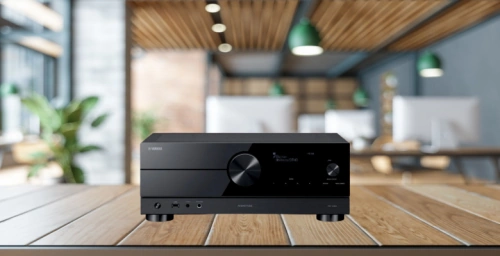 The Yamaha Aventage RX-A2A offers something for everyone from audio and video lovers to gamers. Advanced gaming features are available with the included future updates for smooth play. With seven HDMI inputs, you can easily connect your gaming console and other devices.
You can enjoy stunning 4K content with vibrant colors and crisp details. HDR technology optimizes colors, giving you a deeper contrast ratio. A future update also supports advanced HDR10+ technology further enhancing image quality. Click here for our more in-depth Yamaha Aventage RX-A2A review.
Where the RX-A2A stands out, is with its audio quality and streaming capabilities. YPAO – multipoint R.S.C. ensures audio matches the room's acoustics. It also comes with an A.R.T. wedge which acts as a fifth foot on the receiver. The wedge helps to minimize vibrations, so you get a more accurate sound. Dolby Atmos and Dolby Atmos Height Virtualization technologies are also standard with the receiver.
Pros
Dolby Atmos Height Virtualization technology accurately simulates a surround sound experience
Multiple connectivity options include Bluetooth, Wi-Fi, and Ethernet.
Voice-control compatible
4K upscaling technology
Comes with a removable power cord
Cons
The included and future firmware updates can be difficult to install
---
Yamaha Aventage RX-V6A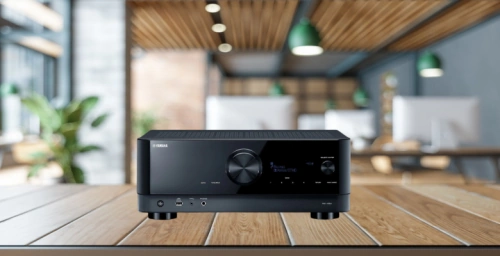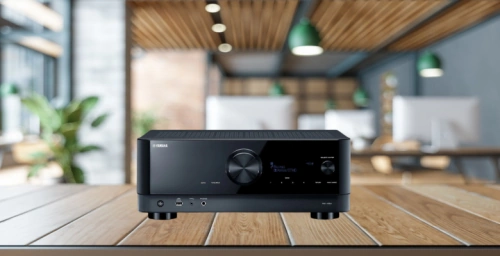 You can listen to music, watch videos, and play games with the Yamaha Aventage RX-V6A. It's a mixed-media receiver that can even handle 4K and upcoming 8K content. HDR and HDR10+ support ensures dynamic colors while Dolby Vision produces cinematic-quality images.
Connect your devices via the multiple HDMI ports, the RX-V6A comes with seven inputs. You can also stream content using AirPlay2, Bluetooth, or Wi-Fi. With the built-in MusicCast function, you can enjoy multi-zone audio. The seven-channel receiver can support two zones.
Controlling the receiver is easy, even if you're a first-time user. It comes with a remote, and it's compatible with Google Assistant and Amazon Alexa voice-control functions. You can also control the receiver using Siri through the AirPlay2 app.
Pros
Compatible with most popular music streaming services
The receiver is ready for 8K content via an HDMI passthrough
Easy to operate with the remote or voice-control
Comes with onboard MusicCast for multi-room use
Immersive audio with Dolby Atmos support
Cons
The output does not support all HDMI 2.1 devices
---
Conclusion
The Yamaha Aventage RX-A2A and the RX-V6A are both exceptional AV receivers with a few differences. The RX-V6A comes at a lower price and boasts several of the same features as the RX-A2A. Both models also come with firmware updates to enhance video and gaming.
You will get better audio with the RX-A2A (>>> Check on Bhphotovideo). It comes with a few extra features like a fifth foot to reduce noise vibrations. It's also a little higher in price.
REFERENCES AND FURTHER READING: