A 7.2-channel receiver is the ideal size for many homes, with enough channels to support a variety of 3D sound configurations or multi-room music setups. At an MSRP of about $650 (and a street price as low as $400-$500), the Yamaha TSR-700 is an affordable way to bring this capacity into your home theater. But what do you sacrifice for that low price, and is it as good of a value as it seems? We'll answer those questions in this Yamaha TSR-700 review (>>> Check the current price on Amazon).
Yamaha TSR-700 Review Specs:
| | Yamaha TSR-700 |
| --- | --- |
| | |
| Video | 8K/60Hz, 4K/120Hz |
| Amplifier | 7.2 Channel (100W per channel) |
| Sound | 5.1 Dolby Atmos |
| Wi-Fi | Yes |
| Bluetooth | Yes |
| Price | Find on Amazon |
Sound Quality
With 100 watts per channel, the Yamaha TSR-700 certainly has the power to drive room-filling audio from whatever speakers you connect to it. It's also easy to optimize that sound to your space thanks to the Yamaha Parametric Room Acoustic Optimizer (YPAO), which analyzes the acoustics of the room and adjusts to reduce reflections and ensure a natural and realistic soundscape.
You'll get the same high-quality audio for all types of content. For music, it has a compressed music enhancer to restore lost details to file types like MP3s. For movies, it supports Dolby Atmos and DTS:X for immersive surround sound. This includes support for Dolby Atmos Height Virtualization, letting you enjoy 3D audio without the need for overhead speakers. Both benefit from Yamaha's proprietary Cinema DSP 3D sound field creation technology, which reproduces the acoustics of spaces like music venues. Find a comparison vs. Onkyo TX-NR6050
Pros
Powerful and detailed sound
Supports 3D audio through multiple formats
Automatic room calibration
Supports video resolutions up to 8K
Easy to set up and control
Streaming and voice control support
Cons
Requires 3rd-party device for voice control
No printed user guide or manual (only through app)
Visual Quality
The Yamaha TSR-700 can process video signals up to 8K, so it's ready for the next generation of displays. It also supports HDR10+, Dolby Vision, and Hybrid Log Gamma (HLG), with full coverage of BT.2020 color. Whatever type of content you like to watch, the TSR-700 will send the signal from your content source to your display without any loss of quality or detail. All of its HDMI inputs are equipped with eARC and have a 4K/120Hz pass-through (8K/60Hz) to avoid issues with syncing content and ensure a smooth on-screen response.
Control and Usability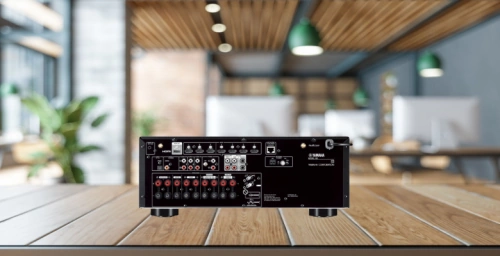 Setting up the Yamaha TSR-700 is fairly straightforward, especially for those who have past experience with A/V receivers. If you need some guidance, you can use the AV Setup Guide app to walk you through connecting equipment and adjusting your settings to match. Once it's set up, you can also program the 4 SCENE buttons to save specific settings for different inputs, letting you quickly change between content sources without needing to manually adjust the settings every time. Check comparison vs. Denon AVR-S750H
You have a few options for controlling the receiver. The lighted front panel display is straightforward and has the basic controls you need, and you can use the included remote for more in-depth options. It also pairs with the MusicCast app for streaming music or controlling the receiver through your phone. This app also adds multi-room audio capability, letting you use Zone 2 speaker terminals to play music in one room while you watch TV in another.
The MusicCast app is just the start of the streaming and wireless capabilities of the Yamaha TSR-700. It has built-in streaming services, including popular options like Pandora, Sirius, Spotify, and more. For voice control, you can use Siri through the AirPlay 2 app, or use commands through Alexa or Google Assistant so long as you have a third-party voice control-enabled device on the same network.
Yamaha TSR-700 Review In Summary
The Yamaha TSR-700 delivers powerful, immersive sound and equally high-quality visuals in a convenient package at a great value (>>> Find on Amazon). While its built-in smart features are limited, its broad wireless connectivity gives uers lots of options for how to control and use this receiver. Overall, it's a fantastic choice for a modern home theater.
FAQs
Can the Yamaha TSR-700 be used with gaming systems?
Yes, as long as they connect via HDMI. It includes technology like Auto Low Latency Mode (ALLM) and Variable Refresh Rate (VRR) to avoid added lag, so it's a great choice for gaming-based entertainment systems.
Does the Yamaha TSR-700 have Bluetooth connectivity?
Yes, this receiver pairs seamlessly with wireless speakers, soundbars, and headphones via Bluetooth.
Does the Yamaha TSR-700 have independent Zone 1 and Zone 2?
Yes, the two speaker zones can be set to play different content, or synced to play the same thing simultaneously. The only thing to bear in mind is that Zone 2 is stereo only, so you can't control two full surround-sound setups simultaneously.