Picking out the best audio video receiver for your home entertainment system is a big investment that you'll want to get right the first time. Buyers who have set their sights on Denon might be curious about the differences between the Denon AVR-S660H and the AVR-S760H. Both units look very similar and have similar features, but the S760H features seven channels to connect to speakers while the S660H provides only five. Otherwise, they are identical in all regards.
More is always better in our opinion, and if you are going to lay out big bucks on a receiver, we think you should get a device that offers you the ability to grow your system over time. That is why we think that buyers will like the Denon AVR-S760H best (>>> Check on Amazon).
Denon AVR-S660H vs AVR-S760H Side by Side:
Denon AVR-S660H
Denon AVR-S760H
Video
8K/60Hz, 4K/120Hz
8K/60Hz, 4K/120Hz
Amplifier
5.2 Channel (75W per channel)
7.2 Channel (75W per channel)
Sound
Dolby TrueHD, Dolby Surround, DTS-HD Master Audio and DTS Neo:6
5.1 or 7.1 Dolby Atmos
Wi-Fi
Yes
Yes
Bluetooth
Yes
Yes
Price

Find on Amazon





B&HPhotoVideo

Find on Amazon
Denon AVR-S660H and Denon AVR-S760H Features
Since these two products have the same features and functions with the only difference being the number of channels, we are not going to provide individual reviews. Instead, we will discuss the features and functions of both these receivers because there is no difference.
Power
One of the most important features of any AVR is the power it provides. These receivers offer 75 watts of amplified power to each channel. 75 watts is enough to ensure excellent audio quality in most medium-sized spaces without being overkill for smaller rooms.
Processing
These receivers can process nearly any format of audio and use Dolby Atmos with Height Virtualization, DTS:X, and Dolby Surround. The receivers can also process all types of compressed format files and recreate the lost frequencies to enhance the sound of your favorite music.
Pros
Both receivers offer multiple 8k ports and advanced processing features
The gaming modes and functions make video games come to life
The receivers provide optimal sound quality for the most immersive experience
Cons
Denon customer service is lacking
Video Capabilities
The Denon AVR-S660H & AVR-S760H offer 8k pass-through on three of their HDMI ports. The other three HDMI ports are 4k resolution at 120 Hz for the optimum in video quality. The presence of three 8k ports means you'll be able to easily connect advanced gaming consoles and the latest televisions with ease. For our more in-depth review of the AVR-S760H, follow the link: https://hqsound101.com/denon-avr-s760h-review/
Both receivers also include connectivity for ARC and eARC for simplified connections to your television.
Both can process Dynamic HDR feeds and offer quick media switching so you won't have to wait forever when you changed from streaming music to playing the radio. The receivers have an optical input and a phono port so you can connect a turntable.
Gaming Functions
The receivers feature several processing options to enhance gaming experiences. They provide a variable refresh rate that smooths fast-paced images for clarity and stutter-free imaging. They also provide an auto low latency mode that ensures a lag-free experience. Finally, they provide quick-frame transport so that you will never miss the action while playing video games. Both receivers have dedicated ports for connecting gaming consoles and they work with the newest options.
Wireless Capabilities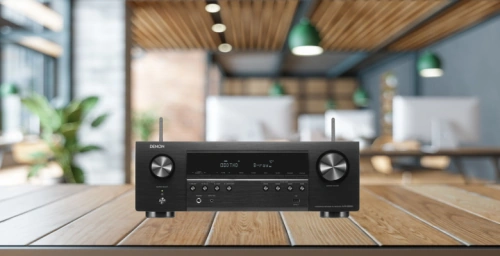 These receivers offer built-in Wi-Fi and Bluetooth that enables users to stream music from compatible devices wirelessly. Dual antennas ensure a stable connection, even in an environment with lots of devices connected at once.
The receivers are designed to work with HEOS wireless speakers and offer a second zone. Using one of the channels, you can send audio to a separate room and play two, different sources in different places.
Tuning Features
The receivers take advantage of the award-winning tuning system from Denon called Audyssey MultEQ and an on-screen tuning assistant that helps you quickly and effortlessly set up the receiver and adjust the frequencies to maximize the performance of your speaker system.
You can use the tuning system to adjust the time delay and artificially create the effect of ceiling-mounted speakers. The tuning system is very easy to use and is our favorite of any of the various options from other manufacturers.
How Do They Sound
The Denon sound is often described as warm and laid-back. It is a fantastic combination of punch and power to produce ultra-clear high frequencies and deep, low frequencies with no distortion. Since these two are functionally the same, the only difference is the addition of the two extra channels. When all seven channels are used, you'll have superior sound quality over the five-channel AVR-S660H.
Final Thoughts
The primary reason we think that most consumers will be better off purchasing the Denon AVR-S760H over the Denon AVR-S660H is because of the additional two channels (>>> Find on Amazon). We think the extra channels are particularly wonderful for consumers who intend to take advantage of the multi-room connectivity using HEOS speakers. That way, you'll still have a five-channel main room. With the S660H, you'll be down to a three-channel main listening environment that will lose some accuracy without the additional speakers.