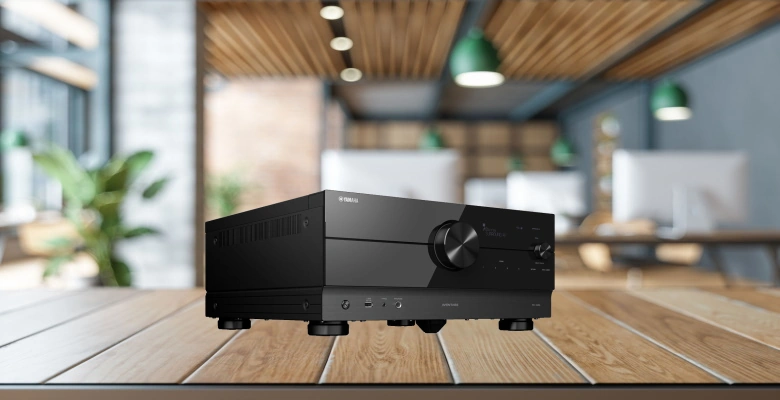 An 11.2-channel receiver isn't just helpful in a large home theater space. It also gives users more options when it comes to setting up multi-room entertainment and allows for more sophisticated 3D sound configurations in home theaters of any size. Having said that, though, a receiver of this size will also cost more than smaller options, so an 11.2-channel option like the Yamaha RX-A8A won't necessarily represent the best value for every home.
In this Yamaha RX-A8A review, we'll take a deeper look at the flagship model in Yamaha's Aventage line of A/V receivers. This powerful receiver has the potential to meet an array of home entertainment needs, though it may also be more receiver than some people need, especially for those who are on a budget. Read on to see the full details and decide if the RX-A8A is worth the investment for your home (>>> Check the current price on Amazon).
Yamaha RX-A8A Review Specs:
Yamaha RX-A8A
Video
8K/60Hz, 4K/120Hz, 4K/60Hz
Amplifier
11.2 Channel (150W per channel)
Sound
5.1 Dolby Atmos
Wi-Fi
Yes
Bluetooth
Yes
Price

Find on Amazon





B&HPhotoVideo
Sound Quality
The Yamaha RX-A8A is a powerful receiver, with 150 watts of power driving each of its 11.2 channels. The high slew rate amplifier is responsive and stable, providing high quality and precision for all audio signals. This is true even for compressed file formats like MP3 thanks to its Compressed Music Enhancer.
Where the Yamaha RX-A8A really shines is in surround sound setups. It has AI technology built into its flagship Cinema DSP processing, allowing it to automatically analyze the content scene-by-scene and make real-time adjustments to enhance the realism of the sound field. This is paired with support for DTS:X, Auro-3D, and Dolby Atmos Height Virtualization, so you can enjoy this immersive listening environment whether or not you're using physical upfiring and height speakers.
The RX-A8A also uses Yamaha's Room Acoustic Optimizer (YPAO-RSC), with a built-in microphone to analyze the room's acoustics and adjust the playback to match. This helps to correct reflections and enhance the realism of 3D sound setups. The integrated 64-bit EQ brings the same detail and attention to the frequency balance and other key audio settings.
Pros
Powerful, detailed sound
Supports video resolutions up to 8K
Sophisticated automatic EQ and room optimization
Option of physical or virtual 3D sound configurations
Multiple voice control and streaming options
Cons
High cost
No built-in voice control (requires third-party device)
Video Quality
With support for video resolutions up to 8K, the Yamaha RX-A8A is ready for the home theater of the future. Its 4K/120Hz pass-through maintains the full detail and clarity of Ultra HD content from all sources. Along with this, you'll get support for visual technology like HDR10+ and HLG, ensuring a sharp contrast, rich black levels, and colors that are accurate and realistic. Check the review, of the sibling model – the RX-A6A.
All the HDMI inputs on the RX-A8A use eARC technology. This allows the receiver to unlock the full potential of 4K content on both the audio and visual sides of the equation, supporting sound formats like Dolby TrueHD and DTS-HD in perfect sync with the 4K visuals they accompany.
Connectivity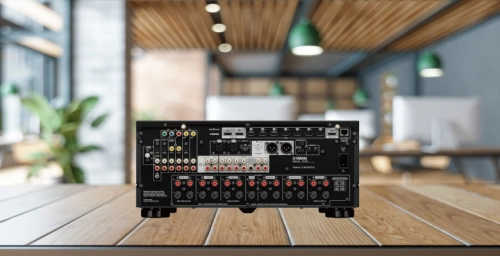 An 11.2-channel receiver is an ideal choice for multi-room entertainment setups, and the Yamaha RX-A8A supports these settings. Find more 11.2 receiver options here.  It works with both AirPlay and MusicCast for streaming content to and from your display. Zone 2/4 playback means you can watch the same thing in two rooms at once, or even watch shows in one room while listening to music in another, all through one receiver with no interruptions or quality loss.
The Yamaha RX-A8A also supports hands-free control through Apple Siri, Google Assistant, or Amazon Alexa. The only catch here is that this capability isn't baked in—you'll need a third-party device on the same network to take advantage of this option. You can also control the receiver through your phone via the MusicCast app, an especially helpful option for multi-room music setups since you won't need to be in the same room as the receiver to adjust it.
The Verdict: Yamaha RX-A8A Review
The Yamaha RX-A8A has the power and versatility to suit just about any home entertainment setup (>>> Find on Bhphotovideo.com). All that functionality does come with a price, though, and at an MSRP of over $3,000 it's an investment. It's also a hefty receiver from a physical standpoint, weighing nearly 50 pounds. This is why we said at the beginning it may be more receiver than some people need. For those who want a full 11.2-channel system, though, it's definitely worth the investment.
FAQs
Can the Yamaha RX-A8A be used for gaming?
Out of the box, it's not set up for fast-paced gaming. However, you can update the firmware to add features like Auto Low Latency Mode (ALLM), Variable Refresh Rate (VRR) and Quick Frame Transport (QFT), all of which combine to reduce the lag for frustration-free gaming.
Is the Yamaha RX-A8A complicated to set up?
Yes and no. It pairs with Yamaha's AV Setup Guide App, which walks users through the initial setup and can help beginners make sense of the rear panel. The automatic sound optimization also spares novices the need to manually adjust settings. However, the extent of the features and input options can be a bit overwhelming for those unfamiliar with A/V receivers.
Which music streaming services does the Yamaha RX-A8A support?
Pretty much all of them. Along with the options in the MusicCast and AirPlay apps, this receiver works with Spotify Connect, as well as streaming services including Pandora, Spotify, Amazon Music, TIDAL, Deezer, Napster, Qobuz, and SiriusXM.