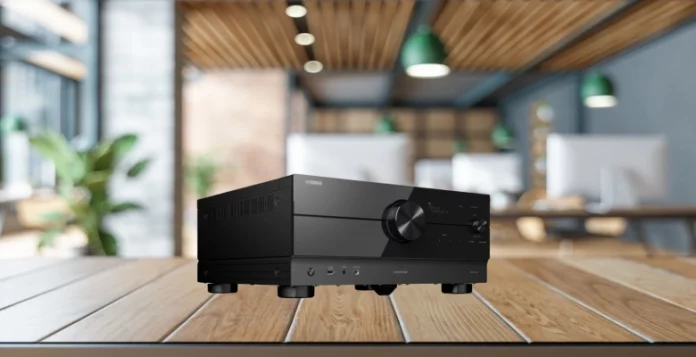 The Yamaha Aventage series brings studio-level sound and the latest in visual technology to everyday home theater owners. The RX-A6A occupies the upper end of the line in both price point and features, just below the top-tier RX-A8A. It's an ideal option for users who want the best in audio and video quality in a small to medium sized space, where a 9.2-channel sound system is the largest that you'll need.
What does this receiver do well—and is it the right model to meet your entertainment needs? We'll answer those questions in this Yamaha RX-A6A review (>>>Find on Amazon).
Yamaha RX-A6A Review of Specifications:
| | Yamaha RX-A6A |
| --- | --- |
| | |
| Video | 8K/60Hz, 4K/120Hz, 4K/60Hz |
| Amplifier | 9.2 Channel (150W per channel) |
| Sound | Dolby Atmos and DTS:X |
| Wi-Fi | Yes |
| Bluetooth | Yes |
| Price | Find on Amazon |
Installation and Use
The Yamaha RX-A6A comes with an AV Setup Guide App that walks users through the process of connecting speakers and content sources. It also pairs with the MusicCast app for adjusting the settings, and lets your phone function as a remote for your entire entertainment system. If you'd rather control it manually, the front panel has a backlit display and the basic controls you need to switch inputs or adjust the sound. For convenience, there are headphone and USB ports right on the front panel, too.
Now, the Yamaha RX-A6A isn't exactly a small receiver. It weighs over 40 pounds and will need a good amount of space on your entertainment center. This size is necessary for its extensive rear panel, though, which is well-labeled and intuitively laid out, with sufficient input and output options for even complicated or large A/V setups.
Sound Quality
The Yamaha RX-A6A is precision-tuned and has the features you need for immersive and realistic sound. Its Qualcomm chipset uses 32-bit Hyper Stream THD compensation to reduce noise and distortion. Its high slew rate amplifier recreates high-resolution audio signals with precision, while the Anti-Resonance wedge on the front of the receiver chassis dampens vibrations for a focused, accurate sound. Even compressed files like MP3s will sound their best thanks to the Compressed Music Enhancer.
The surround sound capability of the RX-A6A is equally impressive. It supports Dolby Atmos Height Virtualization, creating a 3D sound experience even without up-firing speakers. DTS:X and Auro-3D technologies add realism to that sonic picture, ensuring sounds are correctly placed in space. Its Surround:AI technology optimizes the output in real time, matching it to the acoustic needs of your listening environment, so you'll know you're hearing music and movies at their best.
Pros
Powerful and detailed sound for music and movies
Multi-room music and voice control built-in
Multiple surround sound formats
Supports video resolutions up to 8K
Lag-reduction technology for gamers
Easy setup and control through connected apps
Detailed display with front-facing USB and headphone jacks
Cons
Videos and Gaming
The Yamaha RX-A6A can process video signals up to 8K resolutions, with a 120Hz frame refresh rate for 4K content. All of its HDMI ports are eARC enabled, and it also supports visual technology like HLG, HDR10+, and Dolby Vision.
For gamers, the added lag of a receiver is their main concern. The RX-A6A has a Variable Refresh Rate (VRR), Quick Frame Transfer (QFT), and Auto Low Latency Mode (ALLM), which reduce the input lag down to negligible levels for frustration-free gaming on any platform. Find more options in a similar price range.
Wireless and Smart Features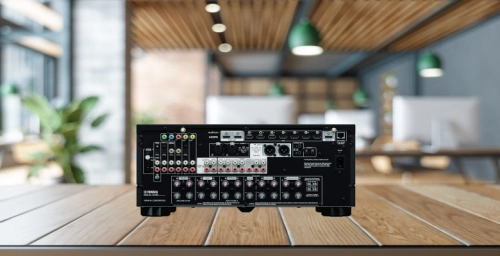 The extensive wireless connectivity of the RX-A6A expands its flexibility. It streams music directly from popular services like Pandora, Spotify, and Amazon Music, with support for AirPlay 2 for screen mirroring. Support for MusicCast gives it easy multi-room music capability, so you can control the sound in your entire house from one convenient hub.
If you want a smart receiver, the Yamaha RX-A6A is a great choice. It supports voice control through Siri, Google Assistant, or Amazon Alexa, and integrates smoothly into a variety of smart home and home automation setups.
The Verdict: Yamaha RX-A6A Review
The Yamaha RX-A6A doesn't just work beautifully in a home theater. It can function as a hub for your entire home's entertainment thanks to its multi-room music capability and extensive connectivity.
Granted, not everyone wants to drop two grand on a receiver. More casual home theater owners will likely want to check out other models in the Aventage line, like the RX-A4A or RX-A2A, which offer similarly immersive sound in a smaller, more affordable package. For those who want the full surround sound capability of a 9.2-channel system, however, the Yamaha RX-A6A is worth the investment (>>> Check on Amazon).