Marantz has always been a name that is synonymous with sound and video quality, and there are some out there who claim that there are no better AV receivers than Marantz AV receivers. So, does this one live up to the hype? At $2,500, it needs to do a lot to give you value for money (>>> Check price on Amazon).
Does this preamplifier outshine the rest? Read our Marantz av7706 review to see if this tech is right for you.
Marantz AV7706 review of Specs:
Sound
The preamp and processor delegate the amplification responsibilities, and that separates out the high voltages coming in from the low-level circuits within. Because the circuits are not over-loaded, there are no frequency or electromagnetic interferences that some low-end receivers can suffer from. The result is better overall sound, no matter the source of the audio.
The balanced and unbalanced outputs have gold-plated connections for better transfer of signal. Add in some channel separation and enhanced signal to noise ratio, and you have great clarity and dynamic ability.
Video
With 8 HDMI inputs and 3 HDMI outputs, you can incorporate the latest HDMI video at 8K and 60fps or 4K and 120fps. The 4:4:4 color subsampling helps to retain the clarity and accuracy from input to output, giving you 75% of the visual color spectrum.
HDR10 and HDR10+ are both supported, and that means enhanced picture quality for you, greater detail, and better contrast between the darks and lights. If you need the best of the best when it comes to your movie nights, then this is as close as you get to going to the cinema.
Pros
8K & 4k with 60Hz & 120Hz passthrough
8 HDMI inputs & 3 outputs
Multi-room capability
Latest HDR10 support
Amazing contrast & detail
Cons
Costs a lot!
No DTS:X Pro support (yet)
Connection
The Marantz av7706 comes with AirPlay, Bluetooth, and USB integration. If you are an Apple user, the device is compatible with Apple platforms, such as iTunes and Apple Music, along with other iOS apps. You can play music in single rooms, grouped rooms, or every room and, if you are an Apple Music user, you can even play different music simultaneously in different rooms.
If you are on the Android side of the spectrum, this may not excite you, but you do still have Bluetooth and USB. With Bluetooth, you can stream from any Bluetooth-enabled device, and the USB port allows for direct connectivity.
Control
An infrared remote gives you instant control at your fingertips for wireless operation of the AV unit. Modern devices, such as Blu-ray players and smart TVs, can also be controlled with the remote if the codes are registered in the remote.
The HEOS app is supported by both Apple and Android, and you only need to download the app to your device to get started. As long as you are connected to the same wireless network as the AV receiver, you have access to settings, rooms, music sources, and the current audio being streamed.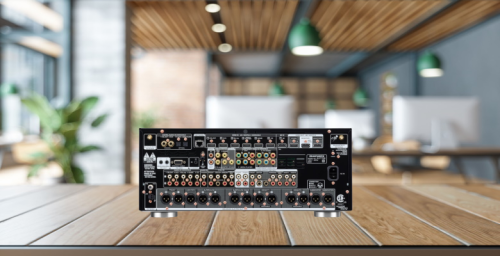 What Are Customers Saying?
So far, reviews have been positive. One thing to note is that this is not a simple plug and play device. There is a steep learning curve (compared to other AV units), and you will have to take some time to read the manual and maybe watch some tutorials.
You might also want to invest in high-quality HDMI cables. Just like you would put premium gas in a premium car, you need that quality of connection to transfer all of the data.
Overall, people like the Marantz av7706, but it is not a preamp for the casual user.
The Verdict:
So, is the Marantz AV7706 worth the hefty price tag?
The answer is yes, and no. If you are looking for a simple AV receiver that combines all of your audio and video, then there are other devices on the market that will serve you better. If you know what you are doing, love tech, and want to add quality to your home setup, then there are not many better than the Marantz AV7706 (>>> Check price on Bhphotovideo).
You'll enjoy the superior audio, flawless video, connection options, control, lag-free gaming, and customization even if you do not enjoy the price tag.
REFERENCES AND FURTHER READING: