What should you look for when you're trying to find the best A/V receiver for gaming? Lag time and responsiveness are the key stats to look at. High video and audio quality and robust connectivity are helpful, too, but the truth is none of those things matter if the receiver slows the signal to the point it's frustrating to play.
The good news is, you can find plenty of AV receivers that deliver impressive sound, immersive visuals, and flexible connectivity—all without increasing the signal lag. Let's check out the best models on the market now, with a side-by-side comparison to help you find the one that fits your needs and budget.
Best AV Receivers for Gaming – Top picks:
Denon AVR-X3700H
Denon AVR-X4700H
Denon AVR-X2700H
Marantz SR5015
Marantz SR6015
Marantz AV7706
Video
8K/60Hz, 4K/120Hz
8K/60Hz, 4K/120Hz
8K/60Hz, 4K/120Hz
8K/60Hz, 4K/120Hz
8K/60Hz, 4K/120Hz
8K/60Hz, 4K/120Hz
Amplifier
9.2 Channel (105 Watt X 9)
9.2 Channel (200W per channel)
7.2 Channel (95 Watt X 7)
7.2 Channel (100W per channel)
9.2 Channel (110W per channel)
7.2 channel (80 watts per channel)
Sound
7.1.2, 5.1.4 or 2.1 Dolby Atmos
7.2.4 or 9.2.2 Dolby Atmos
7.1, 5.1 or 2.1 Dolby Atmos
5.1.2 Dolby Atmos
up to 7.1.4 Dolby Atmos
Dolby Atmos, Dolby Atmos Height Virtualization, DTS:X
Wi-Fi
Yes
Yes
Yes
Yes
No
Yes
Bluetooth
Yes
Yes
Yes
Yes
No
Yes
Price

Find on Amazon





B&HPhotoVideo





ProjectorScreen.com

Find on Amazon





B&HPhotoVideo





ProjectorScreen.com

Find on Amazon





B&HPhotoVideo





ProjectorScreen.com

Find on Amazon





B&HPhotoVideo





ProjectorScreen.com

Find on Amazon





B&HPhotoVideo





ProjectorScreen.com

Find on Amazon





B&HPhotoVideo
Lag Reduction
For gamers, this is the first thing you should check on any receiver you're considering. There are three primary technologies you want to see included: Auto Low Latency Mode (ALLM), Variable Refresh Rate (VRR), and Quick Frame Transport (QFT).
You'll also want a receiver with a high refresh rate for the HDMI inputs. Ideally, it should have a processing speed of at least 120Hz for 4K (240Hz for Full HD).
All of the A/V receivers reviewed below meet these standards, and they'll all support gaming from the latest generation consoles with no lag, frame tearing, or other issues. That leaves you the freedom to choose a receiver based on other specs, like how well it fits into your home theater (and your budget).
Channels
The number of channels supported by an A/V receiver tells you how many speakers and subwoofers it can power at one time. This is expressed by a number like 5.1 or 9.2, with the first number indicating the number of speaker channels, and the second telling you how many subwoofers can be powered.
For smaller rooms, a 5.1 system is plenty to give you an immersive listening experience. Larger systems still have an advantage, however, opening up the option to use over-head speakers for 3D surround sound.
Both the Denon AVR-X4700H and the Marantz AV7706 support up to an 11.2 system. The Marantz edges out the Denon on this point because it has more amplifiers to power those channels, providing more discrete and complex sound
Most channel support: Marantz AV7706
Connectivity
Most people get an A/V receiver because they have a lot of individual home theater components to coordinate. Broad connectivity is especially important for multi-use entertainment systems, letting you easily connect all your gaming systems, content sources, and other devices to the receiver at the same time.
Along with wired inputs, many modern A/V receivers have wireless support. This opens up the option for direct streaming to the receiver, as well as screen mirroring and the option to use Bluetooth speakers or multi-room music.
Smart home users should also consider the voice control and automation connectivity. All the Denon receivers listed below will work with all the popular voice services, including Amazon Alexa, Google Assistant, and Siri, as well as home automation systems like Josh.ai or Control4 SPDD.
The AVR-X4700H pairs this smart support with the widest variety of other input options, inlcuding 8 total HDMI inputs (with one front-facing for quick connections) as well as other options like composite, component, and and a phono input for turntables.
Widest connectivity: Denon AVR-X4700H
Sound Quality
While video quality is important, too, most people invest in an A/V receiver after they've invested in a surround sound system and need an easy way to connect and control all those speakers. That makes the quality of the sound signal especially important when shopping for a receiver.
The power per channel is one thing to note for sound quality, especially when you want a powerful, immersive output. Consider the number of amplifiers the receiver offers, as well. Separate amplifiers for each channel provide a more nuanced, detailed audio experience.
Best sound quality: Marantz SR6015
---
Denon AVR-X3700H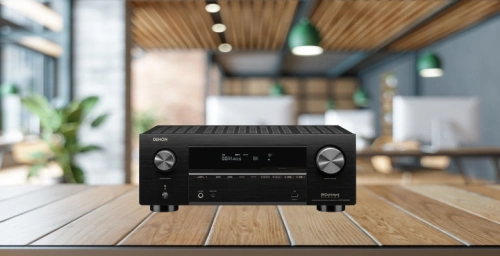 The Denon AVR-X3700H is the ideal receiver for a modern home theater. It supports the latest in visual technology, with dynamic HDR and HDR10, full support for 3D content, and both 8K and 4K pass-throughs. The audio quality is equally high, with immersive 3D sound thanks to Dolby Atmos Height Virtualization, IMAX Enhanced, and DTS:X support. This allows you to turn the 9.2 speaker system into a 7.1.2 or 5.1.4 system with overhead speakers, along with more traditional surround sound set-ups.
The Denon AVR-X3700H is just as impressive as a gaming receiver. You'll get the same 4K upscaling for game systems as for movies and shows, first of all. Along with that, it includes ALLM and VRR technology. The result is a smooth picture with no lag or frame tearing.
You can also use the Denon AVR-X3700H to turn your home entertainment system into a smart home theater. It supports voice control through popular services like Alexa, Siri, Google Assistant, or Josh.ai, and integrates easily into home automation systems like Control4 SDPP. That combination of modern technology and convenience makes the AVR-X3700H not just one of the best A/V receivers for gaming, but one of the best you can get, period.
Pros
High refresh rate with low latency
Easy, quick set-up with intuitive controls
Versatile connectivity
Supports multiple voice control services
Excellent video quality with 8K compatibility
Easy integration into smart home systems
Cons
No support for Chromecast screen mirroring
Doesn't work well with Sonos speakers
---
Denon AVR-X4700H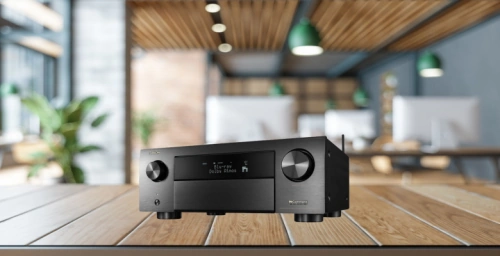 The next step up from the X3700H in Denon's AVR line, the Denon AVR-X4700H features the same gaming technology. This includes ALLM and VRR technology, as well as a Quick Frame Transport to further reduce frame tearing and lag. Its use of Quick Media Switching also eliminates delay when switching between inputs, making it a great choice for multi-use home entertainment systems.
Much of the other technology is the same, too. The AVR-X4700H supports 8K upscaling for video content, with support for HDR10+. For audio signals, it has full Dolby Atmos and DTS:X support, with 3D capable sound. It also includes voice control and automation support, with compatibility for all the major services (and some less-known ones, too).
The main strength of the Denon AVR-X4700H compared to other receivers on this list is its power and speaker support. It can be used for surround sound systems up to 11.2 and has more watts per channel than other receivers. That makes it the best choice for larger home theater spaces. Click here for our review of the Denon AVR-X4700H
Pros
Great gaming response with low lag and no frame tearing
Supports 8K video resolution
Direct music streaming through popular services
On-screen wizard makes setup easy
Compatible with voice control and home automation systems
Powerful with excellent volume output
Cons
Doesn't work with Sonos speakers
Higher cost
---
Denon AVR-X2700H
If you like the AVR-X3700H but want something a bit smaller (and more affordable), the Denon AVR-X2700H is your top option. This 7.2-channel receiver still has excellent connectivity, with 8 HDMI ports and a host of other wired inputs in addition to wireless connectivity through Wi-Fi or Bluetooth. It has Airplay support for streaming music directly to the receiver, as well, and can be used for wireless multi-room music set-ups through HEOS.
The Denon AVR-X2700H is 8K ready and supports the latest video signal technology. It's also a great choice for gamers for the same reason as the Denon receivers above, with VRR, ALLM, and QFT for lag-free gaming. While there are fewer channels, the audio signal support is the same, with Height Virtualization for a truly immersive 3D sound scape.
One minor quibble we have with the Denon AVR-X2700H is that it doesn't include the same set-up wizard that comes on the AVR-X4700H. Anyone familiar with A/V systems will still find it intuitive and easy to install, but that could be an issue for first-time receiver owners. On the plus side, the affordable price of the AVR-X2700H makes it an excellent value, and the best way to get the latest signal technology on a budget, especially in smaller spaces where even a 7.2 system might be overkill. Click here for our review of the Denon AVR-X2700H
Pros
Low lag and variable refresh rate for gamers
Supports 8K resolution with pass-through and upscaling
Multi-room music with HEOS support
Integrates easily into home automation systems
3D audio through Dolby Height Virtualization
Versatile connectivity
Cons
Fewer speaker channels
Less set-up guidance than other Denon receivers
---
Marantz SR5015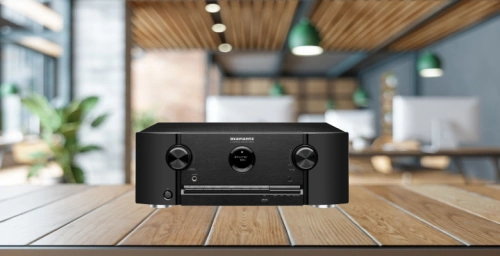 Denon isn't the only name in town for gaming receivers. The Marantz SR5015 is our top choice for gamers who are also audiophiles and plan to use their receiver for both purposes. With an impressive 180 watts per channel and support for all the latest audio signal technology, this receiver will play your music the way it was meant to be heard.
Like other projectors on this list, the Marantz SR5015 is 8K ready and supports 4K gaming, with a 120Hz 4K pass-through. Gamers will appreciate the inclusion of ALLR and the variable refresh rate. It's great for movie watching, too, with support for all the latest visual signal technology including HLG and Dolby Vision along with a variety of HDR formats.
While audio quality is the main advantage of the Marantz SR5015, this is a versatile receiver that can take care of all your A/V needs. It also has robust wireless content and control options, with HEOS multi-room music, direct streaming capability, and support for Alexa, Google Assistant, and Siri voice control. Click here for our review of the Marantz SR5015
Pros
High per-channel power for better output and sound quality
8K ready with HDR10, HLG, and Dolby Vision support
Game in 4K with Auto Low Latency (ALLR)
Compatible with voice control and automation systems
Supports HEOS multi-room music
Cons
4K pass-through isn't supported for all content sources
No front-wide channel support
---
Marantz SR6015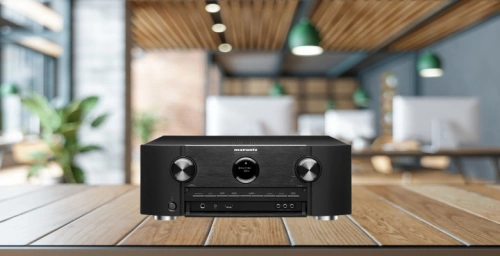 The next step up from the SR5015, the Marantz SR6015 uses the same basic technology but with more channels to support larger surround sound systems. Every channel on this 9.2-channel system has its own discrete amplifier and is powered by up to 180 watts, producing clear, powerful sound for everything from music to game sound effects.
The Marantz SR6015 is designed for experienced users and advanced home entertainment systems. The set-up is intuitive if you're familiar with A/V receivers, but it doesn't have much in the way of set-up guidance and instructions. This could be a concern for beginners, especially when you're trying to use features like multi-room music or integrating it into your smart home system.
For many users, the Marantz SR6015 is more receiver than you realistically need. It's an excellent choice for larger home theaters, however, especially if audio quality is your main concern. Support for all the latest object-based formats like IMAX Enhanced and DTS Virtual:X ensures accuracy and quality from all audio sources. Click here for our review of the Marantz SR6015
Pros
Discrete power amplifiers on each channel for maximum audio quality
8K resolution with pass-through and upscaling
Supports latest video technology, including multiple HDR formats
Compatible with voice control and multi-room music
Extensive connectivity
Cons
Not as intuitive or easy to install
Larger housing may not fit on all entertainment systems
---
Denon AVR-X1700H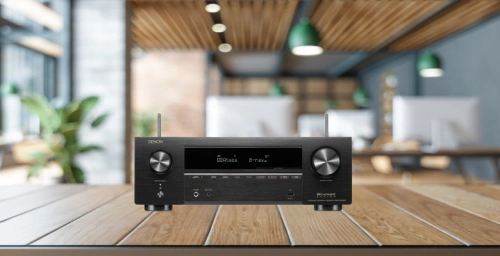 The Denon AVR-X1700H is one of the best AV receivers for gamers on a budget. It's the 7.2-channel version of the other Denon AVR receivers reviewed above, and offers similar performance in a smaller and more affordable package.
This starts with the AVR-X1700H's impressive sound quality. It uses a discrete 7-channel amplifier with Audyssey MultEQ XT ROom Correction to automatically optimize their output to your space. You can further adjust the sound with the dynamic EQ settings or features like the Dialogue Enhancer that bring out mid-range frequencies without adjusting the overall volume. For 3D surround sound setups, technology like DTS:X and Dolby Atmos Height Virtualization give users fully immersive surround sound. Click here for our more in-depth review of the Denon AVR-X1700H.
All six HDMI inputs on the Denon AVR-X1700H support 4K pass-through and Quick Frame Transport (QFT). Three of them go a step further with an 8K/60Hz pass-through and added latency-reduction features like ALLM and VRR. That means you can connect multiple gaming systems without sacrificing performance. Your games will look spectacular, as well, thanks to support for HDR10+ and Dolby Vision.
You won't need to sacrifice convenience and smart features to get a receiver at this price point, either. The AVR-X1700H can be controlled through remote apps on Android or iOS devices and supports HEOS multi-room music, as well as direct streaming through services like AirPlay 2, TuneIn internet radio, or music streaming platforms. It also works with Alexa, Siri, and Google Assistant voice control, and integrates seamlessly into home automation services like Josh.ai.
Pros
Powerful 3D Dolby Atmos or DTS:X sound
Includes ALLM, VRR, and QFT
Easy to install and navigate
Up to 8K video pass-through with HDR10+ and Dolby Vision
Voice control and home automation support
Excellent value
Cons
8K resolution only supported on 3 HDMI ports
Less power per channel than other AV receivers
---
What's the Bottom Line?
Any of these receivers will work beautifully in a gaming-centric home theater, with low signal lag and a high processing speed. The decision really comes down to which one will work best in your space. Figure out how many audio channels you need and whether you plan to use the receiver in a smart home system.
Keep in mind, too, that the receiver isn't the only factor in how much lag you experience. If your projector or TV has a high native input lag, that will still be an issue. The same is true of the video and audio technology. If your TV is only Full HD, it won't give you 8K resolution no matter what AV receiver you use.
An AV receiver is a convenient way to link together all of your home entertainment devices and is a smart investment for any high-end home theater. We hope this review has helped you choose the right one for your home!
REFERENCES AND FURTHER READING: