What should you look for when you're trying to find the best A/V receiver for gaming? Lag time and responsiveness are the key stats to look at. High video and audio quality and robust connectivity are helpful, too, but the truth is none of those things matter if the receiver slows the signal to the point it's frustrating to play.
The good news is, you can find plenty of AV receivers that deliver impressive sound, immersive visuals, and flexible connectivity—all without increasing the signal lag. Let's check out the best models on the market now, with a side-by-side comparison to help you find the one that fits your needs and budget.
Best AV Receivers for Gaming – Top Picks:
Denon AVR-X3800H
Denon AVR-X2800H
Onkyo TX-RZ50
Denon AVR-X4800H
Marantz Cinema 60
Denon AVR-S570BT
Video
8K/60Hz, 4K/120Hz
8K/60Hz, 4K/120Hz
8K/60Hz, 4K/120Hz
8K/60Hz, 4K/120Hz
8K/60Hz, 4K/120Hz
8K/60Hz, 4K/120Hz
Amplifier
9.4 Channel (105W per channel)
7.2 Channel (95W per channel)
9.2 Channel (120W per channel)
9.4 channel (125W per channel)
7.2 Channel (100W per channel)
5.2 channel (70W per channel)
Sound
7.1, 5.1 or 2.1 Dolby Atmos
7.2 or 5.2.2 Dolby Atmos
Dolby Atmos and DTS:X
Dolby Atmos, DTS:X Pro, IMAX Enhanced, and Auro 3D
7.1, 5.1, or 2.1 Dolby Atmos
Dolby TrueHD, DTS-HD, Dolby and DTS upmixers up to 5.1 channels
Wi-Fi
Yes
Yes
Yes
Yes
Yes
No
Bluetooth
Yes
Yes
Yes
Yes
Yes
Yes
Price

Find on Amazon





B&HPhotoVideo

Find on Amazon





B&HPhotoVideo

Find on Amazon





B&HPhotoVideo

Find on Amazon





B&HPhotoVideo

Find on Amazon





B&HPhotoVideo

Find on Amazon





B&HPhotoVideo
Lag Reduction
For gamers, this is the first thing you should check on any receiver you're considering. There are three primary technologies you want to see included: Auto Low Latency Mode (ALLM), Variable Refresh Rate (VRR), and Quick Frame Transport (QFT).
You'll also want a receiver with a high refresh rate for the HDMI inputs. Ideally, it should have a processing speed of at least 120Hz for 4K (240Hz for Full HD).
All of the A/V receivers reviewed below meet these standards, and they'll all support gaming from the latest generation consoles with no lag, frame tearing, or other issues. That leaves you the freedom to choose a receiver based on other specs, like how well it fits into your home theater (and your budget).
Channels
The number of channels supported by an A/V receiver tells you how many speakers and subwoofers it can power at one time. This is expressed by a number like 5.1 or 9.2, with the first number indicating the number of speaker channels, and the second telling you how many subwoofers can be powered.
For smaller rooms, a 5.1 system is plenty to give you an immersive listening experience. Larger systems still have an advantage, however, opening up the option to use over-head speakers for 3D surround sound.
The Denon AVR-X4800H supports up to 9.4 channels, making it ideal for the best experience.
Most channel support: Denon AVR-X4800H
Connectivity
Most people get an A/V receiver because they have a lot of individual home theater components to coordinate. Broad connectivity is especially important for multi-use entertainment systems, letting you easily connect all your gaming systems, content sources, and other devices to the receiver at the same time.
Along with wired inputs, many modern A/V receivers have wireless support. This opens up the option for direct streaming to the receiver, as well as screen mirroring and the option to use Bluetooth speakers or multi-room music.
Smart home users should also consider the voice control and automation connectivity. All the Denon receivers listed below will work with all the popular voice services, including Amazon Alexa, Google Assistant, and Siri, as well as home automation systems like Josh.ai or Control4 SPDD.
The AVR-X4800H pairs this smart support with the widest variety of other input options, inlcuding 8 total HDMI inputs (with one front-facing for quick connections) as well as other options like composite, component, and and a phono input for turntables.
Widest connectivity: Denon AVR-X4800H
Sound Quality
While video quality is important, too, most people invest in an A/V receiver after they've invested in a surround sound system and need an easy way to connect and control all those speakers. That makes the quality of the sound signal especially important when shopping for a receiver.
The power per channel is one thing to note for sound quality, especially when you want a powerful, immersive output. Consider the number of amplifiers the receiver offers, as well. Separate amplifiers for each channel provide a more nuanced, detailed audio experience.
The Denon AVR-X4800H has the most sound quality options, delivering the richest sounds according to our tests.
Best sound quality: Denon AVR-X4800H
---
Denon AVR-X3800H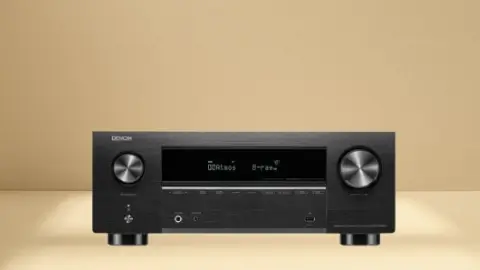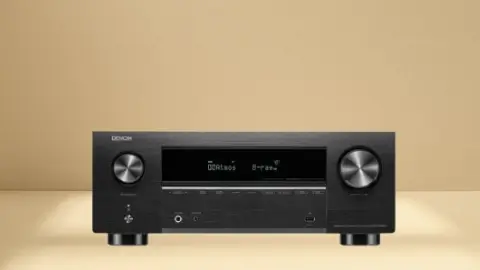 Pros
8K ready
Easy to set up
It has the most advanced video and audio settings on the market
It makes even older games look and sound new
Cons
Remote is lacking in certain aspects
We're starting this list with a heavy-hitting receiver. The Denon AVR-X3800H is a gamer's dream, with 8K readiness and immersive 3D audio.
We tested it using older and newer games and found that it worked well for both. Gamers can expect smooth frames as they play competitively or for fun. Its DTS Neural:X upmixer can take sounds from even older games and make them realistic. It's also amazing at upscaling older content like it's new.
Other features that make this receiver magical include supporting HDCP 2.3 and eARC and all the latest video formats. Streaming music to it or connecting it to wireless speakers is also simple for an even better gaming experience.
Its most prominent feature is its on-screen setup assistance. With it, you can easily calibrate the audio; every time, it sounds well. And we tried rooms of all sizes.
The only negative is that the remote could be better for the price. Instead of it having advanced features, you cannot control other devices. It also does not glow in the mark, making it a hassle to know what you're pressing when gaming in the dark. Find our in-depth Denon AVR-X3800H review.
---
Denon AVR-X2800H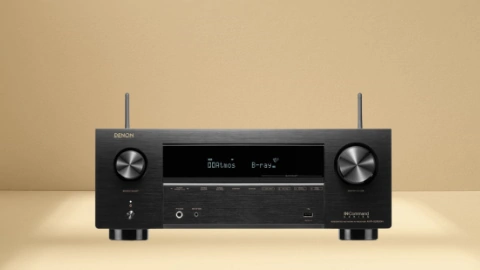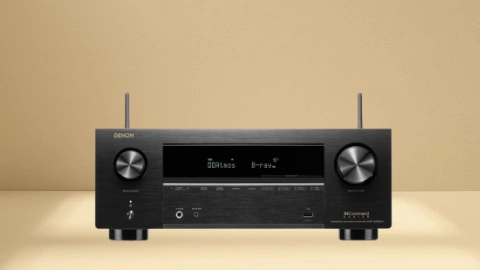 Pros
A cheaper alternative to the X3800H that does not sacrifice much
Great video and audio quality
Installation and setup are easy
Cons
The bass could have a little more oomph to it
If you want something similar to the previous entry but less pricey, the AVR-X2800H may float your boat. It's also 8-K radio and includes technology such as DTS: Neural X to turn your old games into something new.
It has features similar to the previous entry, meaning you may want to choose this. However, if you want the greatest video and audio quality, the AVR-X3800H does have a little more power. In addition, it allows for more powerful speakers; when we tested both of them, there was a difference.
The X2800H doesn't deliver as big of a bass sound as the X3800H. Some people may not care about this, especially if you're on a lower budget, but many gamers may want a little extra power as they're fighting off evil or playing with friends.
With that said, the previous entry into this series is still great and well worth buying.
---
Onkyo TX-RZ50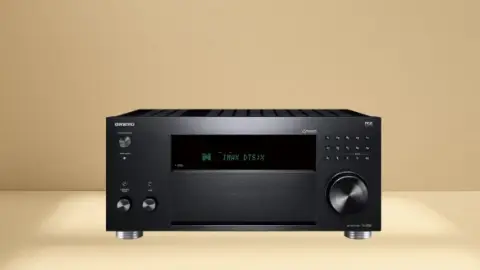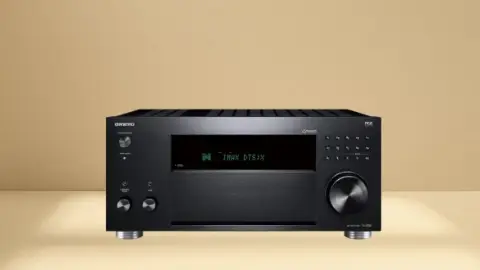 Pros
Amazing video and audio
THX certified
Room Correction technology adds to it
Cons
Lacks Auro-3D and DTS: Virtual X
While Denon is one of the best names in AV receivers, Onkyo's lineup is nothing to turn up your nose to. For some, it may be a nice in-between the first two on this list.
One feature that we enjoyed is its DIRAC Live Room Correction technology. When we tested it with various rooms, it optimized the game's sound according to the room's size and the game's situation. As expected, the TX-RZ50 delivers incredible video and audio quality, making old and new games look great.
It also has THX certification. Many of us know THX as a high audio quality gold standard, and it shows here. However, it does lack a few essential technologies.
For instance, it does not have Auro-3D or Virtual X. While this receiver still delivers rich audio, the lack of this knocked it back a few points, as older audio sounded better, with Virtual X being an option.
Full review: Onkyo TX-RZ50
---
Denon AVR-X4800H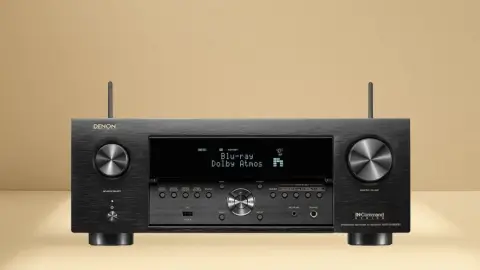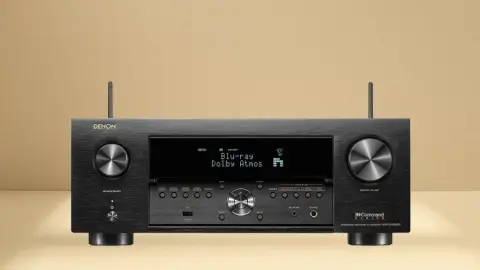 Pros
Some of the most advanced video and audio processing
Built-in 3D upmixing
More HDMI ports
Cons
Lacks a built-in Chromecast
What if we tell you that the X3800H is not the newest model? The X4800H, which costs a chunk of change more, is another to consider.
So, what are the differences between the two? First, it has jitter reduction technology, built-in 3D upmixing, more output power, an additional HDMI port, and several other improvements.
Casual gamers may not notice a difference, but we sure did. The AVR-X4800H delivers much more powerful sound with virtually no flaws.
Despite all its improvements and built-in technology, we were disappointed to see no Chromecast built-in. That's one disadvantage we hope to see in the next entry. With that said, if you can get over this fact, it's a great receiver you will love.
---
Marantz Cinema 60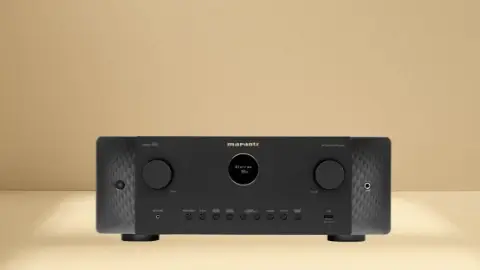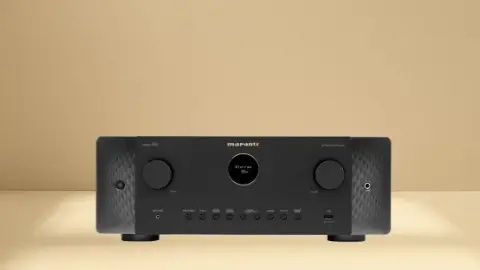 Pros
Amazing video and audio quality
Multi-room capabilities
The unique design sets it apart from the other receivers
Cons
Audyssey MultEQ editor is not free
Let's take another Denon break and look at another receiver you may want to consider. The Marantz Cinema 60 is a little more obscure, but don't let that prevent you from checking it out. It has a sleeker, less boxy look and a decent receiver all around.
It has all the essential features, including 9.4 channels, Dolby Surround, and DTS Neural: X. If you're planning to stream in multiple rooms, this receiver makes it simple for you to do so. Its sound and video capabilities also compare to that of the Denon receivers.
However, we have a complaint. It comes with an Audyssey MultEQ editor, which allows you to correct the sound to your liking. However, this is not a free app. Instead, you have to pay for it, which can be insulting for many, including us, after paying the amount for the receiver.
---
Denon AVR-S570BT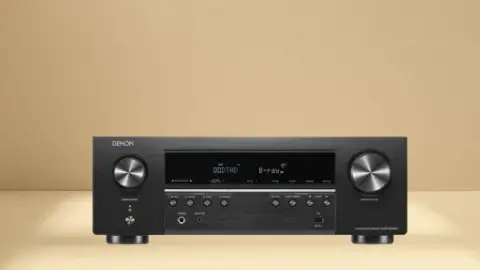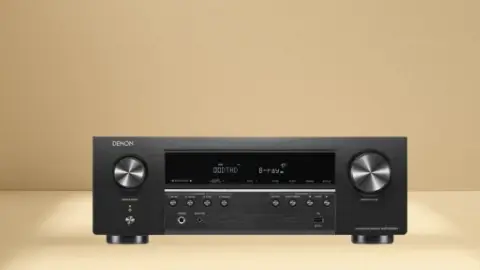 Pros
Decent video and audio for the price
8K ready
HDMI 2.1
Cons
Not meant for large rooms
Most of these receivers are in the $1,500-$2,500 range. What if you're a gamer who wants a decent receiver but doesn't have much money? Then this Denon model, which is under $500, may be the ideal receiver for you.
Despite its price, it has a lot going for it. It has 8K capabilities, HDMI 2.1 inputs, eARC, and all expected HDR formats. While it does not have more advanced features like Virtual: X, it's a receiver you may want to check out if you're on a budget or new to this scene.
Our only complaint is that when we tested it in larger rooms, it wasn't that powerful. However, this is a budget receiver, and for the price, it is impressive.
Our in-depth review of the Denon AVR-S570BT
---
What's the Bottom Line?
Any of these receivers will work beautifully in a gaming-centric home theater, with low signal lag and a high processing speed. The decision really comes down to which one will work best in your space. Figure out how many audio channels you need and whether you plan to use the receiver in a smart home system.
Keep in mind, too, that the receiver isn't the only factor in how much lag you experience. If your projector or TV has a high native input lag, that will still be an issue. The same is true of the video and audio technology. If your TV is only Full HD, it won't give you 8K resolution no matter what AV receiver you use.
An AV receiver is a convenient way to link together all of your home entertainment devices and is a smart investment for any high-end home theater. We hope this review has helped you choose the right one for your home!
REFERENCES AND FURTHER READING: