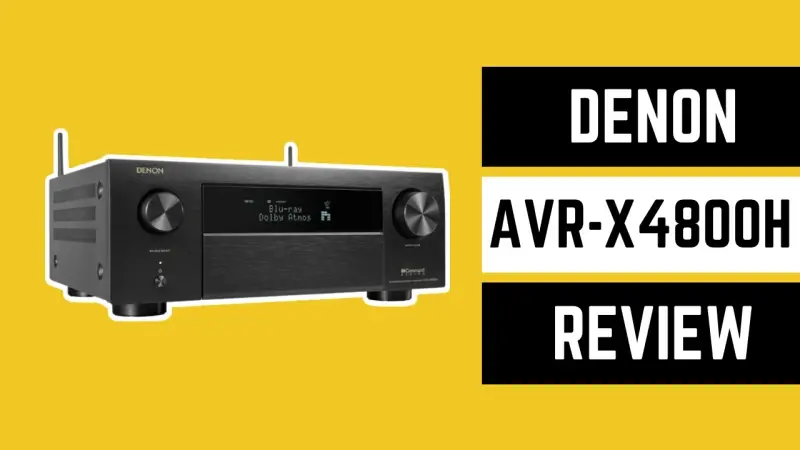 If you want the ultimate home theater experience, your receiver needs to keep up with your demands. One receiver that works well for those on a higher budget is the Denon AVR-X4800H. With 8K on the horizon, this receiver delivers. This Denon AVR-X4800H review will give you everything you need to know about it (>>> Check on Amazon).
Denon AVR-X4800H Review of Specifications:
Denon AVR-X4800H
Video
8K/60Hz, 4K/120Hz
Amplifier
9.4 channel (125W per channel)
Sound
Dolby Atmos, DTS:X Pro, IMAX Enhanced, and Auro 3D
Wi-Fi
Yes
Bluetooth
Yes
Price

Find on Amazon





B&HPhotoVideo
Pros
Stellar video and audio for the next generation of home theaters
Enhances older media flawlessly
Various inputs and outputs for multi-room streaming
Streaming music is easier than ever
Cons
A bit pricey for some people's budgets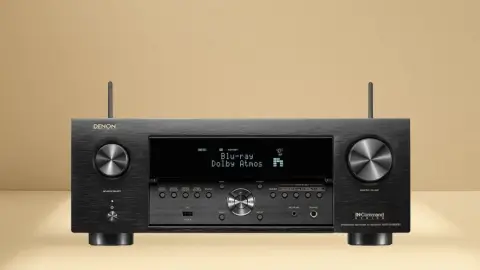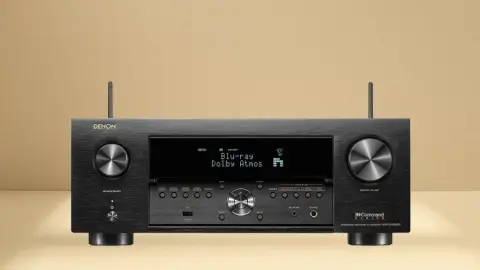 Video
If you own an 8K TV, this receiver is a must. It supports HDCP 2.3 and various formats, including HDR, HDR 10+, HLG, Dolby Vision, and Dynamic HDMR. In addition, it supports 8K at 60Hz, providing you with a breathtaking experience that will make any movie night one to remember.
With 10 HDMI ports (7 In/3 Out,) you can spread gorgeous video across many rooms. All of them support 8K/60Hz or 4K/120Hz.
Gaming
The Denon AVR-X4800H does not have many unique features to make it appeal to gamers. For example, it does not advertise features such as Variable Refresh Rate to provide as lagless of an experience as possible.
However, it does not need to. When we gamed on the AVR-X4800H, the results were flawless. It could handle high-demand games and 4-player competition quite well. With up to 120Hz, gamers can play video games without missing a single frame. Overall, it's great for the gaming community as well.
Sound
Of course, high-quality video is only one part of the experience. The Denon AVR-X4800H supports some of the best audio enhancements possible, and it's easy to hear the difference. It has Dolby Atmos, DTS:X Pro, Auro 3D, IMAX Enhanced, and Virtual X. You don't need height speakers to have a 2.1, 5.1, or 7.1 setups with Virtual X, either.
What makes this receiver also powerful is how well it supports legacy content. With its Dolby Surround and DTS Neural:X, sound from old media has just as much of a bang as newer content. Of course, this receiver also comes with a state-of-the-art setup. Your speakers will be calibrated to your room with no problem through its Audyssey Room Correction Suite.
Other Features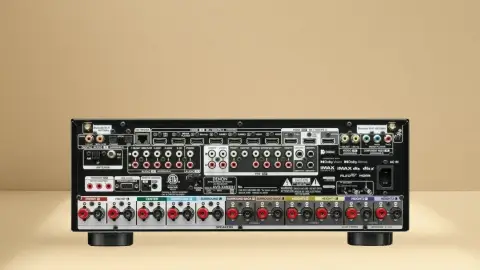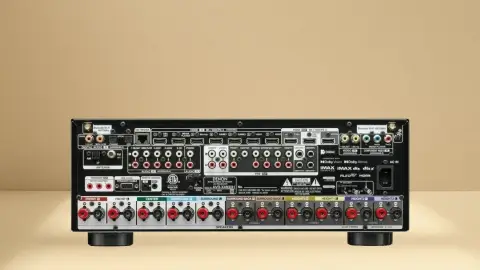 The Denon AVR-X4800H comes with several conveniences for a smart home theater setup. It includes Wi-Fi, Bluetooth, and its trademark HEOS, letting you stream music from all the major streaming services.
This receiver is 125 watts, making it powerful if you want a large-scale home theater or multiple rooms. However, with that much power, keep that in mind if you're trying to conserve electricity.
Denon AVR-X4800H Review: The Verdict
If you're interested in getting one of the most advanced AV receivers for your home theater setup, the Denon AVR-X4800H is the way to go. If you own an 8K TV or even a 4K setup, this receiver delivers. It can take old media and enhance it to make it feel like it just came out, and it provides the best in 3D video and audio (>>> Find the current price on Bhphotovideo).
We should mention that this receiver does go overboard if you don't have a large or advanced home theater setup. If that's the case, there are more affordable receivers you can check out that deliver the same quality for your needs. However, if you want the best, this receiver is a contender.
Check comparisons versus other receivers: