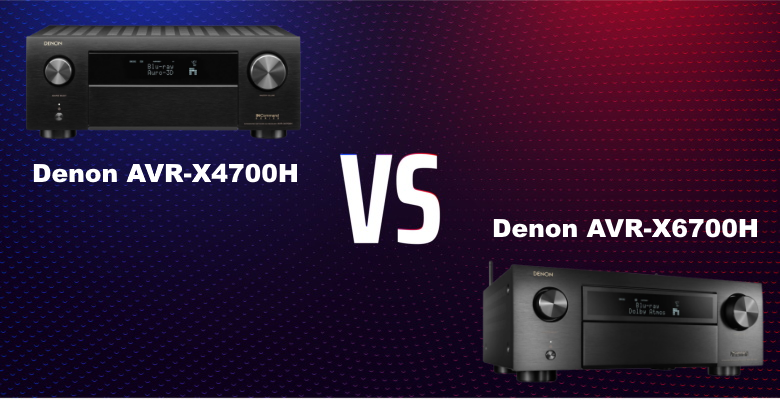 You won't be disappointed with a Denon A/V receiver. Audio and video quality are equally stunning. Along with Dolby Atmos for sound, you get the latest in image technology. Even gamers get the input lag and refresh rate they need to keep their games playing smoothly.
As you're shopping for A/V receivers you may find yourself comparing the Denon AVR-X4700H vs the AVR-X6700H. At first glance, the AVR-X6700H seems like a no-brainer (>>> Find on Amazon). You get more channels and power, along with enhanced dialogue. Where the AVR-X4700H wins, is with its price.
Still undecided over which Denon A/V receiver to take home? Sometimes, taking a close look at your options can help.
Denon AVR-X4700H vs AVR-X6700H Side by Side:
The differences between the two A/V receivers may be the deciding factor over which one is right for you.
Audio Quality
You get Dolby Atmos sound with both receivers, along with Auro 3D support. With three-dimensional sound, you hear every nuance. The AVR-X6700H does have more power. With 140-watts and 11.2 channels, you can easily fill a room with sound. Audio is louder, without distortion, compared to the 125-watts from the 9.2 channel AVR-X4700H.
When it comes to frequency response, both A/V receivers are equal. Audio is crisp and clear when you're listening to music but the AVR-X6700H comes with enhanced dialogue. Audyssey MultiEQ XT32 takes care of calibrating the speakers.
Better Audio Quality: Denon AVR-X6700H
Video Quality
Both receivers are 8K ready. It's not a big deal now, but it does mean you're ready for the next generation in image quality. Dolby Vision ensures you get amazing video quality with either receiver. Both models also come with HDR10+ for dynamic colors.
Live sports and action movies play smoothly without delays. You don't have to worry about blurry or frozen frames. The Denon receivers come with Quick Media Switching technology, everything plays smoothly including games.
Better Video Quality: Denon AVR-X4700H & Denon AVR-X6700H
Connectivity
An A/V receiver is the brains of your entertainment system. It allows you to control multiple devices from one component, so you need plenty of connections.
You get 8 HDMI inputs and 3 outports, along with ports for USB and phono. The AVR-X6700H does come with an extra composite video input, but both models have wireless connectivity. You can download your favorite internet radio apps like Spotify, Napster, and Pandora. Bluetooth 4.2 is supported, along with HEOS.
Better Connectivity: Denon AVR-X6700H
---
Denon AVR-X4700H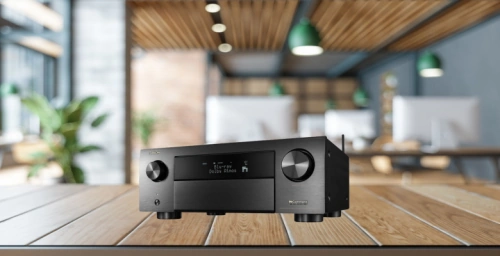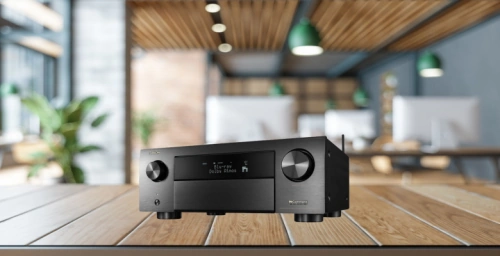 The AVR-X4700H is a powerful A/V receiver that's ready to go almost right out of the box. Once you get past its 30lb weight, it's a breeze to install. You get 11 HDMI inputs, along with a front USB port. HEOS support and wireless connectivity allow you to play audio in multiple rooms, and support for voice control ensures it's just as easy to operate.
With 9.2 channels, you get a flexible installation. The receiver also produces powerful sound. Each channel is powered by 125-watts. You get a theater-quality audio experience every time you turn the receiver on. It also boasts 3D sound, thanks to Dolby Atmos, IMAX Enhanced, and DTS:X technology. Dolby Atmos Height Virtualization ensures there are no dead zones in the room.
Image quality is just as impressive. You may not need it yet, but the receiver is ready when 8K is the new resolution standard. Until then, you have plenty of HDMI in and outputs to ensure optimal picture quality. HDR10, HDR10+, and Dolby Vision further enhance image quality, ensuring colors are crisp and vibrant. For our more in-depth AVR-X4700h review click here.
Pros
8K ready
Flexible setup
Crisp audio
Voice-control
Dynamic images
Cons
The A/V receiver is not compatible with Sonos
---
Denon AVR-X6700H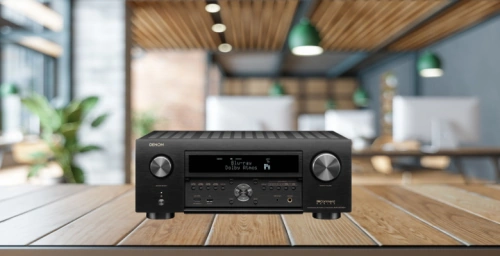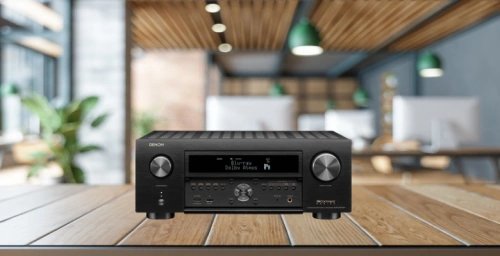 It is priced higher than some other Denon A/V receivers, but you get a lot with the AVR-X6700H. The receiver comes with 11.2 channels and boasts 140-watts of power. You can easily fill a room with theater-quality audio. Dolby Atmos, Enhanced and Virtual DTS:X, along with IMAX and Auro-3D ensure optimized sound.
Along with stunning audio and image quality, the receiver produces stunning colors and crisp details, it is also designed for gamers. It comes with a 4K pass-through for immersive images. You'll feel like you're in the middle of the action, especially when you add in the audio. A 120Hz refresh rate keeps your games playing smoothly. You may have a problem with first-person shooter games, but casual players won't have any issues.
Setting the receiver up is easy, even if it's your first time. You have all of the inputs you need, along with wireless connectivity. You have support for the latest version of Bluetooth, along with support for Alexa, Siri, and Google Assistant. See how it compares to the AVR-X4800H, the successor of the AVR-X4700H.
Pros
2 channels
Powerful audio
Dynamic images
Voice-control support
Gaming modes
Cons
The lack of multi-channel inputs may limit installation options
---
Summary
You do get more channels with the Denon AVR-X6700H. It also comes with more power. It's something to consider if you're trying to fill larger rooms with sound. Gamers will appreciate the various modes, but the receiver also comes with a higher price tag. It is noticeably higher than the AVR-X4700H (>>> Check on Bhphotovideo).
You do get fewer channels with the AVR-X4700H, and it also has less power. If you have a smaller space or don't need a 7.1 or 5.1 speaker setup, it's something to consider. Either way, you get impressive audio and video from both Denon A/V receivers.
REFERENCES AND FURTHER READING: