There's a model to suit any home theater setup in Denon's AVR line of A/V receivers. The AVR-S660H is one of the smaller and more affordable options in the line, with 5.2 channels and robust connectivity that make it ideal for mid-sized, multi-purpose entertainment spaces.
All told, the S660H is among the best A/V receivers you'll find in the under $500 price range. You'll find out why in this Denon AVR-S660H review, as well as learn more about its features and capabilities so you can decide if it's a smart buy for your home (>>> Check current price on Amazon).
Denon AVR-S660H Review Specs:
Denon AVR-S660H
Video
8K/60Hz, 4K/120Hz
Amplifier
5.2 Channel (75W per channel)
Sound
Dolby TrueHD, Dolby Surround, DTS-HD Master Audio and DTS Neo:6
Wi-Fi
Yes
Bluetooth
Yes
Price

Find on Amazon





B&HPhotoVideo
Ease of Use
The Denon AVR-S660H has an intuitive rear panel layout and easy-to-ready digital display that make it easy for even complete A/V beginners to connect devices, change inputs, navigate menus, and change the settings. It also comes with a guided setup assistant that walks users through the installation process.
Once it's set up, the AVR-S660H is equally easy to use. You can use the front-panel buttons, the included remote, or turn your phone into a remote with the connected app. We also appreciate the convenient front-facing USB port, which can be used for file playback or to charge phones and devices.
Sound Quality
Each speaker channel of the S660H has a discrete amplifier, driving speakers with 75 watts of power. Its 5.2-channel configuration is ideal for a surround sound system in a typical living room or similarly-sized space, providing room-filling sound with full bass power and excellent mid-range clarity for dialogue. It also supports sound technology like DTS-HD and Dolby TrueHD, ensuring the accuracy of movie effects.
The only thing the Denon AVR-S660H is lacking from a surround sound perspective is support for 3D height virtualization. While it does support 3D audio formats, you'll need physical upfiring or overhead speakers to take advantage of them. Check a comparison versus Denon AVR-S760H
The Denon AVR-S660H uses the same Audyssey MultEQ equalizer as the more expensive models in the AVR line. You can adjust the EQ settings manually, or take advantage of the built-in microphone for automatic speaker setup optimized to your space and equipment.
Pros
Supports video resolutions up to 8K
Discrete amplifiers on all speaker channels
Compatible with multiple voice control services
Easy installation with step-by-step setup assistant
Robust wired and wireless connectivity
No added lag for gamers
Cons
Visual Quality
The Denon AVR-S660H can be used with TVs and projectors that have a resolution of up to 8K. While only 3 of its HDMI ports support 8K resolution and upscaling, all 6 have a pass-through for 4K signals, as well as HDR10+, HLG, and Dolby Vision. Added features like Quick Media Switching and Dynamic HDR prevent video delay and other playback issues.
Gaming Performance
Along with the high visual quality noted above, the AVR-S660H has the responsiveness gamers look for. Three of its HDMI inputs support 4K/120Hz pass-through (8K/60Hz) for smooth on-screen movement regardless of the content's resolution. It also utilizes technology like Variable Refresh Rate (VRR) and Auto Low Latency Mode (ALLM) to prevent added lag, letting you stay immersed in your gameplay.
Wireless Connectivity and Smart Features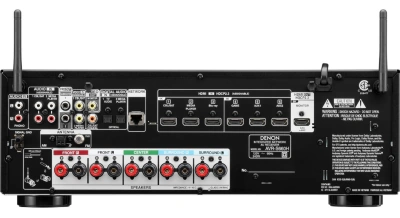 Along with built-in Bluetooth and Wi-Fi, the Denon AVR-S660H is compatible with the services most people use for hands-free control. This includes popular voice control services like Alexa, Siri, Google Assistant, and Josh.ai. It also supports HEOS for multi-room music setups or direct streaming through platforms such as Pandora and Amazon Music.
In Summary: Denon AVR-S660H Review
The Denon AVR-S660H is a great choice for everyday home entertainment (>>> Check on Bhphotovideo). You don't need to be an A/V expert to set it up and use it, for one thing, with automatic EQ and a guided setup that make it easy for even beginners to get the best sound for their space. While it lacks some of the advanced features and technology you'll find on high-end receivers, its performance is impressive at the price point.