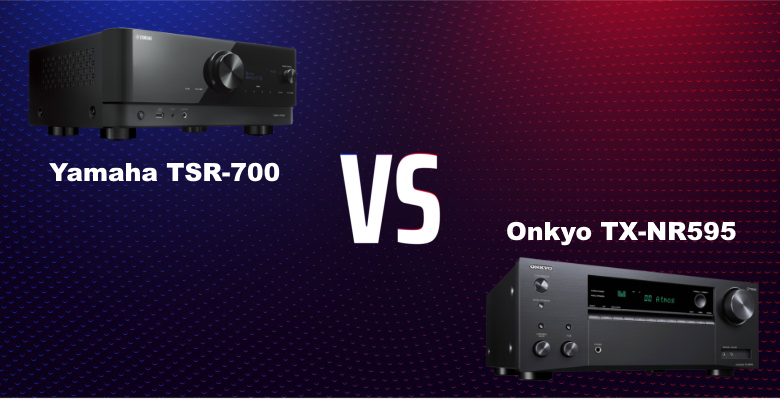 An A/V receiver is a convenient addition to your home theater, letting you control your speakers, projector and other devices through a single source. The right receiver can even improve the quality of your content, ensuring the integrity and accuracy of the sound and video signals.
If you're considering the Yamaha TSR-700 vs Onkyo TX-NR595, this comparison can help you make the right choice. Overall, we'd say the Onkyo TX-NR595 is the better choice for most, with superior audio output and handy features like direct music streaming (>>> Find on Amazon). On the other hand, the Yamaha is a better long-term value for home theater users. Let's take a closer look at these differences in more detail.
Yamaha TSR-700 vs Onkyo TX-NR595 Side by Side:
| | Yamaha TSR-700 | Onkyo TX-NR595 |
| --- | --- | --- |
| | | |
| Video | 8K/60Hz, 4K/120Hz | 4K/60Hz |
| Amplifier | 7.1 Channel (100W per channel) | 7.2 Channels (170W per channel) |
| Sound | 5.1 Dolby Atmos | 5.2.2 Dolby Atmos |
| Wi-Fi | Yes | Yes |
| Bluetooth | Yes | Yes |
| Price | Find on Amazon | Find on Amazon |
Audio Quality
The 7.1-channel Yamaha TSR-700 has a power output of 100 watts per channel, providing a powerful sound with no distortion even at high volume levels. It also supports Dolby Atmos elevation speakers for those who want a more three-dimensional listening experience, with sophisticated sound mapping to ensure the sound comes from the right part of the field.
With the Onkyo TX-NR595, you'll get 7.2-channel support, adding a subwoofer that enhances bass response and realism. Since it supports Dolby Atmos Height Virtualization, you can get a 3D sound even without dedicated overhead speakers. Along with this, it's more powerful, with 170 watts per channel, meaning it can fill any room with sound without sacrificing the quality.
Better audio quality: Onkyo TX-NR595
Video Quality
The Onkyo TX-NR595 supports the video signal technology that's in use today. It can process video signals up to 4K resolution, with support for the BT.2020 color range that's the newest standard for home theaters.
The Yamaha TSR-700 shares this support for the current video standard and extends it further into the future, with an update that adds 8K signal processing. Home theater owners who want to stay on the cutting edge can keep using the TSR-700 even after they buy an 8K display.
Better video quality: Yamaha TSR-700
Smart Features
Wireless connectivity comes standard on both of these receivers, and each has their own version of a multi-room music system. With the Yamaha TSR-700, however, you'll still need some kind of device to play content, whether that's a wired input or a wireless connection.
The Smart AVR system on the Onkyo TX-NR595 can stream music directly through a range of popular services. That content can still be shared across rooms and speaker zones to create a whole-home audio experience.
Better smart features: Onkyo TX-NR595
---
Yamaha TSR-700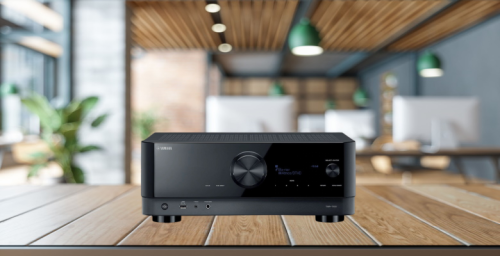 The Yamaha TSR-700 is one of the best values you'll find in a receiver for a fully-modern home theater. This starts with its impressive sound quality. It uses Yamaha's proprietary sound field technology, improving the quality and realism of the audio signal. DTS:X support further enhances the signal, placing the sound where it would occur naturally in space for a more fleshed-out, immersive sound performance.
This 3D sound is at its best when you take advantage of the Dolby elevation speaker option on the Yamaha TS-700, shifting the 7.1 system into a 5.2.1 system. Whether you're watching movies, listening to music, or playing games, you'll feel like you're in the middle of the action thanks to this receiver.
Out of the box, the TSR-700 has a 60Hz 4K pass-through on its HDMI inputs, supporting the current standard for home theater resolution. This can be updated to support 8K resolutions (or a 120Hz frame rate for 4K), sparing the projector from becoming obsolete as home theater technology continues to improve.
The streamlined front panel of the Yamaha TSR-700 is easy to learn and use, with convenient USB and audio out ports so you can quickly connect headphones and other devices. Its rear panel is similarly intuitive, and it has ample HDMI ports for the equipment in most modern home theaters. While it doesn't have bells and whistles like built-in voice control or smart features, it's a solid and convenient choice for buyers who care about value.
Pros
HDMI pass-through for 4K signals at 60Hz (8K after update)
Easy to connect and use
Sound field creation technology for more immersive sound
Wireless support with AirPlay and MusicCast
Supports 3D audio with overhead speakers and DTS:X
Cons
Requires update for 8K support
No built-in streaming
Related comparison: Onkyo TX-NR6050 vs Denon AVR-S760H
---
Onkyo TX-NR595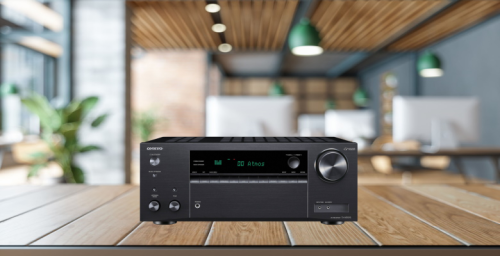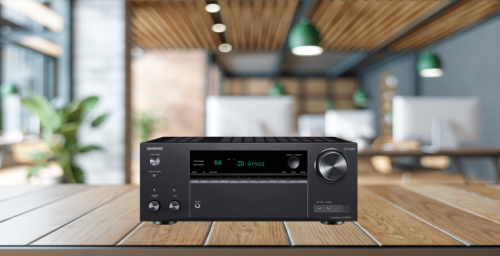 The Onkyo TX-NR595 goes beyond the wireless connectivity of the Yamaha above with a smart interface and built-in support for music streaming apps like Pandora, Spotify, and Amazon Music (among others). Its powered zone output lets you play music in multiple rooms, either synchronized or independently. Basically, the TX-NR595 can control your whole home's sound, not just your home theater.
The wide digital display on the Onkyo TX-NR595's front panel is easy to read, with clearly-labeled controls that make it easy for even beginners to use. Our only minor quibble is that it lacks a front-facing USB input, which can make changing devices a hassle if the receiver is installed in a tight space.
From a sound quality standpoint, we have no complaints against the Onkyo TX-NR595. It uses Dolby Atmos Height Virtualization to produce a 3D soundscape in 5.2.2-channel set-ups, with or without physical overhead speakers. Sound mapping through Dolby and DTS give the sound excellent realism, especially in home theater contexts.
The TX-NR595 works with the latest technology for video signal processing, as well, with a 4K 60Hz pass-through and support for Dolby Vision, High Dynamic Range (HDR) video, and Hybrid Log Gamma (HLG). That said, it doesn't have an option for adding 8K support. This isn't an issue for most users in the present but could limit its long-term use if you plan to upgrade to an 8K projector or TV down the line.
Pros
Built-in music streaming
Works with most speaker brands, including Sonos
Full 3D sound with Dolby Atmos and DTS
4K resolution and HDR/HLG support for video signals
Detailed digital display
Cons
Doesn't support 8K video signals
No front-facing device inputs
---
The Verdict
Each of these receivers is an excellent value in its own way, and either one can make an exceptional centerpiece for a whole-home entertainment system. The 8K upgradeability of the Yamaha give it better longevity, but if you have no immediate plans to upgrade to 8K, the smart features and better sound quality of the Onkyo make it the better choice (>>> Check on Amazon).
REFERENCES AND FURTHER READING: