A solid bass end is what gives music and sound effects its depth. If your home theater's sound feels weak even when it's loud, adding a subwoofer can give you that extra oomph you've been lacking. As you'll learn from this Sonos Sub Gen 3 review, it's a user-friendly way to get this low-end power—if you have the right kind of set-up. Let's take a closer look at its features so you can see if it's a good fit for you (>>> Find on Amazon).
Sonos Sub Gen 3 Review of Specification:
Sonos Sub Gen 3
Power (Watts)
No data
Frequency range
25Hz-110Hz
Subwoofer
Yes
Weight
34.1 pounds
Dimensions (inches)
15.3 x 15.8 x 6.2
Price

Find on Amazon





B&HPhotoVideo
Design and Build
Obviously the sound quality is more important than the look of a subwoofer, but there's no reason it can't look as nice as it sounds. The unique look of the Sonos Sub Gen 3 fits seamlessly into a modern home theater set-up, with a glossy finish and a sculptural, eye-catching overall design.
We will say it's a good thing the Sonos Sub Gen 3 is so attractive, because it's hard to hide. It's a pretty heavy and bulky unit, not necessarily the best choice if you want something you can slide into a cramped entertainment center. Along with the size of the unit, it needs a good amount of space around it to properly breathe and produce its best sound—at least a foot of distance between the sub and the wall is ideal. It is versatile, however, and can be positioned upright or on its side, which can make it easier to fit into your setup.
Pros
Unique, modern design
Full, deep bass response
No distortion or rattling from vibrations
Seamless set-up with Sonos sound systems
Trueplay tuning calibrates sound to room acoustics
Cons
Doesn't work with non-Sonos speakers
Needs a lot of space for the best sound
Sound Quality
The dual class-D amplifiers and dual force-canceling drivers in the Sub Gen 3 produce a rich, powerful bass sound that goes as low as 25Hz. It also enhances the bass end of mid-range frequencies, with a cross-over frequency of 80Hz by default (this can be adjusted anywhere from 50Hz to 110Hz). Basically, all of your content will sound fuller and more immersive when you add this subwoofer.
The authenticity and clarity of the sound from the Sub Gen 3 is equally impressive. Its force-canceling drivers prevent distortion, rattling, and other common issues caused by vibration. This translates to a sound that's pure and buzz-free even at higher output levels, great news if you like room-shaking sound effects in a home theater, or want a thumping bass in your listening room.
While there aren't any controls on the sub itself, you can adjust the sound through the Sonos app, though you won't necessarily need to. Its automatic Trueplay tuning technology optimizes the sound to the acoustic environment automatically, but there are manual settings in the app, too, if you'd rather do it by hand.
Connectivity and Compatibility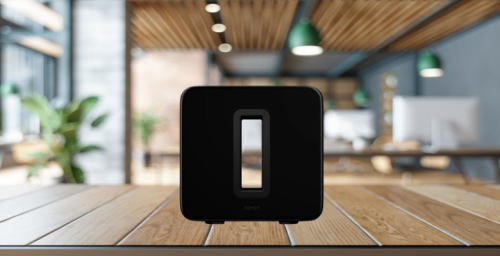 The Sonos Sub Gen 3 connects to other speakers wirelessly through Wi-Fi, no wires required, something else that gives it a flexible installation—you can put it wherever it sounds best, without worrying about whether your cords are long enough or how to hide the wires.
Like most Sonos gear, the Sub Gen 3 connects through the Sonos app. This gives it a completely seamless setup if you're connecting it to a Sonos soundbar or speaker system—all you have to do is enter your Wi-Fi password, and the app does the rest. However, since it lacks Bluetooth or wired inputs, there's no way to connect it to most non-Sonos equipment, which is the sub's most significant limitation from a usability standpoint.
Sonos Sub Gen 3 Review In Summary
From a sound quality standpoint, it's hard to beat the Sonos Sub Gen 3. Its wide frequency range and clear, powerful audio response are definite points in its favor, and it's very easy to set up and adjust through the paired app—it's almost a no-brainer for anyone using Sonos equipment. If you use speakers from other brands, though, you'll have to look elsewhere, and this limited connectivity is its main weakness (>>> Check the current price on Bhphotovideo).
REFERENCES AND FURTHER READING: