Home theater options have come leaps and bounds in the last year. Just recently, the all-new Sonos Arc debuted, promising to bring award-winning audio in a compact soundbar, while JBL doubled-down on compact surround sound with the Bar 9.1. Adding premium sound to your home entertainment system used to involve miles of cables, wires, and bundles but today, we have powerful audio that's tailored for TV, movies, video games, and listening to music.
In the debate between buying the Sonos Arc vs JBL 9.1, we find that each system has pros and cons for different buyers. Android users who are adding a soundbar to a large TV in a substantial room will appreciate the features of the JBL Bar 9.1, while Apple users with modest rooms can benefit from the unique design of the Sonos Arc, making it a better buy (>>> Find on Amazon).
Sonos Arc vs JBL 9.1 Side by Side
| | Sonos Arc | JBL 9.1 |
| --- | --- | --- |
| | | |
| Power (Watts) | 110W | 820W |
| Connectivity Options | HDMI | Wi-Fi, HDMI |
| Subwoofer | No | Yes |
| Dimensions (inches) | 3.4 x 45 x 4.5 | 40.63 x 15.04 x 19.21 |
| Price | Find on Amazon | Find on Amazon |
Sonos Arc with Dolby Atmos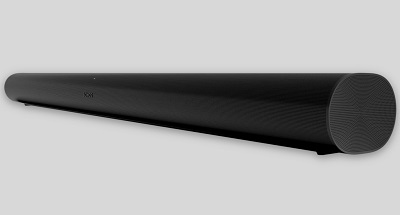 The Sonos Arc was a much-anticipated addition to home theater options bringing 3D sound and Dolby Atmos performance in a compact sound bar. It comes with Amazon Alexa ready-to-use and is compatible with Apple AirPlay 2 for wireless music streaming. The slim design houses a powerful group of speakers for lifelike, accurate sound quality.
Speakers
The Sonos Arc uses 11 drivers, each with its own Class-D amplifier. Eight elliptical woofers provide depth of sound and a surprising amount of bass. Silk-dome tweeters are ideal for reproducing crisp audio and high pitch frequencies. Sonos lays this bar out with three tweeters engineers angled precisely to ensure realistic, room-filling audio. Sonos does not use the typical wattage ratings to represent the power-handling abilities, but users report that it's plenty loud.
Connection Technology
The Sonos Arc to your TV through an HDMI-to-HDMI eArC or ARC cable (included). Only some very recent model televisions will have this connector. Everyone else will connect to the digital audio out port using an optical-to-digital adapter (included). Connecting to a regular HDMI port will not provide audio.
The Sonos Arc can enhance audio to help make voices more clear, even during the loudest action scenes. In-app settings allow the custom tuning of bass, treble, and loudness for your specific preferences.
Sonos S2 App
When you set up the Arc, you'll need to download and run the Sonos S2 app. It'll walk you through the remainder of the setup process. From the app, you'll have control over track selection, volume, and you can search the internet for music. A recent firmware update allows Android 8.0-users and iOS 12 users access to the app. Other OS systems supported include Fire 7 and iPad 13. Smartphone or tablet users on other OS versions will need to upgrade their device to use ll of the features of the S2 app.
Key Features
11 Class-D drivers, including two upfiring elliptical woofers and three silk-dome tweeters
Dolby Atmos sound for 3D realism
Works with Sonos S2 app and Apple AirPlay2
Amazon Alexa voice control
Far-field microphone for TruePlay™ automatic room acoustic tuning
Voice enhancement
Compatible with wireless subwoofers and surround speakers, sold separately
Pros
Outstanding audio quality from a compact soundbar
Sleek design is unobtrusive
Dolby Atmos sound is fantastic
Cons
Numerous Android users report issues with connecting to smart phones
No ability to custom tune speakers individually
Does not include wall mount bracket
Subwoofer and surround sound speakers more than double the price
Who We Think the Soros Arc is Perfect For
This is a wonderful soundbar that produces unbelievable and realistic sound from stationary speakers. To take the most advantage of this soundbar, you're going to want a TV that's compatible with eARC and a smartphone that's compatible with the S2 app. It's the ideal system for rooms where a surround system isn't practical. This is a great choice for a bedroom or a smaller living room, but it sounds equally wonderful in a home theater room.
---
JBL Bar 9.1 Wireless Surround Sound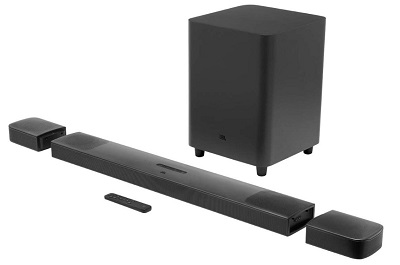 JBL hustled the 9.1 system onto the market just before the global Coronavirus pandemic shut everything down, which led to some early units that were a little buggy. Since then, the true potential of this surround system/ soundbar is being revealed. It's powerful, versatile, and broadly compatible with different devices.
Speakers
A neat trick from this system is the wireless, battery-powered side speakers that can unclip and be set wherever you want to fill in the sound. A wireless 10" subwoofer provides deep base and adds drama to the audio on movies, TV, and games. Four elliptical woofers and two up-firing full-range drivers are complimented by three tweeters. The sub adds the .1, and packs 300 watts total power on it's own. The main soundbar can push 400 watts, while the pair of detachable side speakers are 60 watts each. In all, the system produces up to 820 watts of room-flooding 3D sound.
Connection Technology
The JBL Bar 9.1 gives buyers some options for how they would like to connect the speakers to their TV and what apps they want to use to control the system. The Bar 9.1 is compatible with Dolby Atmos and DTS:X, so you get great sound from BluRay discs and rentals from RedBox. It's really simple to stream music from a smartphone using Bluetooth and Apple AirPlay works great. There is no additional app to download for this system.
Key Features
Dolby Atmos & DTS:X compatible
9 drivers and a wireless 10" subwoofer
Detachable side speakers provide 3D surround sound effect
6+ hours runtime on wireless speakers
Includes all cables and mounting brackets
Apple AirPlay and Android QPlay compatible for wireless streaming
Pros
Detachable speakers provide surround sound when you want it
Tons of power from a compact system
Easy to set up and compatible with different sources
Cons
US version does not include end caps or brackets for detachable speakers
System will not work when side speakers are out of charge
Lacks tunability of individual speakers
Who We Think the FBL Bar 9.1 is Perfect For
This is a great setup that provides tons of power. It'll work best for people who are setting up a home theater room, have a large room they want great sound in, and makes a great choice for a patio theater. The range of connection options available from the Bar 9.1 means it'll be easier to set up than the Soros Arc, so you don't necessarily need the newest and best TV and smartphone to take advantage of the awesome sound.
---
Conclusion
As you can see, these two products offer significant amounts of audio enhancement, but they tend to reach for a different audience. The JBL Bar 9.1 provides excellent sound and volume, but not as clear of vocals. It can easily overpower a smaller room, making it more appropriate for larger spaces (>>> Check on Bhphotovideo). The Sonos Arc provides cleaner, crisper sounding music and audio tracks, but lacks the feel-it-in-your-pants bass the JBL brings. However, in a smaller room, the up-firing speakers provide a perfect complement of deep bass and broad midrange sound. The Sonos is more difficult to set up and requires the newest and best technology to function at its potential.
REFERENCES AND FURTHER READING: