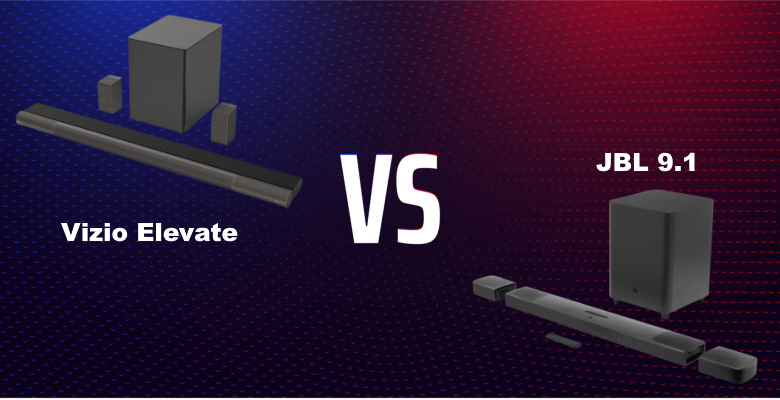 When it's time to add some thunder and audio performance to your basic entertainment system, you may look for a great option that is in the middle of the price range. Today, we put the Vizio Elevate vs JBL 9.1 Bar head-to-head to see which of these two mid-price soundbars make for the best purchase.
After extensive review, we recommend the Vizio Elevate as the better of the two bars. Below, we will compare the features of these very similar products and tell you why one is better than the other (>>> Find on Amazon).
Vizio Elevate vs JBL 9.1 Side by Side:
Vizio Elevate
JBL 9.1
Power (Watts)
No data
820W
Connectivity Options
Bluetooth, HDMI
Wi-Fi, HDMI
Subwoofer
Yes
Yes
Dimensions (inches)
4.45 x 20 x 2.19
40.63 x 15.04 x 19.21
Price

Find on Amazon

Find on Amazon





B&HPhotoVideo
Head-to-Head Review
These two products fall in the same price range, both feature 5.1.4 configurations with a powered sub and rear speakers, and both are excellent options for improving the quality of your audio while watching movies, listening to music, or playing video games. Deciding between the two products can be a serious challenge since they are so similar. A few features set the Vizio apart in our opinion.
Physical Appearance
The Vizio Elevate is a much better looking soundbar. The sculpted design will blend in with your modern television much better than the squared-off appearance the JBL 9.1 brings. The Vizio unit simply looks fresher and less chunky, giving the Elevate a significant edge.
One aspect of the physical appearance we particularly like is the end speakers on the Elevate. The unique automatic rotating design lets the user get the optimal angle for these speakers, giving you a better option for developing truly room-filling sound. JBL uses up-firing speakers on the end bar unless the detachable rear speakers are connected to the bar.
Rear speakers are much better looking on the Vizio product, and look even better when mounted on minimalist stands. The JBL rear speakers are thick and chunky, and look like they might have been designed in the 1990s. Again, every aspect of the thoughtful design elements shows through on the Vizio soundbar, leaving the JBL 9.1 Bar looking dated.
Audio Performance
You want a soundbar that sounds as good as it looks, and the Vizio takes the cake on this one, too. The automatically rotating front speakers provide enormous range, while the rear speakers provide excellent 3D effects. Though slightly smaller than the JBL 9.1, the subwoofer Vizio included in this system is powerful enough to get you in trouble with your neighbors. More importantly, it provides smooth and responsive bass without distortion. Both subwoofers perform well, but the smaller Vizio woofer is easier to conceal, particularly in rooms with a lot of clutter.
Both the Vizio Elevate and the JBL 9.1 Bar are compatible with Dolby Atmos and DTS:X formats to provide you with excellent audio quality regardless of the source. JBL chose not to include capability for voice control, something that seems like an oversight at the price point The Vizio Elevate bar is fully compatible with Alexa, Siri, and Google Assistant.
There are some notable differences between the sound quality of these two units. Users of the JBL system report low volume issues when listening to movies with quiet dialogue, forcing the user to rewind, turn the volume up to hear, then turn the volume back down. Even after adjusting settings, EQ options, and other features, the soundbar simply doesn't produce audio as well as the Vizio Elevate.
Speaking of EQ, a major dropped ball by JBL is the lack of EQ controls for anything but movie controls, leaving users stuck with factory settings on all other media types. Vizio provides an easy-to-use EQ system that lets you balance frequencies regardless of media playback type.
Streaming and Digital Playback Capabilities
Streaming music via WiFi or Bluetooth is easy with both systems. JBL does not support Dolby Atmos from streaming services like Netflix or Pandora, but Vizio does. This is another big win for Vizio and one of the main reasons this is a better soundbar. What's the fun in a great sounding bar that only works on certain media types? In order to get the performance the Vizio offers, JBL users will have to use alternative sources, like casting from a tablet through Chromecast. Both the Vizio Elevate and JBL 9.1 Bar are Chromecast equipped.
Digital playback is excellent with both sound systems. It's simple to connect the bar to the TV using the included cables. Both bars are eARC capable, so you'll get pure 4K video and audio with simple connections. Some users of the JBL system report interference issues that may be related to HDMI capabilities, the users television, or a limitation in the JBL system.
---
Vizio Elevate Key Considerations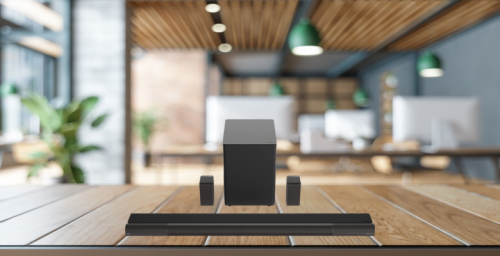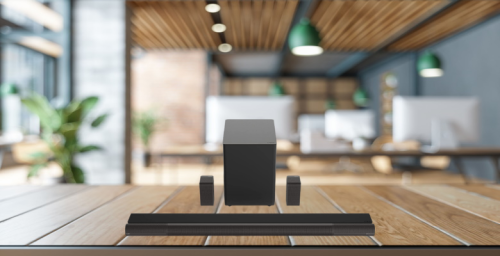 The Vizio Elevate is our pick for the best mid-price soundbar for several, significant reasons. Overall, this is an easy to install soundbar that features a simple interface for setting up audio in your space. The connections are easy to make, and this system provides optimal sound regardless of the streaming source. The biggest reason for selecting this system over the JBL 9.1 is the convenience factor. It's just an easier system that provides better sounding audio.
Pros
Attractive soundbar design looks good in any decor
Built-in voice control, WiFi, Bluetooth provide lots of control options
Excellent bass response
Incredible 3D audio experience with clear, audible vocals and deep, moving effects
Cons
Some software bugs periodically cause users to reboot the system
Not audiophile-quality sound stage
Bass is a little heavy without being adjusted
---
JBL 9.1 Considerations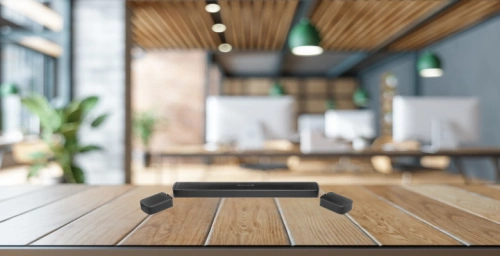 We really wanted to like this product, and it was a disappointment that so many features that should be standard are not included. In particular, the lack of Dolby Atmos support through streaming services and a missing EQ balance for TV. music, and video gaming really is hard to understand at this price point. The overall design aesthetic is somewhat clunky and looks like an older product. While the battery-powered speakers are a novel idea, they don't work very well and don't last for the advertised 10 hours. Another irritation regarding the detachable speakers, they cannot be used while charging.
Pros
Good sounding system for watching DVDs and blu-ray discs
Lack of settings makes setup easier
Cons
Lacks Dolby Atmos for streaming
Lacks EQ for any input except movies
Battery life on rear speakers is inadequate
Missing vocal audio from center channel speakers causes users to have to turn up volume to hear
---
Conclusion
When you are looking to bring big sound to your home theater entertainment system, the Vizio Elevate is a great option and you will be happier with it than you will if you purchase the JBL 9.1 Bar. Both are good options, but the versatility and convenience of the Vizio makes it the clear winner in this head-to-head review (>>> Check on Amazon).
REFERENCES AND FURTHER READING: