Polk Audio's Signature Elite speakers offer tons of power and performance that make it easy to add to a multi-channel system or as a stand-alone to make the switch from a soundbar or television speakers simple. This Polk Audio Signature Elite ES20 review examines the features and functions that make this a great choice either to expand or to begin building out a comprehensive sound system for home entertainment (>>> Find on Amazon).
Polk Audio Signature Elite ES20 Review of Specification:
| | Polk Audio Signature Elite ES20 |
| --- | --- |
| | |
| Power (Watts) | up to 150W |
| Frequency range | 39Hz - 40kHz |
| Subwoofer | No |
| Weight | 17 pounds |
| Dimensions (inches) | 8 x 14 x 16 |
| Price | B&HPhotoVideo |
This set of bookshelf speakers begins with a pair of 6.5-inch woofers that handle bass and mid-range frequencies. The speakers also include tweeters that are designed to provide high-frequency audio to give you the vocals and highs to make your music, television, or movies more enjoyable to listen to at home.
Woofer Technologies
The Polk Audio ES20 speakers provide high-resolution playback using a variety of technologies to give you the most balanced and complete sound stage possible. This starts with high-quality speakers and Power Ports to generate optimal sound quality. Other technologies include Dynamic Balance Acoustic Array and precision crossovers to get the most from these diminutive speakers.
The Power Port design helps to improve overall sound stage development by enhancing the resonating of low frequencies. This allows the speakers to generate excellent bass response without the need to overdrive the tweeters. Power Ports are specifically-tuned to provide the perfect sound for the size of the speakers within the enclosures.
Crossovers allow the proper frequencies to be channeled from the audio source to the appropriate speaker. This allows the tweeters to only handle sound frequencies in the high range, while ensuring that the woofer isn't trying to do too much on the high end, giving up low frequency sound.
Dynamic Balance Acoustic Array is proprietary tech used by Polk Audio to produce the most realistic Hi-Fi sound from the speakers even when operating at low power input values.
Tweeter Technologies
The tweeters utilize Terylene-dome tweeters that are an excellent balance between extremely rigid domes and soft domes to provide smooth audio. It is the design of the tweeters that truly provides the range of audio frequencies and the realistic recreation of the original audio to produce high-fidelity audio.
Pros
Excellent sound quality that is much bigger than the footprint of the speakers
Ideal for adding surround sound and elevation to your existing system
Cons
Too big for most bookshelves
May produce too much bass for some systems
Using Polk Audio ES20 as Primary Speakers
One of the excellent things about this set of speakers is the ability to use them as a stand alone in conjunction with an AV receiver or by connecting them to a power amplifier routed to your television. Placing these speakers on a bookshelf or short table enables the speakers to cast a broad soundstage that fills the room with sound while maintaining a small footprint.
Using Polk Audio ES20 for Height, Surround, and Elevation
In conjunction with other speakers like tower and soundbar setups, you can mount these speakers either at the ceiling firing down from behind or on seperate speaker platforms to aid in the enhancement of surround sound systems. Using these speakers in this manner allows you to take advantage of Dolby Atmos and DTS:X platforms for accurate surround sound, while also providing access to vintage audiophile quality.
Options for the Perfect System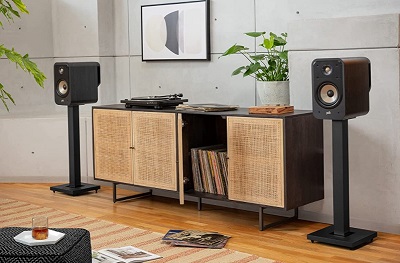 The ES20 speakers can be used either as 4 ohm or 8 ohm speakers to get the most out of the power you have available when using an AV receiver. This lets you get the most from the power you have available and ensures alignment with the amplifier.
In addition to flexible power handling, the ES20 speakers are also available in either a black finish, white finish, or woodgrain. This makes them versatile for either blending into the surroundings, particularly handy when using these as elevation speakers. Black and woodgrain finish is more popular and lets you match the finish of your speakers to the other equipment you are using.
Conclusion
If you are looking for a way to add extra oomph and detail to your stereo system or need to enhance a 5.1 system, these are perfect. The downside to them is that they are on the large side for a bookshelf speaker and may be too large for some. They benefit from amplification, but work well even when running a fairly low amount of power to them. We wouldn't hesitate to recommend these to anyone and think they make a perfect compliment when on stands (>>> Check the current price on Bhphotovideo).