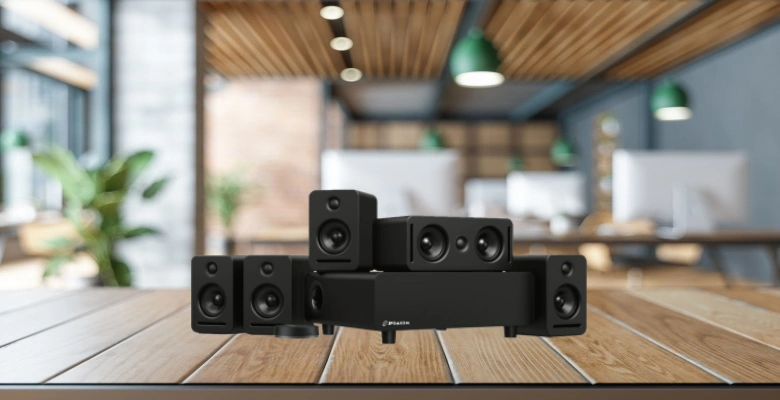 A wireless surround sound system not only brings your favorite movies, television shows, and video games to life, it also declutters your living space and makes moving speakers to different locations a snap. This Platin Monaco 5.1 review will explain the pros and cons of this moderate-priced home audio solution. (>>>Find on Amazon)
Platin Monaco 5.1 Review of Specifications:
Platin Monaco 5.1
Subwoofer Diameter
6.5 Inches
Channels
5.1, expandable up to eight channels with additional WiSA certified speakers
Speaker Type
Subwoofer, Center Channel
Wireless Audio Quality
Uncompressed 24-bit 48 kHz sound
Price

Find on Amazon





B&HPhotoVideo
WiSA Technology
Platin takes advantage of the WiSA standard for wirelessly streaming high-resolution audio files rather than rely on an internet connection. This solution allows an incredibly low lag while producing high bitrate transfers.
WiSA makes moving speakers to different locations simple because you won't have to run new speaker cables and you won't have to deal with unreliable WiFi or Bluetooth connections. The Monaco 5.1 receives the highest level of certification for WiSA systems possible, ensuring you get a flexible solution that sounds fantastic.
Sound Quality
The Monaco is tuned by THX to deliver the ultimate in theater-quality sound to a compact home audio system. Advanced EQ settings are simple to access with the Platin app and give you control over numerous features, including time and distance settings to enhance the surround sound effect.
When properly set up using the SoundSend transmitter and app, this audio system provides excellent quality on a variety of genres. Bass response is appropriate and is neither too loud nor underwhelming. Rear speakers work well with the center channel to produce movement in sound and an overhead effect. Front speakers handle the mids and provide depth to the soundstage.
Pros
Sounds like a much more expensive system
Wireless convenience works very well with few issues
Expandability to a larger system makes this a great starting point for home theater systems
Cons
Some listeners report muddiness in mid-range vocal tracks
Bass frequency is not overly powerful
Set-up Procedure
One thing that is often frustrating for people is configuring and setting up a home audio system. This is often even more complex when dealing with wireless systems. Platin uses a SoundSend transmitter and the included app for set-up and it couldn't be easier.
After removing the speakers from the box, just plug them in to a wall socket. Each speaker has its own power cord, so you aren't limited in the location of your speakers up to 30 feet from the transmitter. Powering on the system will begin the connection process.
In most cases, the speakers will connect and fine-tuning is handled through the app. Should a speaker fail to properly connect, a reset button on each speaker will reconnect the speaker to the system.
The modular design of this system allows for further expansion. You can connect up to eight channels through the SoundSend transmitter to produce a full-range home audio system.
What's in the Box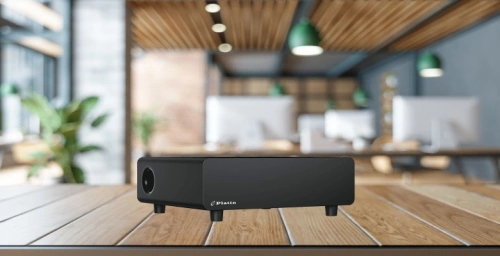 The speaker system includes a full-size subwoofer to provide low frequency bass response and add feeling to audio tracks. The speaker is mounted in a ported cabinet. The center speaker features two loudspeakers and a single tweeter. This speaker handles the majority of vocals on both movies and music. Four satellite speakers feature a loudspeaker and tweeter each. These speakers can be wall-mounted, placed on a shelf, or even set on a table almost anywhere in a room to maximize the expansiveness of the sound.
The box also includes the SoundSend transmitter that connects the speaker system to your television. It uses an ARC connector to ensure high-quality data transmission and makes the connection simple. The SoundSend transmitter is the heart and soul of this system.
Also included are individual power cords for each speaker. You'll need to position the speakers within 30 feet of the transmitter but be able to plug the speakers in, too. This can be a limitation when setting up audio in a room with few outlets. This Bookshelf Speakers buyers guide might be useful too.
Conclusion
Buyers seeking a wireless solution to a home audio system will find this to be a great solution. The Platin Monaco offers an excellent sound quality and the flexibility to expand to an even larger system in the future. It's one of the easiest systems to set up that we have seen and the lack of speaker cables running all over the room makes the package perfect as a compliment to the room. We think this is a great choice for buyers looking to upgrade from a soundbar or television speakers who want a high-quality experience without spending thousands of dollars. (>>> Check on Bhphotovideo)