Are you looking for a receiver to suit a large home theater? Or maybe you want one central place to control the speakers throughout your home. Whatever your reason for needing a 13.2-channel receiver, this Denon AVR-A110 review highlights the features of this versatile and powerful receiver to help you decide if it's the right fit for your entertainment needs. (>>>Find on Amazon)
Denon AVR-A110 Review of Specifications:
| | Denon AVR-A110 |
| --- | --- |
| | |
| Video | 8K/60Hz and 4K/120Hz |
| Amplifier | 13.2 Channel (150W per channel) |
| Sound | 9.2.4 or 7.2.6 Dolby Atmos |
| Wi-Fi | Yes |
| Bluetooth | Yes |
| Price | Find on Amazon |
Design
The Anniversary Edition of the Denon AVR-A110 was released to celebrate the company's 110th year of business, and is a fitting way to mark more than a century of audio excellence. Its stylish silver graphite finish fits nicely into a modern home theater décor, and the front panel is functional as well as attractive. The detailed digital display makes it simple to adjust settings and inputs, with a hidden control panel that includes easy-access headphone, HDMI, and USB ports.
The only potential issue with the AVR-A110's design is its size. It weighs over 50 pounds and has a height of 7.7" that could make it too large for some entertainment centers, especially since you'll want to keep the top vents clear of obstruction.
Set-up and Connectivity
The Denon AVR-A110 has the connectivity to suit any entertainment setup. Along with the front-facing inputs, the rear panel has a robust array of input options, including 7 HDMI inputs with 8K upscaling (8 total, including the one on the front). While the sheer number of options can be overwhelming for beginners, they're intuitively laid-out and well-labeled, with a guided setup to walk you through connecting and calibrating your speakers and content sources. Check our comparison versus Denon AVR-X8000HA.
The wireless connectivity of the AVR-A110 is just as extensive. It supports multi-room music through HEOS, with both Wi-Fi and Bluetooth connectivity for devices. For voice control, you'll have the option of Google Assistant, Amazon Alexa, or Apple Siri, so it offers good versatility for smart home owners. This wireless connectivity also means it can stream music directly through TuneIn, Amazon Prime Music, Spotify Connect, and other popular services.
Pros
8K video signal support and upscaling on all HDMI ports
High sound quality and output
3D audio through DTS:X, IMAX, or Dolby Atmos
Multi-room music through HEOS
No added lag for gaming
Wireless music through Pandora, Spotify Connect, and more
Works with multiple voice control systems
Cons
Larger and heavier than most receivers
Sound Quality
With 150 watts per channel, the AVR-A110 has a lot of output power. Each of its 13 speaker channels has a discrete amplifier, and all benefit from the AL32 multichannel alpha processing and Audyssey dynamic MultEQ equalizer. The result is a sound that's balanced and detailed throughout the frequency range, whether you're listening to music or watching a blockbuster movie.
The AVR-A110 also supports a variety of 3D audio setups, including Dolby Height Virtualization, IMAX Enhanced, and multiple DTS formats. This gives users the choice of 9.2.4 or 7.2.6 3D speaker configurations, letting you create an immersive soundscape in any space.
Home Theater Use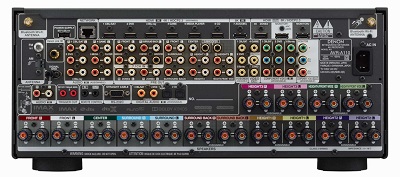 Along with its high audio quality, the Denon AVR-A110 does full justice to video signals. Its HDMI ports offer 60Hz 8K pass-through and upscaling (120Hz 4K pass-through). It also supports HDR10 for high contrast and color accuracy from any of its 3 display outputs.
The AVR-A110 performs equally well as part of a gaming setup. It uses Variable Refresh Rate, Auto Low Latency Mode, and Quick Frame Transport to eliminate lag and ensure a smooth playing experience from both PCs and consoles.
In Conclusion: Denon AVR-A110 Review
The Denon AVR-A110 is a hefty receiver in every sense, and for some spaces its 13.2 channels might be overkill. For larger spaces and complex entertainment setups, however, it's an excellent way to create an immersive movie, gaming, or listening experience, not just in your home theater but throughout your home (>>> Check on Bhphotovideo).
REFERENCES AND FURTHER READING: