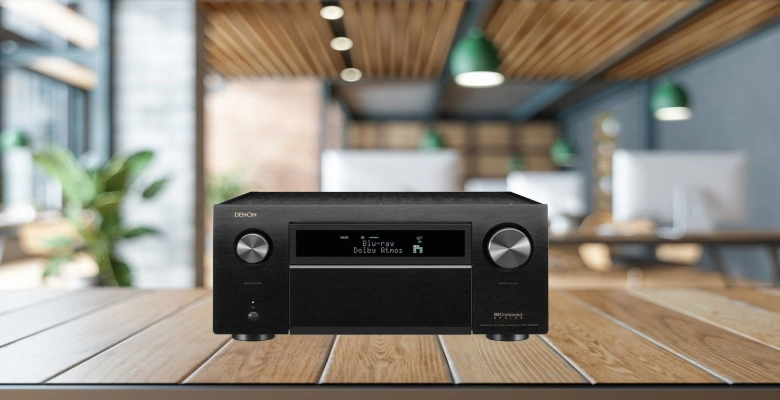 The Denon AVR-X8500H was the last flagship model from this legendary company before the recent introduction of the AVR-X8500HA. If you have ever heard the unique sound of a Denon receiver and loved it, the X8500H will blow you away. For it's time period, the 8500H was extraordinary. The newest receiver features built-in capabilities to take your games and movies to the next level, but if you don't need the newest thing, you can save some money buying the 8500H while supplies last. Denon no longer makes or supports the 8500H, so you do take a risk (>>> Check on Amazon).
Denon AVR-X8500H Review of Specifications:
Denon AVR-X8500H
Video
4K/120Hz
Amplifier
13.2 Channel (150W per channel)
Sound
7.1.6 or 9.1.4 Dolby Atmos
Wi-Fi
Yes
Bluetooth
Yes
Price

Find on Amazon





B&HPhotoVideo
If you are considering buying a receiver in the class of the 8500H, you know that only the very best will do. Denon made sure that you would not be left wanting when they put this receiver together. You'll find that they use audiophile-quality components throughout to ensure your favorite music, movies, and games sound more amazing than you've ever heard before. It supports some of the best and most current formats to give you the best experience possible.
Key Audio Features
This receiver provides up to 150 watts RMS to 13 channels giving you a full 13.2 system. Of course, you can configure different setups to match up with your favorite speaker systems. One of the greatest things about this receiver is that it is designed to grow with you.
When this receiver was released in 2018, it was the first 13 channel unit on the market. Today, other manufacturers offer similar designs, but none sound quite the same, even if they are made under the same company. Denon, Marantz, and Polk Audio are all companies under the Sound United label today and share technology.
The receiver supports most of the current Dolby surround system options like Atmos and DTS:X, but does not support Dolby Height Actualization. Many of the most popular 3D protocols are also supported, such as Auro 3D and IMAX enhanced.
Audyssey MultiEQ 32 technology allows you to get the most from your speakers. It adjusts the time and frequency on each channel to create the effect of surround sound even when you only use two speakers. The technology provides unbelievably realistic and natural music that fills your listening room.
Pros
Stunning, realistic audio even when using less-than-stellar speakers
Versatile and able to expand to meet any users demands
Tons of power for any home theater
Cons
Discontinued product with no support
Customer service is non-existent
At the top of the price point
Wired and Wireless Connections
Built-in Bluetooth and WiFi are essential features these days as so many listeners have transitioned to an all-digital format. The Denon 8500H features both, so you'll be able to maximize your wireless streaming options for both audio and video files. The receiver is compatible with most music streaming apps and enables users to take advantage of popular AI programs like Apple Siri, Google Assistant, and Amazon Alexa.
The 8500H features a total of eight HDMI inputs. Seven are on the back panel with an additional input on the front panel. You'll also find a USB port and a 3.5mm headphone jack on the front panel for convenience. Gold-plated RCA inputs mean that you'll get crystal-clear sound from your favorite speakers.
Key Video Playback Features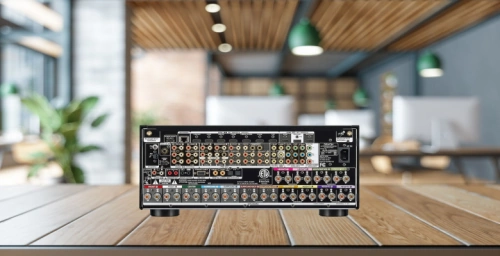 When this receiver was introduced, 8k resolution was just over the horizon. As such, the 8500H is "8k-ready" but isn't compatible without purchasing a new chipset. The chipset comes installed on the newest 8500HA. Since most people don't have 8k televisions and only some content is available in 8k, this isn't a huge deal breaker for many people. Gamers operating on the newest Playstation and xBox systems may want to consider purchasing the 8500HA to take advantage of the latest resolution and flicker-free operation.
The video inputs support 4k pass-through up to 120 Hz, giving you a cinematic, stutter-free experience with amazing depth and color. The 3D protocols built into this receiver will bring your favorite movies and games to life in a stunning and realistic way.
Conclusion
This is a great receiver, particularly if you get a good deal on one. Denon made the decision to discontinue this model after dealing with years of issues relating to the chipset that prevented the receiver from doing everything it should do. The newest model resolves the issues, however, some buyers of this model may need to purchase and install a new chipset to take advantage of all the features. For the average person to an audiophile, this is one of the best options on the market today. (>>> Find the  current price on Bhphotovideo)
REFERENCES: