A few names come to mind when you're looking for an audio-video receiver, and one of them is Denon. The Japanese-based audio and home electronics manufacturer marked its 110th birthday in 2020, and they released a new A/V receiver to celebrate.
So, how does the A110 stack up to other models? Comparing the Denon AVR A110 vs the X8500H, there is a slight price difference. The A110 is a little pricier, but it also comes with 8K capabilities, updated connections, and produces a better picture (>>> Check on Amazon). Does this mean there's no reason to look at the X8500H? It is also a 13.2 channel receiver capable of producing clear audio from a variety of formats. You also won't complain about the 4K images.
Still not sure which A/V receiver to bring home. Here's a closer look at what each component has to offer.
Denon AVR A110 vs X8500H Side by Side:
| | Denon AVR A110 | Denon AVR-X8500H |
| --- | --- | --- |
| | | |
| Video | 8K/60Hz, 4K/120Hz | 4K/120Hz |
| Amplifier | 13.2 Channel (150W per channel) | 13.2 Channel (150W per channel) |
| Sound | 9.2.4 Dolby Atmos | 7.1.6 or 9.1.4 Dolby Atmos |
| Wi-Fi | Yes | Yes |
| Bluetooth | Yes | Yes |
| Price | Find on Amazon | Find on Amazon |
Audio Quality
Both are 13.2 channel receivers with Dolby Atmos support. Dialogue and music are crisp and clear. Add in DTS:X and Auro 3D capabilities, and you get crystal clear audio. Sound effects on movies will make you feel like you are sitting in a movie theater.
Audio quality is better with the A110. It comes with Dolby Atmos Height Virtualization technology. It helps eliminate audio dead zones in the room, especially at heights. Everyone will experience the same amazing audio regardless of where they are sitting.
Best Audio Quality: Denon AVR A110
Image Quality
The X8500H comes with 4K upscaling for incredibly detailed images. Colors are vivid across the spectrum, and images bright and clear thanks to Dolby Vision, HLG, and HDR10 technology.
With the A110, you get a brighter, crisper picture. It also supports Dolby Vision, HLG, HDR10, and adds HDR10+ support. Colors are accurate without bleeding or fading. The A/V receiver also comes with an 8K passthrough, so you're ready for the next generation of entertainment.
Best Image Quality: Denon AVR A110
Connectivity
Both receivers come with robust connection panels. The difference is in what devices you can connect. The video pass-throughs are different. The A110 is 8K ready, unlike the X8500H. Both come with phono and USB ports and are Wi-Fi and ethernet-ready. AirPlay 2, HEOS, and DLNA are also supported by the two receivers.
The X8500H does have more HDMI inputs, but the A110 comes with a Bluetooth 4.2 port. The X8500H also has one, but it only supports Bluetooth version 3.0.
Best Connectivity: Denon AVR A110
---
Denon AVR A110 Review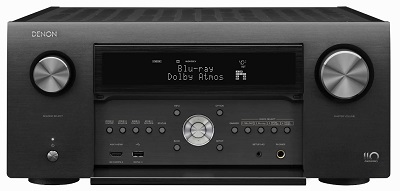 The A110 is the company's anniversary receiver, advertised as a limited series. It features a silver and graphite design that integrates easily into your existing system. It is also a great starting component for those that are beginning to build a dedicated entertainment system.
It comes with all of the technology you expect from Denon, along with a few upgrades. Dolby Vision, combined with HGL and HDR10+ support to ensure dynamic images with bright, vivid colors. Even if you don't have any 8K content the receiver is ready when it becomes the new standard.
The 13.2 channel receiver gives you plenty of flexibility when you're setting up your speakers. You also get 3 HDMI in and outputs for your devices. You can even connect up to three monitors, so you can watch your shows in any room.
Dolby Atmos and DTS:X technology give you immersive sound, along with Auro 3D. The A110 also boast Dolby Atmos Height Virtualization technology. You won't have to worry about objects in the room blocking the audio signal.
Pros
Flexible setup
150W of power
Dynamic audio
Dolby Video
Wi-Fi and ethernet enabled
Cons
The receiver does weigh over 50lbs, making it hard to move around
---
Denon X8500H Review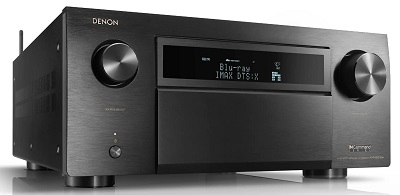 The X8500H is Denon's flagship receiver, and it has a lot going for it. You get Dolby Atmos Surround Sound and DTS:X technology to optimize audio. You hear every word of the onscreen dialogue, and your music sounds just as amazing. Dolby Video, HLG, and HDR10 technology ensure the image quality matches the audio.
You won't have to worry about connecting your external devices. Along with the 4K passthrough, you get 8 HDMI inputs and 3 outputs. The receiver is Wi-Fi enabled, making it easy to stream your favorite audio and video content. It supports AirPlay and HEOS technology. You can stream content to different rooms.
Setting the receiver up is a breeze. It comes with Denon's award-winning onscreen assistant. It will take care of optimizing the EQ settings for clear, smooth sound without disruptions. Add in Alexa voice control, and the receiver is just as easy to use.
Pros
Multiple HDMI ports
Wi-Fi connectivity
Dolby Atmos Sound
4K passthrough
Easy to setup
Cons
Audio may be blocked by objects in the room
---
Conclusion
You will be happy with either the Denon AVR A110 or the X8500H. Both produce exceptional audio and video and are easy to fit into any system.
The A110 does produce a brighter, more dynamic picture, and the audio is also clearer (>>> Find on Amazon). The receiver is also ready for 8K content. With the X8500H, you get a total of 8 HDMI ports. It is more than the 6 on the A110, but make sure your Bluetooth devices are compatible with the older 3.0 port.
It comes down to what you need in the way of connectivity and if 8K resolution is something you need.