Comparing the Yamaha TSR-700 vs TSR-7850 comes down to what you want in an AV receiver. The TSR-700 produces a more immersive sound, and it's ready for 8K content (>>> Find on Amazon). Gamers will also want to take a look at the receiver, but the TSR-7850 comes with Bluetooth technology.
Each receiver has its strengths and weaknesses, making one a better fit for some entertainment systems than the other. If you're still not sure which model is best for you, sometimes it helps to take a closer look at their specifications.
Yamaha TSR-700 vs TSR-7850 Side by Side:
| | Yamaha TSR-700 | Yamaha TSR-7850 |
| --- | --- | --- |
| | | |
| Video | 8K/60Hz, 4K/120Hz | 4K/60Hz |
| Amplifier | 7.1 Channel (100W per channel) | 7.2 Channels (95W per channel) |
| Sound | 5.1 Dolby Atmos | 5.2.2 Dolby Atmos |
| Wi-Fi | Yes | Yes |
| Bluetooth | Yes | Yes |
| Price | Find on Amazon | Find on Amazon |
Audio Quality
You get 100 watts of power with both 7.2 channel receivers. You probably won't be able to rock a room, but you can fill it with immersive sound. Dolby Atmos and DTS:X technology are standard on the receivers, but the TSR-700 also comes with Dolby Atmos Height Virtualization.
No matter where you are sitting in the room, you only hear impressive audio. You don't need to add upwards-firing speakers to your sound system. The height virtualization technology produces the same effect. You get the illusion of surround sound without having to add external speakers.
Best Audio Quality: Yamaha TSR-700
Image Quality
Whether you are watching a movie or TV show, you get exceptional image quality with either AV receiver. Both come with Dolby Vision for immersive, realistic images. HDR10 technology optimizes images frame by frame. Onscreen images are crisp and bright even on darker scenes.
A 4K passthrough gives you over 8.3 million pixels per frame. You see images how the director intended. The TSR-700 takes it a step further. The receiver is ready for 8K content. You don't have to upgrade the receiver to keep up with advancing technology.
Best Image Quality: Yamaha TSR-700
Gaming Quality
The TSR-700 comes with enhanced gaming modes. You get a smooth and seamless gaming experience with a low input lag and fast variable refresh rate. Add in the impressive image quality, and you can enjoy an immersive gaming experience on almost any of your connected devices.
Best Gaming Quality: Yamaha TSR-700
Connectivity
You have plenty of wired and wireless connections regardless of which receiver you take home. Along with HDMI ports, both also include a phono input. You can hear your favorite albums in high-definition sound.
With wireless connectivity, you can stream music from your favorite apps like Pandora, Spotify, Deezer, Napster, and more. You can also stream internet radio stations without having to take up an input. The TSR-7850 does offer more in the way of connectivity. It comes with built-in Bluetooth.
Best in Connectivity: Yamaha TSR-7850
Ease of Installation and Use
It's a breeze integrating the receivers into your existing setup. The ports are labeled, so you know exactly where to connect each component. Wireless support makes it even easier to connect all of your devices, and these receivers are compatible with Alexa and Google Assistant voice control. The onboard MusicCast app lets you control the entire entertainment setup.
The TSR-700 is a little easier to install. It comes with an onboard setup guide that walks you through the steps. It's a great feature for beginners just building their systems.
Easiest to Install: Yamaha TSR-700
---
Yamaha TSR-700 Review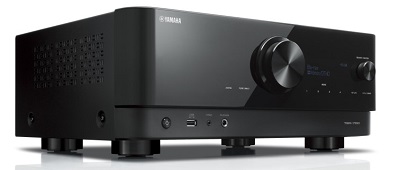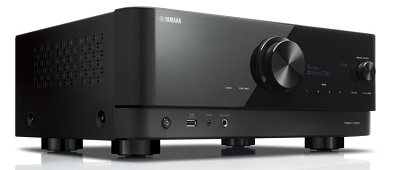 The Yamaha TSR-700 produces rich, clear, immersive audio. Dolby Atmos, DTS:X, and Dolby Atmos Height Virtualization technologies give you cinematic quality sound at home. Movies and shows have three-dimensional audio, along with music and games.
Compressed music enhancing technology takes care of digitally compressed MP3 files and other formats. It restores the frequency response lost during file compression. You hear exceptional audio no matter the format.
Image quality is just as impressive as the audio. Dolby Vision combined with HDR10 produces sharp, bright images with dynamic contrast. Hybrid Log-Gamma adds to image clarity, and HDR10+ technology is available with a future manufacturer's update.
Yamaha's onboard setup guide makes installation a breeze. You can also use the MusicCast App to control the receiver from your connected smartphone or tablet. To make the receiver even easier to use, it also supports Alexa, Google Assist, and Siri voice control.
Pros
7.1 channels
Multi-room audio support
100 watts of power
Automatic room calibration technology
Dolby Vision support
Cons
The input lag may be too slow for fast-paced first-person shooter games
---
Yamaha TSR-7850 Review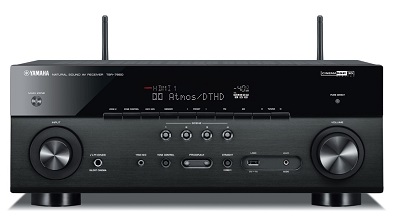 With the Yamaha TSR 7850, you get incredible audio performance. DTS:X and Dolby Atmos support give you exceptional audio, while the adaptive DRC technology enhances vocals and dialogue. You can hear every word without having to turn up the volume.
It's hard to beat the TSR 7850 when it comes to connectivity. You shouldn't have a problem connecting all of your external components, including speakers. Along with five HDMI ports, and jacks for an antenna and network, you also get a phono input for your record player. Built-in Wi-Fi allows you to eliminate some cords. The receiver also supports Bluetooth and AirPlay.
Setting up the AV receiver is a quick and easy process. The illustrated owners' manual outlines every step in easy-to-understand pictures. It even shows you how to configure your speakers for optimal sound quality. Yamaha's proprietary YPAO microphone takes care of calibrating the audio. It automatically tunes the audio to match the room's dimensions and acoustics.
Pros
100 watts of power
7.2 channels
Easy to install
Bluetooth support
Immersive audio
Cons
The receiver does not support 8K content or upscaling
---
Conclusion
When you're comparing the Yamaha TSR-700 vs the TSR-7850, it comes down to which features are important for you. If you want to be ready for 8K content or are looking for a mixed-media AV receiver, the TSR-700 may be the right choice (>>> Check on Amazon). It produces exceptional audio and video and comes with several functions gamers will appreciate.
If connectivity and compatibility are important, the TSR-7850 delivers. Along with plenty of in and outputs, it also supports Bluetooth and Wi-fi.
Whichever Yamaha receiver you bring home, you will be thrilled with both the audio and video quality.
REFERENCES AND FURTHER READING: