Picking the right audio-video receiver for your home theater requires knowing all about the most current technologies and which products work as well as the manufacturer says they do. It can even be challenging to select between the flagship model and the next model down the line. For example, you'd want to know the differences of the Denon AVR-X6700H vs AVR-X8500H. The 8500H is currently being phased out in favor of the brand-new 8500HA, while the 6700H is a current model. For most buyers, we think the Denon AVR-X6700H is a better buy, and this article will explain why (>>> Check on Amazon).
Denon AVR-X6700H vs AVR-X8500H Side by Side:
These are premium receivers with premium price tags. If you are already planning on spending several thousand dollars on an AVR, you want to know that you are getting your money's worth. The only way to know if you are getting a good deal is to know the way these receivers function like a professional. We'll break down the key components and functions of these two receivers so that you'll know exactly how they work and what makes them different.
Channels of Amplification
The most necessary function of any receiver is to power your speakers. Reading the labels, you'll see that the 6700 provides 13 channels at 140 watts per channel and the 8500 is rated to 150 watts on 13 channels. Reading through the specifications, you learn that the watt rating provided is with only the two front channels running a total load of eight ohms. For each speaker you add to the system, the actual wattage drops.
When your speakers demand more power than your receiver provides, you induce noise and distortion. When powering a large home theater system that uses 13 or more speakers, you'll likely need to add amplification to get the best sound.
One of the reasons we like the 6700 here is that the average home theater is going to use five to seven speaker channels. A more complicated system simply isn't advantageous to many people who are building a home theater. The additional cost of the 13 channel 8500H simply isn't necessary, particularly for a receiver that is not going to be on the market much longer. For our more in-depth review of the 8500h click here.
Video Pass-Through and Upscaling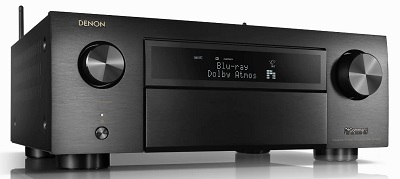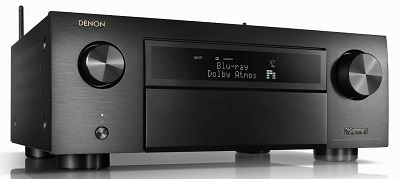 The next thing you'll be wanting to do is connect your television and DVD or Blu-ray player to the AVR. You will want to have a system that maximizes the resolution capabilities of your favorite movies, television shows, and video games.
Resolution is often marketed in terms such as Ultra High Definition or Full High Definition, but also it will be referenced in numerals like 1080p or 2160p. Still another way that resolution is discussed is terms like 4k and 8k. These terms all have specific meanings, but not all manufacturers are honest in the way the terms are used.
Both the 6700 and 8500 are UHD with native upscaling to 4k and support a variety of aspect ratios, those numbers with a p after them. The big difference here is that the 6700 is designed to incorporate the newest level of resolution, 8k. Though it isn't in use very much right now, the day will come when the movies you want to watch will be available in 8k. In order to get 8k on the 8500, you'll need to install a $600 component. The newer model will include 8k.
Even though these two will be of the same use for several years, we like the ability to be future ready that the 6700 provides. Plus, the newest gaming consoles like the Playstation 5 and the xBox X-series feature 8k technology.
Denon AVR-X6700H
Pros
Provides all the most modern formats to get the most out of music, movies, and games
Perfect choice for most home theater systems
Incredible, life-like surround sound
Cons
Customer service and product support are awful
Audio Technology
This category is largely a tie since these two receivers offer such similar support for various sound technologies. DTS is a type of technology that uses very sophisticated algorithms to specifically time and control frequencies to artificially enhance the effects of surround sound systems. Not only will it create a surround sound effect from only a few speakers, it will also provide a tremendous amount of depth and realism to a true surround sound system.
Both of these receivers support a variety of DTS protocols. They also support the most common and popular formats from Dolby, but the 6700 includes Dolby Height Actualization technology that simulates ceiling-mount speakers and enhances systems that have high speakers.
Connections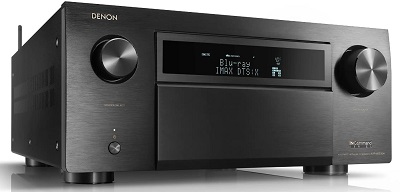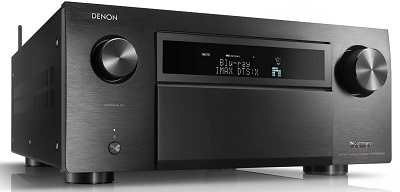 You need to know how many things you can connect to determine which receiver will be the best. The three common connection types are component, composite, and HDMI.
The 6700H features four composite in and two composite out connections, two component inputs and one output, and seven rear HDMI ports plus another in the front. There is also an HDMI out on the back. Click here for our more in-depth review of the AVR X6700H.
In comparison, the 8500H has only four component inputs and one output, three composite inputs and one output, and seven HDMI inputs on the back with one output. The 8500 doesn't have a front panel HDMI, a feature we like about the 6700.
Denon AVR-X8500H
Pros
Customer service and product support are awful
Cons
Soon to be obsolete due to newly released model
Lacks features and functions of other models
Customer service and product support are dismal
The Audio Experience
Both systems use the same tuning software to adjust the frequencies of your home theater system to the specifications of your room. Using the Audyssey MultiEQ XT32 system, setting the AVR up is as easy as possible.
Hearing is believing when it comes to high-end receivers, and it's quite difficult to notice any difference between the two products. They are superior sounding receivers that are every bit as luxurious sounding as they should be.
Final Thoughts
Price wasn't the ultimate factor for us, and it shouldn't be for you, either. But, saving more than $1,000 puts money in your pocket to upgrade your surround sound speakers and really take advantage of the high-end receiver you buy. We like that the 6700H is 8k ready and has the best features for getting the optimal sound from your speakers (>>> Find on Bhphotovideo). With the 8500H being phased out at this time, it doesn't make sense to spend big money on an already obsolete device.