It takes a sizeable receiver to control an immersive 3D soundscape or whole-home multi-room music setup. Comparing the Yamaha CX-A5200 vs. Marantz AV8805, you'll see both receivers are up to the task. While the Marantz has more channels and features, and is the superior model based strictly on performance (>>> Find on Amazon), the Yamaha's sound quality and connectivity are impressive at the price. Read on to find out which one is the best fit for your home and budget.
Yamaha CX-A5200 vs Marantz AV8805 Side by Side:
| | Yamaha CX-A5200 | Marantz AV8805 |
| --- | --- | --- |
| | | |
| Video | 4K/60Hz | 8K/60Hz or 4K/120Hz |
| Amplifier | 11.2 Channel (150W per channel) | 13.2 Channel (150W per channel) |
| Sound | 7.2.4 Dolby Atmos | 7.1.6 or 9.1.4 Dolby Atmos |
| Wi-Fi | Yes | Yes |
| Bluetooth | Yes | Yes |
| Price | Find on Amazon | Find on Amazon |
Number of Channels
The Yamaha CX-A5200 is an 11.2-channel receiver. In other words, it can send sound to up to 11 speakers and 2 subwoofers. That's more than enough for most living rooms and other casual viewing areas, and you can configure some of those channels as over-head speakers for 3D sound setups.
The 13.2-channel Marantz AV8805 provides more versatility for 3D surround sound, supporting multiple overhead speaker configurations. The extra channels can help in larger multi-room music set-ups, as well as larger home theaters.
More channels: Marantz AV8805
Connectivity
Most visual home theater equipment uses HDMI, and the inputs on the Yamaha CX-A5200 will be plenty for most users. For more complex setups and equipment that uses RCA connections, the Marantz AV8805 has a wider variety of options and more overall inputs and outputs.
Better connectivity: Marantz AV8805
Smart Features and Wireless Control
Both these receivers support voice control through Amazon and Google, and the Yamaha CX-A5200 adds Apple's Siri to this mix. They also have similar support for wireless music streaming and wireless multi-room speaker control. From a sound quality standpoint, each has its own smart calibration system, and while the Yamaha's is a bit more user-friendly, both do a good job adjusting the sound to match your space.
Where the Marantz takes the slight edge here is its remote control app. This lets you control the receiver right from your phone, especially helpful when you're using the multi-room music option.
Better wireless control: Marantz AV8805
Value
The Marantz AV8805 has an MSRP of around $4,500. Its quality and versatility are worth the price, but that still might be more than you want (or can) spend on a receiver. The Yamaha CX-A5200 typically sells for about half the price, and matches the Marantz for usability, sound quality, and build quality.
Better value: Yamaha CX-A5200
---
Yamaha CX-A5200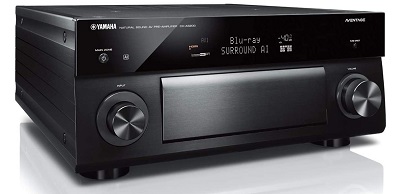 The Yamaha CX-A5200 takes advantage of the latest automation technology. This starts with its AI-driven intelligent surround sound, analyzing content in real time to optimize the balance of dialogue, music, and effects. It also uses YPAO Reflected Sound Control to analyze the room's acoustics, tuning the output to your space. The result is a realistic, immersive soundscape in any home theater.
The CX-A5200 brings this same level of sophistication to 3D sound set-ups, with support for Dolby Atmos and DTS:X for 7.2.4-channel 3D surround sound. Its Cinema DSP HD3 signal processing adds movement to this soundscape, allowing sound objects to move freely around the viewer, further enhancing the realism.
The automatic calibration of the Yamaha CX-A5200 is part of why it's so user-friendly, too. The backlit digital display makes it easy to change inputs and settings, and you can control it using your voice through Alexa, Google Assistant, or Siri. You can also use it to control multi-room music setups through AirPlay or MusicCast. While it might be a bit tall for some TV stands, it's otherwise an easy fit for any home entertainment system.
Pros
Sophisticated pre-amps with intelligent surround sound
YPAO room optimization with precise EQ
3D sound through Dolby Atmos and DTS:X
Supports 4K video with HDR10 and HLG support
Stream music through many popular services
Supports voice control through Alexa, Google, or Siri
Cons
Fewer 3D sound configuration options
Tall profile
---
Marantz AV8805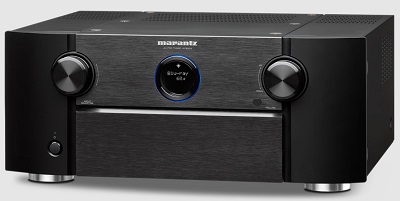 The Marantz AV8805 is the ideal receiver for large, complex, or high-end home theater set-ups. It has 13.2 channels with discrete amplifiers and 15.2-channel outputs. These can be arranged into 7.1.6 or 9.1.4 3D sound configurations, with support for DTS:X, IMAX enhanced, and Dolby Audio sound. The Auro-3D system further enhances the realism of the 3D sound, with Audyssey MultEQ speaker calibration that uses a microphone to optimize the sound to your space.
The quality of the video signal through the Marantz AV8805 is equally high. All of its HDMI outputs have a 60hz 4K pass-through, with 4:4:4 Pure Color sampling and support for the latest HLG and HDR formats. HDMI isn't your only connection option, either. The variety of inputs and outputs on the AV8805 gives it versatility to work with more content sources, gaming systems, and display styles than most receivers on the market.
The Marantz AV8805 also has good wireless connectivity for modern home theaters. This includes compatibility with Alexa or Google Assistant voice control and built-in support for HEOS multi-room music. TuneIn internet radio and direct streaming from 7 popular music services make it a great choice for wireless music throughout your home, as well as all your home theater needs. It's also compatible with the Marantz Remote app, letting you control it through your phone or tablet. Most users will want to take advantage of this since the front display on the receiver is small and doesn't give much information.
Pros
Ample channels and inputs for large and complex systems
Automatic sound calibration with Audyssey MutlEQ
3D sound with Dolby and IMAX enhanced
60Hz 4K pass-through on all HDMI ports
Stream music through Pandora, Spotify, and more
Compatible with Amazon Alexa or Google Assistant
HEOS and AirPlay multi-room music
Cons
Front display is smaller and trickier to read
Higher cost
---
The Verdict: Yamaha CX-A5200 vs Marantz AV8805
Choosing between the Yamaha CX-A5200 and Marantz AV8805 comes down to your budget and home entertainment setup (>>> Check on Bhphotovideo). Consider how many channels you'll actually use and what kind of connections your displays and content sources need. In many homes, the Yamaha will cover all your bases and provide an equally high sound quality—without blowing your whole home entertainment budget.