The wait is finally over and the new Denon AVR-X8500HA has arrived. This flagship audio-video receiver packs the power you demand and a suite of features and functions that transform your home theater experience. This Denon AVR-X8500HA review will explain the key features of the newest audiophile-level receiver from Denon (>>>Find on Amazon).
Denon AVR-X8500HA Review of Specifications:
Denon AVR-X8500HA
Video
8K/60Hz or 4K/120Hz
Amplifier
13.2 Channel (150W per channel)
Sound
7.2.6 or 9.2.4 Dolby Atmos
Wi-Fi
Yes
Bluetooth
Yes
Price

Find on Amazon





ProjectorScreen.com






Many people interested in a receiver with the features of the X8500HA are upgrading from earlier models or replacing an outdated but high-quality system and are only interested in having the best technology possible. We are going to break down the key features that you are interested in knowing more information about.
Audio Features
Boasting 150 watts RMS power to 13 channels, the 8500HA is powerful enough to get really loud and sophisticated enough to handle every frequency flawlessly. The Denon AVR-X8500HA has outputs for two subwoofers, or you can route an amplifier to build even more power.
Where the 13 channels come into their own is when configured in a 7.2.6 or 9.2.4 system for an incredible and immersive 3D surround sound experience. The 8500HA features advanced digital-to-analog signal conversions to provide rich and realistic audio.
Audio Formats
The Denon AVR-X8500HA incorporates technology to provide playback of audio signals using a variety of important formats. You'll find a full suite of DTS formats and Dolby features, even Dolby Height Virtualization. 3D audio formats include Aura 3D and 360 Reality Audio formats. This is the most comprehensive offering of high-end audio formats you'll find on any receiver.
Passthrough Resolution
This is the first receiver released by Denon to incorporate 8k passthrough capabilities. This format-of-the-future is becoming more common. The latest video game consoles provide that high of resolution, but you'll need a compatible television. The X8500HA provides seven HDMI inputs on the back panel and an additional one on the front. This makes connecting to your favorite sources easy and stable.
Pros
Hyper-realistic audio quality
Wonderful tuning capabilities
Enhanced 3D audio experience
Cons
One of the priciest options available
Customer service isn't always responsive
Wireless Streaming Options
The X8500HA has the ability to wirelessly connect with HEOS and Denon Home speakers for a whole-home theater experience. The advanced system allows you to set up two zones of speakers.
Built-in WiFi and Bluetooth enable seamless streaming of audio and video files. Upconverting allows for streaming of lossless FLAC files along with MP3 and numerous other file formats to provide you with a full-theater sound system.
You can also connect wirelessly to your favorite AI assistant. The X8500HA supports Google Assistant, Apple Siri, and Amazon Alexa to integrate seamlessly with your connected environment.
Optimizing Your Audio and Video Experience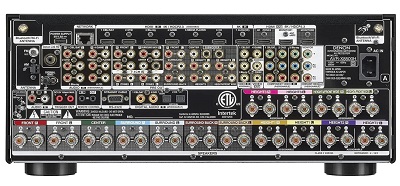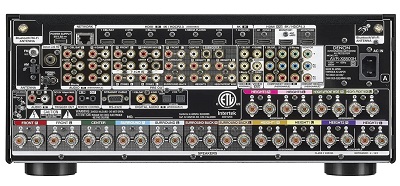 Denon includes the award-winning Audyssey MultiEQ XT32 tuning system. This system allows you to precisely tailor the audio experience so that your speakers are timed for frequency and phase. This system does a remarkable job of custom tuning the audio experience to get the best performance from your speakers.
The AVR-X8500HA upscales standard and high resolution sources to 4k or 8k resolution. This gives you the enhanced quality of modern resolutions from lower quality formats. This enhancement is particularly wonderful when playing older DVDs and enhancing Blu-Ray movies.
Overall Experience
There is no denying the exorbitant cost of the Denon AVR-X8500HA. It's simply a high-end component that comes with a high-end price tag. The buyer who is interested in this receiver doesn't want just a great receiver. They want the best possible combination of power and features to provide the ultimate experience in audio and video entertainment. This receiver brings the goods. It is ideal for the audiophile who demands crystal clear audio performance with a level of detail that is rare.
Conclusion
The discerning audio listener knows the difference between high-fidelity audio and low-fidelity setups. The Denon AVR-X8500HA is the pinnacle of audio and video playback and processing. It gives you the option of building a system up to 13.2 with tons of power available throughout the frequency range. Watching movies and playing video games are particularly spectacular in 8k with the 3D audio providing motion, depth, and a level of realism that is unlike anything you'll hear from any other company. The Denon AVR-X8500HA is the best receiver to compliment your high-end home theater and give you the professional quality listening environment you crave (>>> Check on Projectorscreen).
REFERENCES AND FURTHER READING: