Denon is celebrating its 110th anniversary, and to mark the occasion the Japanese electronics manufacturer has released a limited series, special edition AV receiver. But how does it stack up against similar models?
Comparing the Denon AVR-A110 vs the AVT-X8500HA, you notice both are 13.2 channel receivers with 8K and 4K pass-throughs. The special edition A110 does come out ahead when it comes to audio and video quality (>>> Find on Amazon), though you won't be disappointed with the X8500HA. It also produces crisp audio and video, and it comes at a lower price.
Still not sure which component is right for your entertainment system? Here's a closer look at what you get with each AV receiver.
Denon AVR-A110 vs AVR-X8500HA Side by Side:
Denon AVR-A110
Denon AVR-X8500HA
Video
8K/60Hz or 4K/120Hz
8K/60Hz or 4K/120Hz
Amplifier
13.2 Channel (150W per channel)
13.2 Channel (150W per channel)
Sound
7.1 or 9.1 Dolby Atmos
7.2.6 or 9.2.4 Dolby Atmos
Wi-Fi
Yes
Yes
Bluetooth
Yes
Yes
Price

Find on Amazon

Find on Amazon





ProjectorScreen.com
Audio Quality
Both models are two-channel driven AV receivers producing 150W of power. You get a full, rich sound for music, sound effects, and dialogue. Dolby Atmos ensures a clean, crisp sound, and support for Auro 3D makes it seem like you are surrounded by audio.
The A110 also boasts Dolby Atmos Height Virtualization technology. You don't have to worry about objects blocking the sound. The receiver also comes with DTS:X Pro.
Best Audio Quality: Denon AVR-A110
Video Quality
The AV receivers are almost evenly matched in video quality. Images are crisp, vibrant, and detailed, thanks to Dolby Vision technology. The receivers support 8K upscaling and come with a 4K passthrough, so you are ready to watch content in almost any format.
Colors are brighter with the A110. The receiver supports HDR10 and HDR10+. You get vivid images without any fading, and you don't have to worry about missing details in darker scenes. The technology automatically adjusts brightness levels by frame or scene as needed.
Best Video Quality: Denon AVR-A110
Connectivity
You get eight HDMI inputs with both Denon receivers, along with three outputs. Ports for connecting record players and USB devices are also standard. An eARC HDMI output makes it easy to connect a smart TV to the receiver without losing any audio or video quality.
The receivers support Airplay 2, HEOS, and DLNA. They also come with built-in Wi-Fi and Bluetooth technology. Support for DLNA is included with the Denon models, along with Alexa voice-control for easy operation.
Best Connectivity: Denon AVR-A110 & Denon AVR-X8500HA
---
Denon AVR-A110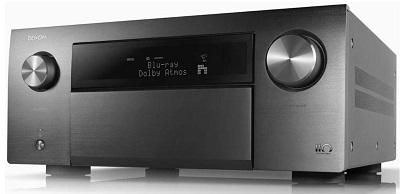 The A110 marks Denon's 110th anniversary, and consumers aren't disappointed in the special edition receiver. The silver graphite receiver has a sleek design and is a breeze to operate.
The front display only comes with a few basic control buttons, but with Alexa voice-control, you won't have a problem using the receiver. You can easily switch between connected devices, change inputs, and adjust the volume using simple vocal commands.
With 13.2 channels, you have plenty of options when it's time to configure the speakers. Dolby Atmos support for audio and video ensures immersive images and sound. The receiver also supports 4K content and is ready for 8K. You don't have to replace the receiver when 8K content becomes standard.
You'll appreciate the eight HDMI inputs, making it a breeze to connect your external devices. The receiver is Bluetooth and Wi-Fi enabled, making it even easier to connect components, and stream content and music. You also get three HDMI outputs. You can connect up to three monitors in different rooms to the receiver.
Pros
Powerful sound
HDR and HDR10+ support
Dolby Atmos
Built-in Wi-Fi
13.2 channels
Cons
The receiver is not compatible with SONOS
---
Denon AVR-X8500HA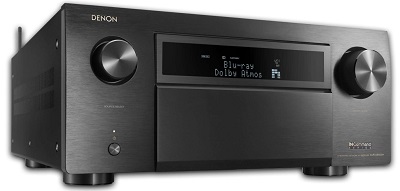 The X8500HA has everything you need to power your home entertainment system. You get amazing audio and video, along with all of the connectivity you need.
The 150W 13.2 channel receiver supports Dolby Atmos DTS and Auro, giving you immersive 3D sound. Images are also crisp and clear, thanks to Dolby Vision, HDR, and HLG technologies.
It's hard to beat the X8500HA when it comes to connectivity. Onboard Wi-Fi and Bluetooth technologies, along with HDMI in and outputs, make it easy to connect everything from a home cinema projector, smart TV, and multiple other devices. It also supports most music streaming services like Pandora, Spotify, and Airplay 2.
With HEOS support, it's a breeze to stream audio to different rooms. You can listen to the same song throughout the house or play a different tune in each zone. Your options are almost unlimited on how you configure the 13.2 channels. Click here for our more in-depth Denon AVR-X8500HA review.
Pros
13.2 channels
HEOS support
Onboard Wi-Fi
Crisp audio
Dolby Amos support
Cons
The receiver does not have a high-resolution audio enhancer
---
Conclusion
Comparing the Denon AVR-A110 vs the AVR-X8500HA, the primary difference is the price. The X8500HA comes at a lower price point, and you still get the impressive audio and video Denon is well-known for.
The A110 is a little larger by about one inch. It's not a big size difference (>>> Check on Amazon), but it is something to consider before you try to squeeze it on a shelf. Audio and video are a little clearer, but the X8500HA also delivers.