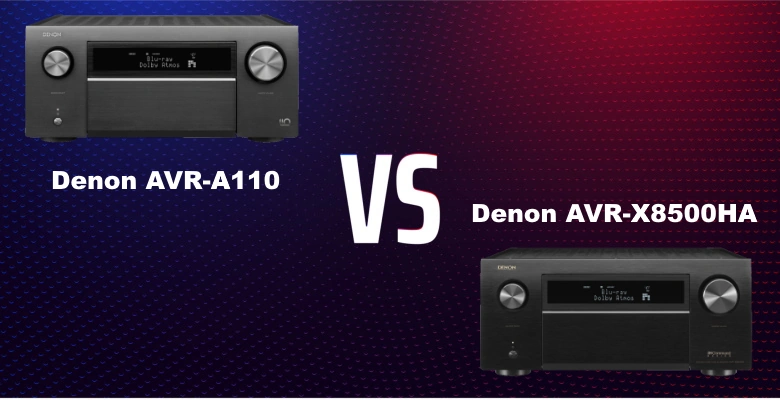 Denon celebrated its 110th anniversary in 2020, and to mark the occasion the Japanese electronics manufacturer released a limited series, special edition AV receiver, the AVR-A110 which has now been discontinued. But how does it stack up against the company's flagship model, the AVR-X8500HA?
Comparing the Denon AVR-A110 vs the AVT-X8500HA, you notice both are 13.2 channel receivers with 8K and 4K pass-throughs and numerous special features for improving sound quality. The Anniversary Edition, now discontinued and no longer available new, originally includes a "Certificate of Authenticity" that certifies the unique build and it also includes a five-year out-of-the-box warranty. The current model includes only a three-year parts and labor warranty. Other than these differences, the receivers are functionally identical. (>>> Find on Amazon)
Still not sure which component is right for your entertainment system? Here's a closer look at what you get with each audio-video receiver.
Denon AVR-A110 vs AVR-X8500HA Side by Side:
Denon AVR-A110
Denon AVR-X8500HA
Video
8K/60Hz or 4K/120Hz
8K/60Hz or 4K/120Hz
Amplifier
13.2 Channel (150W per channel)
13.2 Channel (150W per channel)
Sound
7.1 or 9.1 Dolby Atmos
7.2.6 or 9.2.4 Dolby Atmos
Wi-Fi
Yes
Yes
Bluetooth
Yes
Yes
Price

Find on Amazon

Find on Amazon





ProjectorScreen.com
Audio Quality
Audio Basics
Both models are two-channel driven AV receivers producing 150W of power. You get a full, rich sound for music, sound effects, and dialogue. Denon receivers produce a warm, natural sound that is often described as "laid back," perfect for anything from classical music to classic vinyl to the latest pop hits. Both receivers offer virtually identical sound processing technology.
Both the models use massive power transformers to increase the power output and reduce total harmonic distortion. Total harmonic distortion is very low for a stereo amp, measuring in at 0.05%, well below the 2% threshold the human ear can detect.
Configurable Design
Both the Anniversary Model and the new model AVR-X8500HA can be configured into 7.2.6 or 9.2.4 surround sound configurations using all 13 channels. More traditional setups can use two of the channels for powering speakers in a different room with the capabilities of providing audio to three zones independently.
Frequency Response and Speaker Capabilities
Both models support frequencies from 20 to 20k Hz for full-range audio experiences and have a minimum impedance of four ohms to match custom floor-standing speakers, bookshelf speakers, and tower speakers.
Audio Processing Formats
Audio quality all starts with a full complement of Dolby Pro Logic technologies, including Dolby Atmos. Dolby Atmos is one of the best formats for reproducing three-dimensional sound and with the ability to set up the most immersive surround sound stage, the addition of Dolby Atmos Height Virtualization technology in both receivers will even further enhance the experience.
Both receivers offer Dolby Digital, TrueHD, DD+, and EX processing. These technologies allow the Denon receivers the ability to create stunning, realistic audio and video.
The 110th Anniversary Edition and the AVR-X8500HA support numerous DTS processing formats. They offer identical support for DTS, DTS:X, and DTS Virtual:X. These offer superior sound quality by tapering specific frequencies and timing to replicate realistic sound movement in space.
Tuning Capabilities
Both designs include identical versions of the legendary Audyssey MultiEQ XT32-bit tuning software. This program uses an included microphone to accurately map your speaker configuration to optimize the sound field. This tuning system allows for proper time alignment and enhances the audio performance of systems using fewer than the maximum number of connections.
Best Audio Quality: Denon AVR-A110 & AVR-X8500HA
---
Video Quality
Video Quality Basics
Both models offer tremendous opportunities to experience the latest and greatest video formats and offer dynamic connection options to hook up your favorite devices. While the Anniversary edition initially possessed better components than the former AVR-x8500H, the new X8500HA features identical internal components, making any difference in video quality purely subjective.
HDMI Input and Output
Both models offer eight HDMI inputs and three outputs. One of the outputs is intended for creating a second zone of video while the other two are labeled for monitors. Inputs are all 4k/60Hz upscaling with one port offering either 4k/120Hz or 8k/60Hz resolutions. This port is ideal for connecting the latest gaming consoles or hooking up to an 8k Blu-Ray player or television.
Both designs offer an ARC/eARC input to allow dual-direction audio streams between a compatible television and the receiver to provide uncompressed signals in Dolby Atmos and DTS:X formats.
Video Processing Capabilities
All HDMI connections provide true 4:4:4 color sampling and support for HDR10, HDR10+, Dolby Vision, Hybrid Log-Gamma, and BT.2020 formats. Both devices also provide 3D signal pass-through at 1080p to give you three-dimensional video to match the audio performance.
Gaming Features
Both models are equipped to provide the most intense experience possible with today's most modern gaming consoles and PC gaming systems. The receivers provide 4k/120Hz gaming pass-through for stutter-free gaming even when running demanding games. They offer a variety of optional modes that can further enhance gaming, including variable refresh rate, Auto Low Latency Mode, and Quick Frame Transport technologies that reduce input lag and improve refresh rates.
Best Video Quality: Denon AVR-A110 & AVR-X8500HA
---
Connectivity Features
Physical Connections
Physical connections are located on the back panel of the receiver. both models are identical and offer the same design. HDMI inputs are located along the top while speaker connections are along the bottom. RCA ports fill the center of the back panel.
Other physical connections on the back panel include an ARC/eARC port, a phono port for connecting a turn table, and connections for an AM/FM antenna.
Front Display Options
The receivers are identical in appearance, save the change in model label, though the 110th Anniversary model has a slightly lighter color. The front panel drops down to offer access to various zone controls, quick settings, and tuning options. An HDMI input and a USB port offer flexibility to connect devices quickly.
The display is rectangular and rather large, though the font can be somewhat difficult to read. All of the relevant settings and information can be found on the display, along with current modes and source information.
Wireless Streaming Connections
Wi-Fi and Bluetooth are both included, which makes wireless streaming of your favorite content a snap. Advanced processing features allow for Apple Lossless playback and upscaling of compressed audio sources to hi-fi to fully render the complete sound stage as the music was intended to be heard.
Bluetooth connections also serve to allow you to use your favorite streaming services like Pandora, Amazon Music HD, or Spotify -all ready-to-run, or you can use Bluetooth to connect wireless speakers in multi-zone rooms.
Advanced AI-Connectivity
Both include the capability to function with your connected-home system. Connectivity is available for Google Assistant and Amazon Alexa, while iOS users can connect Siri through Apple AirPlay2.
Wireless Speaker Designs
These receivers use HEOS technology to permit wireless streaming of an audio signal to up to two separate zones. Each zone can play independently of the others, so you can play music in the living room while the kids are playing video games in another room and still have the capabilities to provide audio from a movie in a different room.
Missing Connections
Neither option provides Chromecast built in so you'll use one of the HDMI connectors on the back for Chromecast and other dongles. Neither unit supports DTS Play-Fi, either, so you'll lack some streaming ability, however there are numerous better ways to stream audio signals to these devices.
Best Connectivity: Denon AVR-A110 & AVR-X8500HA
---
Denon AVR-A110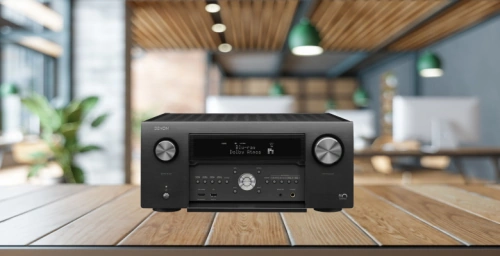 Some Notable Differences
When Denon introduced this model, it was to commemorate the brand's 110th anniversary in 2020. When it was first on the market, the A110 was among the very best in the industry and boasted excellent dynamic power and numerous features like 8k upscaling available.
The functionality of HDMI Inputs
Unfortunately, due to Covid-19 and the global chip shortage, the early units shipped without a functional 4k/120Hz-8k/60Hz HDMI input. Those models can now use an available adapter to regain function. Models with a "7" as the fifth-to-last number of the serial number are updated to correct the lacking feature without the need for an adapter.
If you find one of these discontinued models available, it is worth checking the serial number before buying. For our more in-depth review of this receiver, click here.
HDMI and the X8500HA
The X8500HA was introduced to replace the now-discontinued X8500H model. The HA does not require an adapter for the HDMI correction to function. One of the primary reasons the H model was replaced was due to the need to correct the HDMI functionality.
Key Differences
The key differences between these two designs are quite basic. The Anniversary design uses a slightly lighter metallic gray color than the darker gray color of the other model. This is really an insignificant difference and isn't even readily noticeable until the two units are side-by-side.
Further differences include the inclusion of a "Certificate of Authenticity" included with the special edition model that ensures you know the model's history. Further, Denon included a five-year warranty with the special edition, so it will be under factory warranty until 2025. The X8500HA includes the brand's typical three-year warranty.
Aside from these minor differences, the X8500HA is ever so slightly shorter and narrower by approximately one-half inch. This difference is primarily a result of the X8500HA having a more modern build. Both units weigh in at over 51 pounds.
Notable Features of Both Designs
Functionally, there is no difference between these two designs. Both have identical features and equipment.
These are advanced 13.2 channel audio and video receivers. Each channel includes a discrete amplifier that will provide 150 watts RMS per channel with a very low THD factor. Power output is significant when you want the most accurate audio reproduction possible.
This product provides up to 15 connections for speakers and provides two feeds for powered subwoofers that gives consumers a wide range of connection designs to get the best sound for any room. Included Bluetooth and Wi-Fi make it simple to stream music and also provide connectivity for two zones using HEOS wireless speakers.
Pros
Powerful sound
HDR and HDR10+ support
Dolby Atmos
Built-in Wi-Fi
13.2 channels
Cons
The receiver is not compatible with SONOS
---
Denon AVR-X8500HA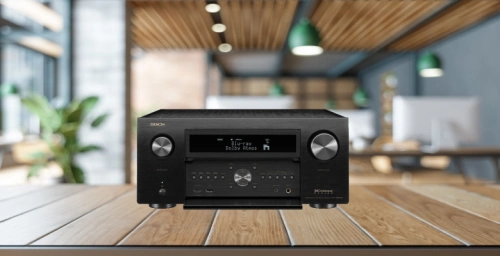 Comparing the Performance
Both designs are equal in all ways in terms of sound processing an video capabilities. Since they include identical capabilities, the difference in performance is non-existant. One notable difference is that early 2020 models of the Anniversary design likely will need an adapter for full HDMI functionality.
Power and What it Means
The massive amount of power offered by these designs means that you'll have eno trouble powering even the most demanding audiophile speakers without the need for a preamp. These receivers are capable of making lower-quality speakers sound like high-end units, but they really sparkle when combined with hi-fidelity speakers. The AV amplifier channels are each independent so you'll get consistent levels of power across the spectrum of speakers.
Why You Want a Receiver with Advanced Processing Features
Yes, the money these receivers cost is at the top end of the spectrum, but that is because of the amazing technology that is included. You'll wonder how you possibly lived without Dolby Atmos processing and its ability to create a room-filling sound that is natural and warm without harsh, overly bass-heavy tendencies like you find from other companies.
Processing features that enhance your experience include the legendary Dolby Atmos Height Virtualization that can make even a 2.1 channel system sound like you have a full-blown surround sound system. We particularly like receivers with this technology because they are adaptable as you grow your system with larger and better speakers, remote speakers, and wireless options.
Roon Tested
Roon testing ensures that the setup is simple and easy while also getting outstanding results from the sound profile. Both these designs are included on the list of Sound United devices that are certified.
Our General Opinion
We are big fans of Denon AVRs, particularly the designs at the top of the line. Denon offers a unique sound that is ideal for audiophile tastes and movie buffs. The 100th Anniversary design is an excellent, full-featured receiver that suffers only from the fact that it is no longer in production. The newest flagship receiver offers an identical experience but carries a shorter warranty.
Why the X8500HA is Better than X8500H
Consumers looking to purchase a brand-new device should look at the X8500HA, but skip over the previous model to avoid some of the common issues with HDMI functionality. The X8500HA combines the best processing features, the most advanced tuning capabilities, and tons of power. Not only is it an ideal companion to movies and music, but the included features and connectivity options also allow the buyer to stream music from their favorite sources with ease. Click here for our more in-depth Denon AVR-X8500HA review.
Pros
13.2 channels
HEOS support
Onboard Wi-Fi
Crisp audio
Dolby Amos support
Cons
The receiver does not have a high-resolution audio enhancer
---
Conclusion
Deciding Between the Models
If you have a chance to pick up the Denon AVR A110 for a good deal, you should check the serial number to see if it is a model with an upgraded HDMI board (>>> Check on Amazon). Otherwise, the now-discontinued model is one of the very best you'll find on the market. The X8500HA replaces the earlier X8500H model and fixes the issue with the HDMI board to provide full functionality. The X8500HA is the current flagship model and is only equaled by other designs also made by Sound United including Marantz and Polk Audio.
Why the Denon X8500HA is the Best Choice
The best thing about this receiver is the ability to grow the system to meet your needs. You can start with this high-end receiver and slowly add better speakers over time without worrying that the receiver technology will become dated too quickly. When you combine either of these designs with an 8k-compatible television, you'll unlock the most hyper-realistic video capabilities ever and you'll experience a new world of music and sound effects.
Special gaming modes also make this an excellent choice to use with the newest video gaming console systems and PC gaming devices. You'll experience super fast 4k/120Hz resolutions that provide a lag-free experience even when playing a first-person shooter or action games.