Music lovers know Klipsch speakers deliver optimal sound quality. Along with impressive audio, the speakers also offer an array of great features. Each one helps ensure an excellent audio experience from any point in the room. The F-300 by Klipsch delivers accurate sound, boasts a sleek design, and is a breeze to integrate into an existing sound system. But does the speaker live up to its advertising?
In this Klipsch Synergy Black Label F-300 Review, we'll take a look at what this floor speaker has to offer. (>>>Find on Amazon)
Klipsch Synergy Black Label F-300 Review of Specifications:
| | Klipsch Synergy Black Label F-300 |
| --- | --- |
| | |
| Subwoofer Diameter | 12 Inches |
| Wattage | 150W |
| Speaker Type | Subwoofer, Bookshelf |
| Surround Sound Channel | 5.1 |
| Price | Find on Amazon |
Audio Quality
When it comes to speakers, there is only one aspect that matters. You want to know if the speaker produces high-quality audio. The F-300 produces exceptional sound quality at a volume that can rock a large room.
It is just as impressive with dialogue as it is with music.
The F-300 comes with a woofer and tweeter for a well-balanced sound. High frequencies are clear and accurate, thanks to the one-inch aluminum compression driver. Adding to the audio clarity is the Tractrix ® Horn technology. The 8-inch dual copper woofers take care of the lower frequencies.
Power
It doesn't matter how great the audio quality is if you can't hear it. With the F-300, you get 150-watts of continuous power. You also get 600-watts of peak power. It means, the floor speaker can handle short bursts of more power.
You will hear the crescendos in your music, and realistic sound effects in movies. You can find small speakers capable of handling more power, but it is impressive for a floor speaker.
Pros
150 watts of continuous power
Dual 8-inch woofers
Wide frequency response
Distortion reduction technology
Sleek Design
Cons
The floor speaker is heavy and awkward to move
Design and Set-Up
You may not care what the speaker looks like but remember the F-300 is a floor model. You can't tuck it away in a corner. The F-300 by Klipsch is designed for display. It also blends in easily with almost any décor.
It's a slim floor speaker, measuring around 16 inches across. The housing comes in your choice of four colors. Don't forget about the cooper woofers, which give it an elegant and sophisticated appearance.
Installing the speaker is a breeze. The ports are marked, just connect your components. It does weigh around 60lbs, so you may need some help moving the speaker into position. Read a review of the Platin Monaco 5.1: https://hqsound101.com/platin-monaco-5-1-review/
Features
Speakers don't come with a lot of features like some other components, but you get a couple of cool ones with the F-300. Linear Travel Suspension technology minimizes distortion across the frequencies, even bass sounds great at higher volume levels.
Rival Expansion technology is another neat feature. It gives you a wider high-frequency range and stabilizes audio at high volumes.
Consumer Impressions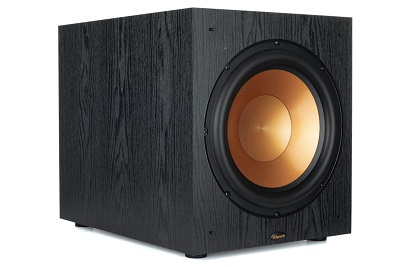 The weight and slightly low peak power are two drawbacks consumers mention about the F-300. They do like the sleek and sophisticated design, along with how easy it is to connect to a soundbar, or other AV components. What really stands out is the audio quality. It's crisp and clear, with very little distortion. Even though consumers feel sound effects can be more robust, the music quality is impressive.
Conclusion
The Klipsch Synergy Black Label F-300 is a good floor speaker. It has a slim, modern design and produces a crisp realistic sound. You can also choose a housing color to match your décor. (>>> Check on Amazon)
The F-300 is a step up from its predecessor, the F-200. Sound is louder and more accurate, and it comes at a relatively affordable price. You can also install the speaker in minutes to almost any component, including subwoofers.