Denon has an impressive line of A/V receivers with amazing audio and video quality. It's standard across the manufacturer's series which includes the Denon AVR-X6500H and the AVR-X6700H.  Both are 11.2 channel receivers with the same impressive power, you get crystal clear audio whether it's music or dialogue.
Comparing the two A/V receivers you'll notice a few differences. The AVR-X6700H is priced higher, but it also comes with an 8K passthrough. You're ready to watch 8K content when it is available. It also allows for more channel configurations than the AVR-X6500H (>>> Find on Amazon).
The Denon AVR-X6500H has its advantages, starting with a lower price. You also get the same great audio quality. If you're still undecided between the two components, it helps to take a closer look at what each model has to offer.
Denon AVR-X6500H vs AVR-X6700H Side by Side
Price is a deciding factor for many consumers, but some are also looking towards the future and 8K content. Each of these Denon A/V receivers has something to offer consumers.
Audio Quality
Both A/V receivers boast 140 watts of power per channel. With 11.2 channels, you can fill a room with 3D sound. Dolby Atmos technology ensures crisp audio, along with Dolby Surround. You have the illusion of surround sound, similar to a theater experience.
The AVR-X6700H also comes with Dolby Atmos Height Virtualization, along with DTS:X Pro. Dead zones aren't a problem, and sound is automatically optimized. You get clearer audio with the X-6700H.
Better Audio Quality: Denon AVR-X6700H
Video Quality
Picture quality is more dynamic with the X6700H, but you won't complain about the X6500H. A 4K HDMI passthrough upscales images for astonishing clarity. You also have the advantage of Dynamic HDR10 technology. Colors are vibrant, and accurate regardless of which receiver you choose.
Where the X6700H stands out is with its advanced video technology. HDR10+ gives you a brighter, clearer picture. Quick Media Switching technology, along with a 120Hz refresh rate ensures frames play smoothly without any lag. It's also a bonus for gamers, but latency speeds may be too slow for avid players.
Better Video Quality: Denon AVR-X6700H
Ease of Setup and Installation
Installing either A/V receiver is a breeze, though they are sturdy components at a little over 30lbs. Be prepared for the weight. You get a total of 8 HDMI inputs with either receiver, 5 going in, and one output. A USB port on the front makes it easy to connect your devices.
Unlimited streaming ensures you won't have any problem finding your favorite tunes. The receivers are almost ready to go right out of the box. You also get Denon's award-winning onscreen setup assistant to walk you through the steps.
The main difference between the receivers is the onboard HEOS multi-room technology. You can set up speakers in more rooms using 7.1, 5.1, or 2.1 configurations with the X6700H. It's something to consider if you have a larger home.
Easier Setup and Installation: Denon AVR-X6700H
---
Denon X6500H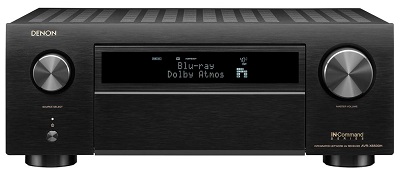 The AVR-X6500H is an 11.2 channel receiver. The combination of DTS:X, Dolby Atmos, and Auro-3D produces exception three-dimensional sound bolstered by 140-watts per channel. You get immersive audio without distortion. As a bonus, the receiver is compatible with Amazon Music HD. You get CD-quality audio with all of your favorite songs.
A combination of HDR10 and IMAX technology produces crisp images with clear details. Colors are dynamic across the spectrum. eARC and Pure-Color subsampling ensure colors are optimized and true-to-life.
Setting up the receiver isn't hard. It comes with an onscreen assistant that guides you through the process. Multiple HDMI in and outputs ensure you can easily connect external devices. Thanks to HEOS technology you can stream music and content to multiple rooms with a 5.2.4 or 7.2.4 speaker setup. Check its comparison vs Marantz SR7013
Pros
HDR10 technology
Vibrant images
Easy installation
Flexible setup
2 channels
Cons
The A/V receiver is not 8K ready
It is missing some advanced video technology that may affect image quality
---
Denon X6700H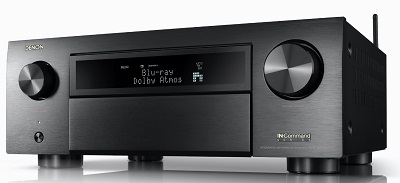 With the X6700H, you are ready for 8K content. It's something to think about if you are planning on upgrading to an 8K TV. Along with the 8K passthrough, the receiver comes with 4K upscaling. Content is crisp, with dynamic colors. The receiver boasts HDR10 and HDR10+ technology, along with Dolby Vision, Dynamic HDR, 3D support, and more.
A 120Hz refresh rate, auto-low latency lag, quick frame transport, and a variable refresh rate make the X6700H a good choice for casual gamers. Frames load smoothly without tearing or blurry images. Lag time is acceptable, but not suited for fast-paced action games.
When it comes to audio quality, the A/V receiver delivers. Dolby Atmos technology produces crisp, clear sound. It also comes with 3D audio, along with IMAX and DTS:X Pro technology. Audio is realistic without distortion, even at higher volume levels. Thanks to Dolby Atmos Height Virtualization technology, you don't need upward-firing speakers to prevent dead zones. For our more in-depth Denon AVR-X6700H review, click here.
Pros
Exceptional audio
Dynamic images
Low input lag
8K upscaling
Multi-room technology
Cons
The receiver is not compatible with all 4K content
The input lag is too slow for avid gamers
---
Conclusion
You get a little more with the Denon AVR-X6700H. It does come at a higher price point, but it is also 8K ready. Dolby Atmos Height Virtualization erases the need for upwards firing speakers, and images are more dynamic with Dolby Vision and HDR10+ technology. Installation is also a little more flexible with the X6700H (>>> Check on Bhphotovideo).
The X6500H is a little more budget-friendly and produces the same powerful sound. It is missing some advanced image technology, but it's not a deal-breaker. It comes down to whether you want the ability to stream 8K content. If it's not important, the X6500H may be the right choice for you.