Your AV receiver is the heart of your entertainment system. It's what you use to switch between various devices and amplify sound. When you are looking for an AV receiver, you want to pay attention to a few factors. You want the component to have plenty of power, and enough connections for your external devices.
Comparing the Denon AVR-X6500H vs the Marantz SR7013, you'll notice a few differences. Both models come with wired and wireless connection options and are a breeze to install. When it comes to power and the number of channels, the AVR-X6500H comes out ahead (>>> Find on Amazon). It doesn't mean you should discount the SR7013. It has several of the same features and comes at a lower price point.
Before you decide on one AV receiver over another, it helps to take a closer look at what each model has to offer.
Denon AVR-X6500H vs Marantz SR7013 Side by Side:
Power
One aspect you don't want to ignore is power. How much power an AV receiver has determines the volume. The more power you have in a receiver, the louder the sound. It can also affect how well the receiver drives your speakers.
You can easily fill a large room with sound with either receiver, but the AVR-X6500H produces more power. You get 140W per channel, compared to 125W with the Marantz model. The difference in power can affect sound quality when you want to crank the volume up.
Most Power per Channel: Denon AVR-X6500H
Connectivity
You won't have a problem connecting your devices to either AV receiver. Both support Alexa and HEOS and come with plenty of ports for everything from your TV and sound system to gaming consoles and more.
While the SR7013 only supports the older version of Bluetooth, it does come with an additional component video input. It also boasts a 7.1 multi-channel input, along with a front HDMI port for easy connectivity.
Best Connectivity: Marantz SR7013
Video Quality
The receivers are tied when it comes to video quality. Both support 4K content through the HDMI inputs. You also don't have to worry about losing image clarity when you run your external devices through the receivers.
Dolby Vision support ensures crisp, clear images that are further optimized with HDR10 and HLG technologies. 4:4:4 pure color sampling, combined with eARC ensures bright, accurate colors across the spectrum.
Best Video Quality: A tie between the Denon and Marantz AV receivers
---
Denon AVR-X6500H Review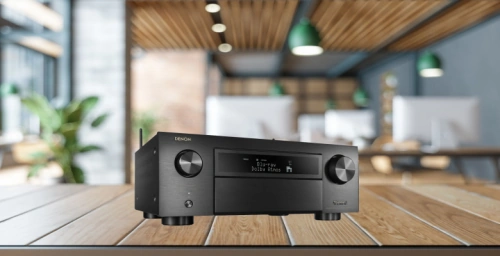 The AVR-X6500H is an 11.2 channel receiver with plenty of power. You can turn the volume up without losing audio quality. To ensure crisp audio, the receiver comes with Dolby Atmos and DTS:X technology. Dolby Height Virtualization ensures you don't have audio dead spots in the room. It also boasts Auro-3D for an immersive sound experience.
Video quality matches the audio quality. You get bright, detailed images in 4K resolution. It also supports 3D content. There's no limit to what you can watch with the receiver.
Along with plenty of connections for your external devices, you can also stream music wirelessly. The receiver is Wi-Fi enabled and supports most streaming apps. You also get HEOS support so you can stream audio to multiple rooms.
Setting up the Denon receiver is a breeze. The award-winning onscreen assistant walks you through the installation steps. The receiver automatically connects to your TV, and it even calibrates the audio for you. Operating the X6500H is just as easy. You can use the included remote or let Alexa take control. Check the comparison versus Denon AVR-X6700H
Pros
140W of power
11.2 channels
Onboard set-up assistant
Wi-Fi enabled
Multiple connections
Cons
The USB port may not be compatible with all devices
---
Marantz SR7013 Review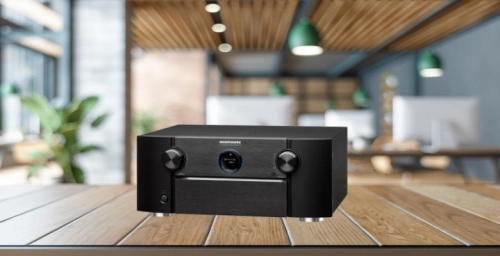 You get 125W of power per channel with the SR7013. It's more than enough to fill an area with crisp audio. Music and dialogue are crisp and clear thanks to Dolby Atmos and DTS:X technologies. You also get 3D audio support with the 9.2 channel receiver. HEOS support lets you listen to audio in multiple rooms, depending on how your speakers are configured.
Image quality matches the audio, giving you a cinematic experience at home. Dolby Vision ensures crisp images, and the receiver also supports 4K and 3D content via one of the eight HDMI ports. Built-in Wi-Fi lets you stream music and content from your favorite apps without having to connect additional devices.
Installing the receiver is pretty easy, though it may take a while to calibrate the audio. The receiver also weighs over thirty pounds so be prepared for its weight. Operating the receiver isn't hard. It comes with an intuitive remote or you can use Alexa.
Pros
9.2 channels
Dolby Atmos audio and video
4K support
Wi-Fi enabled
125W per channel
Cons
The receiver only supports the older version of Bluetooth
---
Conclusion
When you are comparing the Denon AVR-X6500H vs Marantz SR7013, it comes down to what you want in an AV receiver. The AVR-X6500H comes with more channels and power, but it is also at a higher price point (>>> Check on Bhphotovideo).
The SR7013 matches the Denon model in image clarity, but the audio isn't as powerful. It also only supports older versions of Bluetooth which may not be compatible with all of your devices.
REFERENCES AND FURTHER READING: