Whether you're upgrading an existing entertainment system or setting out to build one, the AV receiver is a key component. What you want and need in a receiver probably differs from your neighbor. It's why you want to compare different models before making your final decision.
In this article, we are comparing the Marantz SR7013 vs the SR6014. Marantz AV receivers are a favorite with audiophiles for a good reason. You get impressive audio and visuals, along with plenty of extra features, and it includes these two receivers.
You will also notice their differences. You get more power with the SR7013 (>>> Find on Amazon). It also comes with more inputs. But don't discount the SR6014. It is more affordable and still puts out plenty of power.
Marantz SR7013 vs SR6014 Side by Side:
| | Marantz SR7013 | Marantz SR6014 |
| --- | --- | --- |
| | | |
| Video | 4K/60Hz | 4K/60Hz |
| Amplifier | 9.2 Channel (125W per channel) | 9.2 Channel (110W per channel) |
| Sound | 5.1.4 Dolby Atmos | 5.1 or 7.1 Dolby Atmos |
| Wi-Fi | Yes | Yes |
| Bluetooth | Yes | Yes |
| Price | Find on Amazon | Find on Amazon |
Audio Quality
Both models are 9.2 channel receivers, but you get more power with the SR7013. It boasts 125W of power, compared to 110W with the SR6014. It can make a difference, depending on the room's size and configuration.
Dolby Atmos and DTS:X technologies are standard on the Marantz receivers. You get clear audio, whether it's music or dialogue. The SR7013 takes audio quality a step further. It supports Auro 3D, giving you the illusion of surround sound.
Best Audio Quality: Marantz SR7013
Video Quality
When it comes to video quality, the receivers are tied. The receivers are capable of providing the same amazing images, depending on your connected components. Dolby Vision ensures bright images with stunning color. The technology optimizes each frame for a sharp, clear picture.
The receivers also support HDR10 technology to further optimize colors. Add in a 4K passthrough, along with 4k upscaling, and you get immersive onscreen images with either Marantz receiver.
Best Video Quality: Marantz SR7013 & Marantz SR6014
Connectivity
Choosing between the receives based on connectivity depends on your devices. The receivers support most of the popular radio and music streaming services that include Napster, Pandora, and Spotify, to name a few. A USB input and phono port are also standard on the receivers.
Onboard Wi-Fi and Ethernet support ensure you can easily connect your wired and wireless devices. The SR6014 supports the latest version of Bluetooth, but you get more video inputs with the SR7013. It can also power an additional zone compared to the SR6014.
Best Connectivity: Marantz SR7013
Ease of Use and Installation
You aren't going to run into any problems installing or using either receiver. They come with remotes and voice-control capabilities. You can even remove the power cord, making it a little easier to install the receivers.
The SR6014 is a little lighter. It's only by a few pounds, but it can make a difference when you are trying to get the receiver into a higher shelf. It's also a tad smaller than the SR7013
Easiest to Install: Marantz SR6014
---
Marantz SR7013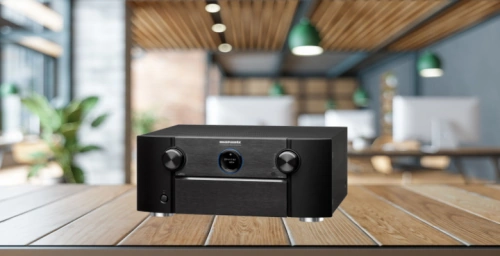 The SR7013 is a robust receiver capable of producing exceptional audio and video. It is compatible with your smart TV and other components. With inputs and wireless connectivity, you aren't going to have a problem connecting your various devices. Onboard Bluetooth gives you even more connectivity options.
With HEOS support, you can have audio in up to three zones. You can have a 9.2 channel configuration or a 7.1.2. Want to extend your sound system to three rooms? Use a 5.1 speaker setup in room one and a 2.1 configuration for the second and third zones. With Alexa voice-control support, it's a breeze to change inputs and adjust the volume in the various rooms.
Audio and video quality aren't disappointing. The receiver supports Dolby Atmos and DTS:X technologies. Auro 3D gives you the impression you are listening to 3D audio. Ensuring everything from music to sound effects is crisp and clear. IMAX enhanced support, along with Dolby Vision and HLG technologies, produce dynamic, immersive images. For our more in-depth review of the SR7013, click here.
Pros
125W of power per channel
Flexible setup for up to three zones
Dolby Atmos and Dolby Vision
Multiple inputs
Onboard Wi-Fi
Cons
The receiver does not support the latest Bluetooth version
---
Marantz SR6014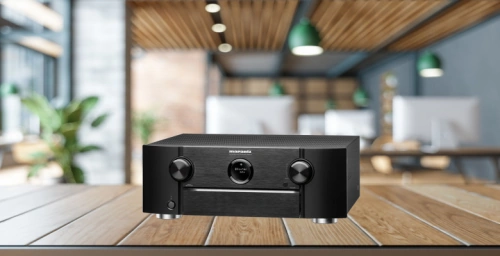 The Marantz SR6014 is a budget-friendly AV receiver that comes with plenty of bells and whistles. You get 110W of power with the 9.2 channel receiver. More than enough to fill most rooms at home with impressive audio. Dolby Atmos and DTS:X take care of optimizing sound. The receiver also boasts Dolby Height Virtualization support to give you the feeling of listening to surround sound.
An auto low latency passthrough keeps audio and video playing smoothly. The receiver is also compatible with the newest version of Bluetooth. You can use the remote to control the receiver or take advantage of voice-control technology. It is compatible with most of the services, including Amazon Alexa and Goggle Assist.
Pros
Affordable price point
110W per channel
Dolby Height Virtualization support
Voice-control compatible
Supports the newest version of Bluetooth
Cons
The receiver may not offer enough connectivity for more robust entertainment setups
---
Conclusion
The Marantz SR7013 and the SR6014 are solid AV receivers, but they also have differences. Audio is better with the SR7013. It also offers more power and connectivity.
You get a more affordable AV receiver with the SR6014. It's lacking a few features you get with the higher-priced SR7013 (>>> Check on Amazon), but it is a great option for anyone just starting to build their entertainment systems.
REFERENCES: