Your AV receiver is an important component in your entertainment system. It allows you to switch between your audio and video devices. The receiver also drives your speakers. How great the audio sounds depends on the component's quality. You don't want to connect a cheap receiver to your devices.
Two AV receivers that are easy to install and boast plenty of power are the Marantz SR6014 and Denon AVR-X4500H. Both also come with plenty of HDMI ports for your external devices. There are also differences between the two receivers. The AVR-X4500H has more power per channel. It also supports streaming music apps and comes at a lower price. (>>> Check on Amazon)
To see which component is right for your entertainment setup, it helps to take a closer look at the receivers' specifications.
Marantz SR6014 vs Denon AVR-X4500H side by side
| | Marantz SR6014 | Denon AVR-X4500H |
| --- | --- | --- |
| | | |
| Video | 8K/60Hz, 4K/120Hz | 4K/60Hz |
| Amplifier | 9.2 Channel (110W per channel) | 9.2 Channel (125W per channel) |
| Sound | 5.1 or 7.1 Dolby Atmos | 5.2.4 or 7.2.2 Dolby Atmos |
| Wi-Fi | Yes | Yes |
| Bluetooth | Yes | Yes |
| Dimensions (LxWxH) | 15.7 x 17.3 x 6.3 inches | 17.13 x 15 x 6.63 inches |
| Price | Find on Amazon | Find on Amazon |
Both of these are sturdy receivers with similar designs. The sleek black casing ensures either model blends in with your other components. However, there's more to an AV receiver than looks. You also want to look at power, number of channels, and inputs.
Power
Higher power ratings equal better sound. You also want the receiver to come with at least 7 channels. The channels effect speaker configuration and how close you can get to having surround sound.
Both the Marantz and Denon models come with 9.2 channels. However, the AVR-X4500H has more power. At 125W per channel, compared to the SR6014's 110W, you get impressive sound quality at almost any volume.
Inputs and Outputs
There's no point in adding an AV receiver to your setup if you can't connect your external devices. One of the reasons you're adding the component is to switch back and forth between your audio and video devices.
The receivers are tied when it comes to the number of in and outputs. Both have 8 HDMI inputs, with one in the front and 7 in the rear. There are also 3 HDMI outputs, along with a front USB port. They even have a dedicated port for a record player. The SR6014 does have 4 composite video inputs compared to the three on the Denon model, but both come with 2 inputs for component video.
Ease of Use
Both of these receivers are a breeze to install and use. The AVR-X4500H does weigh a couple of pounds more. However, you're not likely to move the components around after you've connected your devices.
You can use the included remote or Amazon Alexa to control the receivers. The front panel also pops open for manual control. All of the buttons are on the front, giving you three easy ways to control the receiver.
Marantz SR6014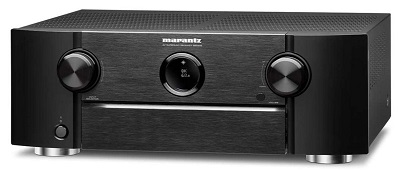 You won't be disappointed with the SR6014's performance. There are 9.2 channels with 110W each. When you add in support for Dolby Atmos, along with DTS:X and DTS, you'll enjoy immersive audio throughout the room. With Dolby Atmos Height technology, it doesn't matter where your speakers are placed. The audio will sound impressive even when your speakers are stacked.
It's not only audio that's impressive, but video as well. The receiver supports 4K TVs and comes with 8K upscaling. It also supports most video formats including HDR10+ and Dolby Vision. To make setting up your TV easy, the receiver has an onscreen assist function.
There are more than enough HDMI ports for all of your devices. With a total of 11, you won't have to disconnect one to use another component. A phono port ensures you can listen to vinyl. You also have a front located USB port. With streaming capabilities, you can listen to your favorite Wi-Fi radio stations.
Pros
Multiple in/outputs
Powerful sound
Easy to install
Wi-Fi enabled
Cons
The HEOS app can shut down unexpectedly during use
---
Denon AVR-X4500H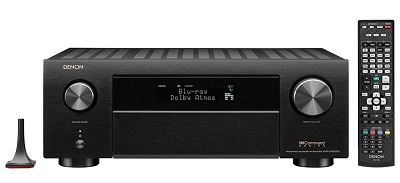 With 125W of power per channel, you'll enjoy crisp, clear sound at most volume levels. You also get 9.2 channels so you can easily fill the room with amazing audio. The Audyssey equalizer ensures audio is smooth, without any lag or distortion.
The receiver is Wi-Fi and Bluetooth enabled. You can stream your favorite radio stations and playlists. However, the AVR-X4500H isn't only designed for audio it also produces amazing images. Dolby Atmos and DTS:X support are standard, along with HDR10. When you're ready to connect your 4K TV to the receiver, the onscreen instructions will guide you through the steps.
It is a smart receiver and easily connects to your home's system. Add in the remote and Alexa voice control, and you won't have any trouble operating the receiver. It also boasts remote monitoring that automatically troubleshoots any problems. Click here for our more in-depth Denon AVR-x4500h review.
Pros
Powerful sound
Easy setup
Wi-Fi and Bluetooth enabled
4K and 3D support
Cons
Audio can sound distorted at higher volume levels
---
Conclusion
You won't go wrong with either AV receiver. Both the Marantz SR6014 and the Denon AVR-X4500H produce impressive sound and are a breeze to install. However, the AVR-X4500H from Denon does have more power (>>> Find on Amazon). It also comes at a lower price point compared to the SR6014 from Marantz.
REFERENCES AND FURTHER READING: