Bookshelf speakers are a great way to add high-frequency and mid-range tones to your home theater project. This is a set of high-resolution bookshelf speakers that pack a punch way above their diminutive size. This Polk Monitor XT15 Review will cover the basics about these speakers and let you know what to expect. (>>> Find on Amazon)
Polk Monitor XT15 Review of Specification:
| | Polk Monitor XT15 |
| --- | --- |
| | |
| Power (Watts) | up to 150W |
| Frequency range | 40Hz-40kHz |
| Subwoofer | No |
| Weight | 22.92 pounds |
| Dimensions (inches) | 18.1 x 15.1 x 11.8 |
| Price | B&HPhotoVideo |
Polk Audio is one of the world's most respected names in high-resolution audio. This pair of bookshelf speakers are intended as an entry-level option for building out a home theater system, whether you are starting small or adding to an existing system.
Speaker Size and Placement
Each of the bookshelf speakers includes a 5.25-inch driver and a one-inch tweeter set into an air horn. The tweeters are set above the drivers and both speakers face forward. Polk matches the two speakers so that you hear perfect tonal matches. The speakers also pair perfectly with other Polk Audio MXT-series speakers.
Power Handling and Frequency Response
The speakers have the capability to operate at either 4 ohm or 8 ohm resistance and can handle anywhere from 30 watts up to 150 watts. That gives these speakers the ability to handle low-power input and still provide excellent response. They can also take a lot of power in an amplified system and not induce distortion.
These speakers will cover frequency ranges beyond your ears ability to hear, ensuring you won't miss a single beat. The tweeters will produce up to 45,000 kHz and the woofer will handle the mid-range and bass.
Pros
Excellent ability to handle power without distortion
Compact size makes positioning convenient
Better than anticipated bass response
Cons
May sound muddy when used in low power systems
Not well packaged and can be damaged in shipping
More Bass than Expected
The design, construction, and choice of components used in this set of bookshelf speakers gives them the ability to produce an unbelievable amount of bass for the size. They operate surprisingly well in low and mid-power systems and are ideal for adding satellite speakers to a 5.1, 7.1, or combinations using overhead speakers.
High-Resolution Audio Performance
This pair of speakers is designed to give you the most out of high-res playback. They start with matched, high-quality components complete with binding posts and the ability to bi-wire the speakers. Then, the speakers are specifically tuned to take advantage of Dolby Atmos and DTS:X surround sound formats. Even the speaker cabinets feature reinforcement at critical points to ensure dynamic listening. For our Polk Audio Signature Elite ES20 review, click here.
What We Like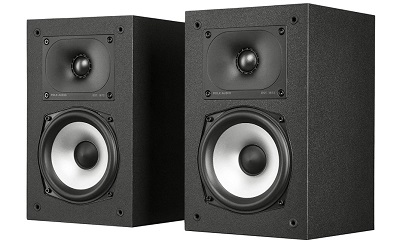 The Polk Audio XT15 monitors are an excellent choice for adding midrange and tweeters to an existing system or starting a new system using these as your primary satellites. They can handle a wide range of power inputs that let your system grow without having to upgrade multiple components to take advantage of modern technology.
What We Don't
There is very little not to like about these speakers from Polk Audio. We've tested them against other speakers that are more expensive and we keep coming back to how great they sound. The size makes them more appropriate for smaller spaces or for use in component systems.
Conclusion
We really like the Polk Monitor XT15 speakers for low-cost home theater upgrades. They provide enough power and good clarity for even a small starter system, while also working well adding to the dynamic range of more complex surround sound systems. They are tuned to get the most out of high-resolution audio, so pairing them with an appropriate Audio Video Receiver is essential.
These speakers perform best when coupled with other speakers in the MTX line, like the center soundbar speaker, the powered subwoofer, and the stacked monitors. Another excellent use of these speakers is to mount them on optional speaker stands to help push the audio in more natural directions and create a full surround sound system. (>>> Check the current price on Bhphotovideo)