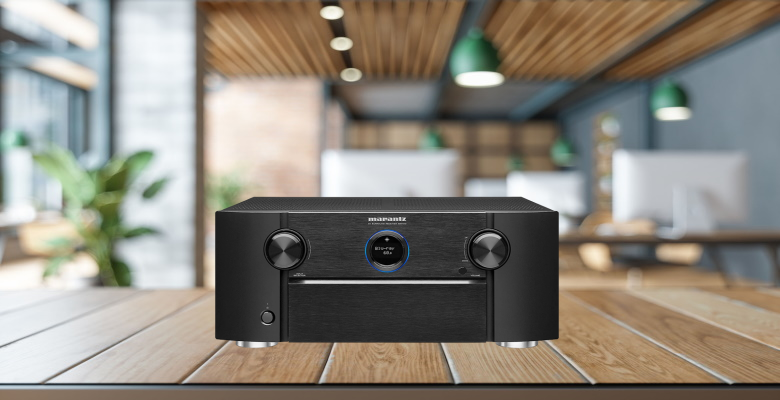 The Marantz SR7013 is a great option when you are looking to bring theater-quality sound to your entertaining area. This is a fantastic AV receiver that has most of the latest features you want, making it an ideal replacement for older high-end AV equipment or an upgrade from a soundbar or the speakers on your TV.
But, you will need to act fast- Marantz has discontinued this receiver and replaced it with a new model, so prices are dropping quickly. If you hesitate, this one will be gone for good. This Marantz SR7013 review will give you all the information you need to decide if this is the best receiver option for your home (>>> Check on Amazon).
Marantz SR7013 Review of Specifications:
| | Marantz SR7013 |
| --- | --- |
| | |
| Video | 4K/60Hz |
| Amplifier | 9.2 Channel (125W per channel) |
| Sound | 5.1.4 Dolby Atmos |
| Wi-Fi | Yes |
| Bluetooth | Yes |
| Dimensions (LxWxH) | 15.83 x 17.32 x 7.28 inches |
| Price | Find on Amazon |
Features: The Basics
The first thing you want to know about the Marantz SR7013 is whether it is any good. Well, we are here to tell you that this is a true high-end product that provides tons of features and delivers high-quality realistic audio regardless of whether you are into movies, streaming, or gaming. It has lots of options to ensure you can play media files from numerous sources. Like many multi-channel AV receivers, set-up is key to getting the most from your Marantz receiver. Once you have this product properly tuned for your room, the incredible depth and realism of audio and enhanced video display will simply blow your mind.
Product Appearance
This receiver features a sleek, modern, minimalist look that goes great in almost any room. The receiver looks nice like a high-end unit should without being flashy and intrusive in your space. It won't stand out like many older AV receivers can, which is a true benefit when you want your AV setup to be free of clutter.
The face of the unit features two tuning knobs that control input selection and volume, a power on/off button, and a sophisticated LCD digital display you can see easily so you know exactly what input you are using at the moment. A flip-down tray on the front provides you with access to numerous options, but is cleverly concealed from view when not in use.
Overall, the look of this AV receiver is top-notch. From the material selection to the layout, it feels and functions like an AV receiver that is worth its weight in gold. At a little over 17 inches across and 16 inches deep while standing almost 8 inches tall, this is not a tiny receiver. To get an idea of how large this item will look in your space, consider that it is similar in size to that of a shoe box for mens boots. This product is best suited for sitting atop a table or on a wide, sturdy shelf rather than tucked into a cabinet. It is also quite heavy at over 31 pounds.
Pros
Provides stunning and realistic 3D audio
Numerous connectivity options
Bluetooth and WiFi give you plenty of streaming options
USB ports provide the ability to play files stored on media devices
Cons
It is a discontinued model that is being replaced by the new Marantz SR7015 AVR.
To get perfect, audiophile sound quality, you will need to manually adjust the speaker settings at times
Audio Options
Where this receiver really shines is its ability to play audio from numerous formats, including some of the most current specifications in use today. It's also an excellent starting point when you are looking to build out a full system. The SR7013 can expand from a 9.2 ch system to an 11.2 ch system which gives you the ability to add satellite speakers, amplifiers, subwoofers, and custom setups to enhance your listening pleasure.
Channels are powered in pairs or individually depending on how you set this receiver. In single channel modes, you will get up to 235 watts at a resistance of six ohms. Dual-powered channel setup at eight ohms provides a max of 125 watts per channel, which is an ideal power level for most home theater installations. Dual subwoofer channels let you connect powered subs to get the full range of frequencies. Built-in Class-D amplification powers nine channels right out of the box.
Playback Formats
The Marantz SR7013 gives you lots of options when playing audio files. It is fully compatible with Dolby Atmos, the future of 3D audio and is backward compatible to DTS:X, DTS Virtual: X, and IMAX Enhanced audio, so no matter what you want to hear, this receiver will work flawlessly without a bunch of problems.
This receiver does an incredible task of providing truly realistic 3D sounds. When you are watching a movie with sounds coming from overhead or behind, the receiver perfectly compensates, giving you the experience of being in the moment. Built-in Auro-3D sound fields mean that even when you are streaming audio from a stereo configuration, the receiver will remix the frequencies to provide you an incredibly immersive experience.
Video Playback Formats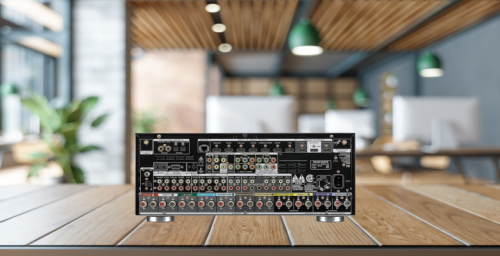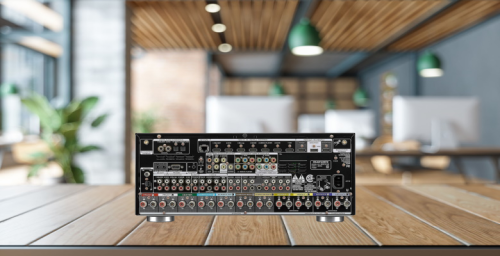 The Marantz SR7013 features eight HDMI inputs and three HDMI outputs, so you can connect your 4K UHD television, a video gaming console, or a blu-ray or DVD player and enjoy fantastic, life-like video while you enjoy the best sounding audio possible. You can even use the video select feature to watch a movie while listening to music on a separate channel. Component and composite inputs add to the expandability of this top-quality receiver.
Streaming and Digital Options for Music
You'll find a full suite of options for streaming audio from almost any device. Use built-in WiFi and Bluetooth to stream audio content wirelessly from your smartphone, tablet, or networked PC with ease. Apple AirPlay 2 and built-in Amazon Alexa help to incorporate the Marantz SR7013 into your connected environment. You can connect USB playback devices right at the front panel for really simple content streaming.
Setup and Configuration Features
The Marantz SR7013 gives you access to the Audyssey speaker configuration and calibration technology to provide a simple and effective way to custom tailor the audio playback for your space. The technology built into this receiver even allows you to set speaker height, providing the most complete audio environment possible. It will even simulate elevated speakers when your system lacks them.
Conclusion
This is an ideal upgrade from a soundbar or TV speakers that gives you top-of-the-line audio features at a discount price while supplies last. If you have been on the fence about adding a proper AVR to your home entertainment system, now is the time to act. This is a premium product that will give you the lifelike 3D audio your modern formats are capable of providing and it's an easy system to connect video game systems and for streaming wireless music (>>> Find the current price on Amazon).
REFERENCES AND FURTHER READING: