Pioneer has a long line of AV receivers to meet everyone's entertainment needs and budget. The Elite VSX-LX302 is an example. It comes with plenty of power and the technology necessary to produce impressive theater-quality sound. It also delivers impressive video, but it is the right choice for your entertainment system.
In this Pioneer Elite VSX-LX392 review, we'll look at what the receiver has to offer, along with any drawbacks it may have. (>>>Find on Amazon)
Pioneer Elite VSX-LX302 Review of Specifications:
| | Pioneer Elite VSX-LX302 |
| --- | --- |
| | |
| Video | 4K/60Hz |
| Amplifier | 7.2 Channel (100W per channel) |
| Sound | 5.2.2 Dolby Atmos |
| Wi-Fi | Yes |
| Bluetooth | Yes |
| Price | Find on Amazon |
Audio Quality
Get ready to listen to impressive audio with the VSX-LX302. The receiver boasts plenty of power. You can easily fill a room with sound, and the receiver automatically optimizes audio. It comes with Pioneer's MCACC auto-tuning technology. It accounts for speaker size and distance and equalizes the response. You get clearer audio without interference.
Built-in Dolby Atmos and DTS:X give you a 3D sound experience. The technologies compensate for any objects that can interfere with sound waves. The receiver also takes care of any delays between the subwoofers and speakers to synchronize audio. Unfortunately, the receiver does not come with height virtualization support for a true surround sound experience. You will need to connect upwards firing speakers.
Image Quality
The VSX-LX302 is 4K ready, and the receiver also supports Dolby Vision and HDR10. Connect your component to the passthrough and enjoy stunning image clarity. Dolby Vision technology produces cinematic quality images, while HDR10 support further optimizes onscreen pictures. You get bright, realistic colors and images with crisp details.
Pros
Compatible with most streaming services
Supports Dolby Vision and HDR10
Multi-zone functionality
100W of power per channel
3D audio
Cons
You may have to upgrade your existing speakers to take advantage of the receiver's multi-zone support
Connectivity
You can take advantage of both wireless and wired connectivity. Along with HDMI ports, the receiver boasts dual USB inputs. It's a step up from Pioneer's previous models that only come with a front-located port. The VSX-LX302 also has one on the back, along with a port to connect your phonograph. Check our review of a similar spec receiver, the Denon AVR S700W.
An included AM/FM antenna lets you enjoy radio stations, and you can also stream your favorite playlists. Chromecast is built into the receiver, but you will need a firestick connect for multi-room use. The receiver is compatible with Deezer, Pandora, Spotify, and Tidal to name a few.
Ease of Installation and Use
Setting up the receiver is easier than you might think. It comes with a handy manual, but you probably won't need it. It's lighter in weight at 22lbs than some comparable models and it's also smaller in size. The receiver is designed to fit easily on a shelf or integrated with your other components.
While you can't use voice control with the VSX-LX302, it does come with a simple remote. You can also download the free Pioneer app to control your streaming services. It's a handy feature to have when you are streaming audio to different zones.
Multi-zone Functionality
Installing FireConnect opens up a new sound experience. The 7.2 channel receiver can support two zones. You can listen to streaming services in one room and vinyl in the other. The Pioneer App also works with FireConnect. You will need FireConnect compatible speakers to send audio to different rooms.
Consumer Impressions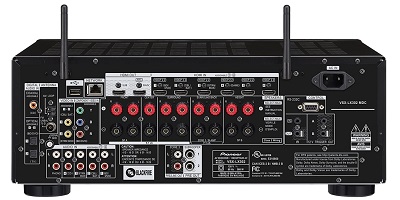 Consumers are finding a lot to like about the VSX-LX302. It puts out plenty of power, around 100W per channel, more than enough for most rooms. It's also easy to install, and consumers appreciate the Pioneer app. Most consumers streaming audio to different zones didn't require FireConnect compatible speakers, but they also say it's not a game-changer.
Conclusion
The Pioneer VSX-LX302 is a powerful AV receiver in a relatively compact package. It produces exceptional audio, along with an immersive video. You get 4K support and Dolby Atmos sound, and it's not lacking in connectivity. You may have to purchase a few components to take advantage of all of the features, but it's still a good option for any audiophile looking to boost sound quality. (>>> Check on Bhphotovideo)