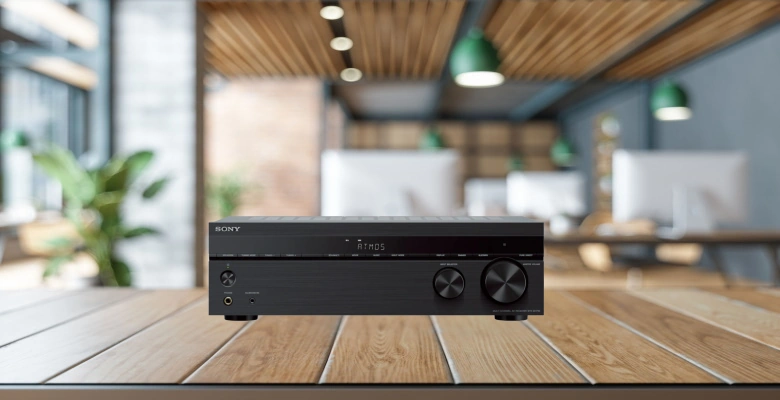 There are a number of intimidating factors to consider when making the decision to incorporate an audio video receiver to improve the sound quality of your favorite movies, video games, and music. Among the main concerns many buyers encounter is the initial cost of purchasing a unit. Finding a unit that provides the state-of-the-art listening environment you want that includes features you need at a price you can afford is not an easy task.
This Sony STR-DH790 review will detail the features and functions of this affordable option and show you how you can get audiophile-sound quality and the latest in surround sound technology from a Sony receiver that won't cost an arm and a leg. The Sony STR-DH790 is one of our favorite AV receiver options for consumers looking to upgrade from television speakers, a sound bar, or an outdated AV receiver. (>>> Check on Amazon)
Sony STR-DH790 Review of Specifications:
Sony STR-DH790
Video
4K/60Hz
Amplifier
7.2 Channel (145W per channel)
Sound
5.1.2 Dolby Atmos
Wi-Fi
Yes
Bluetooth
Yes
Price

Find on Amazon





B&HPhotoVideo
The Sony STR-DH790 is a 7.1-channel audio video receiver that offers many of the best surround sound options, excellent video resolution, and a number of advanced features that will ensure you get the most from your AV receiver. We will begin with a look at the appearance and functionality of the receiver and then get in-depth with the features that make this such a good choice for the average person.
Sony STR-DH790 Physical Features
Appearance
Appearances matter, otherwise all AV receivers would look identical. The Sony STR-DH790 uses an attractive brushed metal lower section and a full-width display to provide you with a good-looking and functional package. On the front panel display, you'll find a large power button, a dial for input selection, and the master volume knob. A row of discrete physical buttons below the display provides easy access to tuning, mode selection, and several other key features you'll want quick access to when you are using the AV receiver.
Speaker settings
Connections for speakers, external devices, and various other options are all located on the back panel. Spring clip speaker terminals are one of the first cost-cutting choices you'll notice. Higher-end AV receivers often use screw-type clamps, frequently featuring rare earth mineral connectors. Here, you'll find nothing so elegant. Spring clip connections function perfectly well for the average person, but they are less secure and have lower performance capabilities than banana plugs or screw-type fasteners.
Speaker terminals are arranged to provide an easy reference for connecting either a 5.1.2 or 7.1-channel system. The rear surround speakers can be bi-amped so you can send multiple amplified signals to specific speaker settings to add depth and frequency response to your theater system. This is a great way to add ceiling speakers and rear surrounds.
Other Appearance Factors
The rear panel also houses HDMI inputs, antenna connections, and an enhanced audio return channel to seamlessly connect your compatible television. Overall, the appearance of the Sony STR-DH790 is above-average. The brushed metal face and turned-finish knobs offer a touch of class to an otherwise utilitarian design.
In our opinion, the grouping and labeling of the speakers are ideal for ease of setup because all connections are in one area. The design makes it simple to bundle cables together for a neat and tidy setup. Labeling of ports is simple and readily understandable even to a novice.
The display is clear and bright, though the characters are rather small. In a larger room, it might be difficult for most people to read the text from across the space.
Pros
Small footprint blends in with furnishings in smaller rooms
Excellent range of configuration options
Easy 4k 120 Hz pass-through for gaming
Cons
Setup wizard leaves plenty to be desired
No USB input means you can only access files on WiFi or Bluetooth devices
Audio Features
An audio video receiver is primarily used for enhancing the sound from music, movies, and video games, so that's where we will begin looking at the unique features of the Sony STR-DH790. This receiver offers lots of options, but also lacks a few common functions common on today's best AV receivers. (>>> Find the  current price on Bhphotovideo)
Power and Range
The Sony STR-DH790 is rated to provide a full 90 watts per-channel on all seven powered channels. The wattage makes this one of the more powerful options and ensures you'll get the best sound quality from your speakers. Each channel is engineered to operate with an impedance ranging from six ohms to 16 ohms, giving you a wide variety of speaker options to get the best sound.
The receiver covers all of he sound frequencies the human ear can hear, and even a few that we can't. It'll send frequencies to your speakers from 20 Hertz to 20,000 Hertz. Sophisticated sound formats give you control over which speakers are receiving certain channels of sound.
Sound Processing Features
Today's media features dozens of different formats designed to capture the true sound and feel of music whether it is part of the soundtrack from the latest summer blockbuster, the dropping beat of the latest number-one hit, or the combination of voice, sound effects, and music that make the latest console game come to life. The Sony STR-DH790 offers consumers some of the most current formats that allow audio to sound incredibly realistic.
Dolby surround sound is one of the most widely used processing formats today and offers various options to get the most from audio sources. The Sony STR-DH790 features Dolby Digital, Dolby DIgital+, and Dolby TrueHD formats along with Dolby Atmos which further enhances the way movies and music sound.
S Force Pro Front Surround and Processing Modes
A unique feature this Sony receiver offers is the S Force Pro front surround system. This lets you create an artificial surround sound experience using only two front speakers. We like this feature because it fits with the likely buyer's budget and needs. You can start with a new receiver and used speakers to fill out a full surround system or purchase a pair of high-quality new stereo speakers suited for full range frequencies and enjoy excellent sound quality.
Object-based Audio Formats
The STR-DH790 processes DTS:X, HD, HDMA, ES, and 96/24 object-based audio signal information codecs. The average consumer will find these formats to offer crystal clear and surprisingly lifelike audio.
Tuning Capabilities
An advantage that AV receivers offer is the ability to tune the system to suit your specific listening environment. Al receivers carry some form of built-in tuning. The Sony STR-DH79- uses one of the least sophisticated varieties of the program, Digital Cinema Auto Calibration (DCAC) six-band EQ. It uses a mono calibration microphone to receive specific tones from each speaker to adjust for distance, height, and speaker size.
Many people found the base version of the tuning software to be troublesome and limiting without some specific steps being taken. For example, many people found that by adjusting their main listening area several feet from where they will actually listen improved the automatic tuning results. Others had to tweak settings to get good sound from the Sony STR-Dh790 with DCAC.
Many people found that the auto EQ curves seek to reduce bass too much which impacts the sound of midrange speaker levels. This is a common complaint of devices using the Sony auto calibration program.
Features the STR-DH790 Lacks
Most receivers in this price range are going to lack a few features that higher-priced options have, and this one is no exception. Some of these features are merely nice to have, but none of them are completely deal breakers.
The first thing that we noticed that was lacking from the Sony STR-DH790 is processing for Dolby Atmos Height Virtualization. This process allows receivers to artificially elevate the sound of your speakers to replicate the effect having ceiling mounted speakers would provide.
There are numerous DTS HD master audio processes available that this receiver does not include. This lack could be an issue for some people who are looking for 3D theater sound, but won't be as big of a deal to the average home theater enthusiast.
The more advanced stereo microphone, 16-band EQ system of Sony's Digital Cinema Auto Calibration could make this receiver more user-friendly and also more valuable for people seeking fine tuning capabilities.
Video Capabilities
The STR-DH790 is 4k-ready and capable of processing video signals up to 60 Hz for clear, stutter-free images. There are several important features that this receiver offers, while some common features are lacking.
HDMI Inputs
The primary way you'll send signals to the receiver is through the HDMI inputs. The STR-DH790 from Sony offers four HDMI inputs and one HDMI output. You'll use these for connecting gaming consoles, Blu-Ray players, and other media sources. All of the inputs are 4k-capable at 60 Hz with one HDMI cable being designated for 4k/120 hz.
eARC-Ready
The STR-DH790 features a dedicated electronic Audio Return Channel (eARC) HDMI input that streamlines connecting your compatible television to allow audio signals to run both to and from the television while requiring only a single video signal cable.
The receiver also has one optical digital audio cable for connecting non-eARC televisions to provide an audio signal interface.
Connectivity Options
One of the main reasons people often look at receivers like this one from Sony is because they are upgrading from old, outdated technology. The STR-DH790 offers some connectivity and there are options for working around certain lacking features.
Bluetooth Sound Options
Built-in Bluetooth means you'll be able to connect your device wirelessly to stream your favorite music. Sony sound engineers developed this receiver with an audio enhancer to get the most out of compressed file formats. Bluetooth makes it easy to get multi channel stereo sound from MP3 players. You can also access online FM tuner apps that will stream thousands of radio stations to your surround sound system.
Connectivity that is Lacking
This receiver only provides Bluetooth and does not have built-in access to things like Chromecast, Pandora, or other streaming services that are usually handled through an integrated app. For some people who are looking for the ultimate in connected home theater systems, this is a draw-back. For most people, simply using the Bluetooth feature.
There is also a lack of connectivity to smart home systems like Amazon Alexa, Google Assistant, or Apple AirPlay2. Most Apple device users who have gotten used to asking Siri for everything might find this inconvenient and access to voice controls is definitely a lacking feature.
Video Features the STR-DH790 Lacks
There are a few video processing options that the STR-DH790 lacks you will want to know about. A big one is the lack of gaming functions like variable frame rate technology and the ability to passthrough speeds of 120 Hz video signal. This will leave many of the latest console gamers in the lurch, however the best AV receiver for gaming is going to be significantly more expensive than this Sony receiver.
Living With the Sony STR-DH790
All of the features, functions, and options don't count for anything if the receiver isn't worth having. The only way to properly judge any audio equipment is to hear it for yourself since we all hear things differently. We will discuss our opinions and the opinions we've learned about this affordable Sony receiver.
Setup
There are some big pluses and minuses when it comes to setting up your home theater with the DCAC system. One of the things that we really like about the STR-DH790 is the simplicity of the basic user menu on setup. Things are clearly labeled, easy to find, and sensible.
For the average listener, it'll take about 20 minutes to set up your theater using the calibration microphone. Where many people have gotten frustrated with the DCAC is when attempting to fine-tune frequencies for a particular setup. Here, the lack of an EQ surround mixing panel makes adjustments to sound match the speakers very difficult. Check relevant comparison: Denon AVR-X1500H vs Sony STR-DH790
Setting up a variety of stereo and multispeaker configurations is fairly straight-forward. Everything from a basic 2.1 system or a 5.1.2 system using the two overhead speakers as additional front channels to a full-blown 7.2-channel surround sound system with Dolby Digital Atmos creating an immersive sound environment is possible.
Sony sound is powerful and direct without being edgy. This receiver offers enough power to its speaker channels to ensure you'll get plenty of volume for most spaces. Sony components are also known for longevity, and there are few reports of people experiencing issues with this receiver down the line.
Conclusion
We like to recommend the Sony StR-DH790 to people who are looking for a straight forward receiver that will work great and provide the main features you'll want to take advantage of the best of current movies, music, and video games (>>> Find the  current price on Bhphotovideo).
Overall, the features and functions work well to offer lots of performance and range of tuneability without being cluttered and over-demanding. The 4k resolution passthrough capability means this is an excellent budget choice for outfitting your new 4k television. The range of audio and video features included in this model make it a great choice for people who enjoy watching movies in all their cinematic glory from the comfort of their home.
Where this receiver comes up a bit short is on the gaming side of things. Gamers demand high-performance processing speeds and ultra high resolution from their receivers, and the lack of a few technologies that enhance gaming makes this a poor choice strictly for faced-paced action gamers.
The Sony sound also isn't to everyone's liking. We found that pairing this with high-quality speakers produced a significant improvement in overall sound, showing that this receiver has the potential to be excellent, but it sounded a little forced and harsh on budget speakers.
A lack of preamp outputs and built-in features for streaming music and controlling options with voice commands makes the entire package seem a little dated, but the mid-range price point continues to make this one a winner for the average person looking to improve their audio setup at home.
REFERENCES AND FURTHER READING: