Choosing an A/V receiver takes time. You want the component to come with enough channels, power, and connections. The video features are also something else to look at. Your A/V receiver is responsible for powering your entertainment setup and you want all of your connected components to function flawlessly.
You don't have to blow your budget on a quality A/V receiver. The Denon AVR-X1500H and the Sony STR-DH790 are both affordable models with plenty of features. Both are 7.2 channel receivers with similar audio technology. The Sony model does have a little more power per channel, but the Denon receiver boasts more connectivity and inputs (>>> Check on Amazon). It also comes at a slightly higher price point.
Still undecided? Here's a more detailed look at what you get with each A/V receiver.
Denon AVR-X1500H vs Sony STR-DH790 Side by Side:
| | Denon AVR-X1500H | Sony STR-DH790 |
| --- | --- | --- |
| | | |
| Video | 4K/60Hz | 4K/60Hz |
| Amplifier | 7.2 Channel (145W per channel) | 7.2 Channel (145W per channel) |
| Sound | 5.1.2 Dolby Atmos | Dolby Atmos |
| Wi-Fi | Yes | No |
| Bluetooth | Yes | Yes |
| Price | Find on Amazon | Find on Amazon |
While there's a lot to recommend either A/V receiver, one model may be a better choice for your entertainment needs.
Audio Quality
You do get a little more power with the DH790. It has 90 watts, compared to the X1500H with 80 watts. Both models also come with Dolby Atmos technology for crisp, clear audio. The receivers also support DTS:X.
Where the X1500H comes out ahead is with its amplifier. It is a little more powerful than the Sony model. In small and mid-sized spaces it probably doesn't make a difference, but it may if you have the receiver installed in a larger area.
Better Audio Quality: Sony STR-DH790
Video Quality
4K pass-throughs are standard on the projectors ensuring they are compatible with your 4K TV. Dolby Vision enhances images, along with HDR10 support. Colors are bright and accurate, and details are clearly defined. You also get 3D support with either component.
The X1500H does come with an automatic low latency mode, unlike the Sony receiver. It doesn't drop input speeds to gamers' preferences, but it does ensure live sports and action movies play smoothly frame-by-frame.
Better Video Quality: Denon AVR-X1500H
Connectivity
The X1500H comes with more connectivity. You get 6 HDMI inputs, while the DH790 has 4. You get 1 HDMI output with either model you choose, along with a single USB port. If audio line inputs are important, the DH790 has 4. The Denon receiver has 2, but it does have one more optical input.
Where the X1500H shines is with its built-in Wi-Fi. It's also compatible with Amazon Alexa, along with Airplay 2 and most mobile Apple devices. You're not limited to only Bluetooth with the Denon A/V receiver.
Better Connectivity: Denon AVR-X1500H
Installation and Ease of Use
Like most A/V receivers, these are bulky components. You may need to measure your shelving before bringing one home. Both models are relatively easy to set up. The connection panels are labeled, so you know where to plug each component in.
The X1500H is easier to use, and switch devices in and out. Amazon Alexa gives you voice control for easy operation, even when you are in a different room. The front USB input is convenient, and you also have an HDMI port. You won't have to slide the receiver out to plug a device in.
Better Installation and Ease of Use: Denon AVR-X1500H
---
Denon AVR-X1500H Review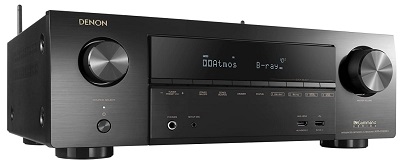 The Denon AVR-X1500H is a 7.2 channel A/V receiver with 80W per channel and capable of assigning bi-amp. Dolby Atmos, up to a 5.1.2 configuration, produces exceptional audio. It also comes with Dolby Digital EX, along with DTS technology. Music and dialogue are crisp and clear, regardless of the volume.
Video quality is just as important as audio, and the X1500H delivers. Dolby Vision and HDR10 technology produce stunning onscreen images. The receiver is also 3D-ready. Just connect your external device and get ready to see images appear to jump off of the screen.
Regardless of which Wi-Fi radio station is your favorite, you can stream it through the receiver. It is not compatible with digital radio stations, but you can stream Pandora, Deezer, Napster, Spotify, and others. You can also listen to Sirius XM internet radio.
Setting the receiver up is a breeze, even if it's your first time using the component. It comes with the manufacturer's award winning online assistant. It will walk you through the installation and set up steps, even how to connect your 4K TV.
Pros
4K passthrough
Dolby Atmos Sound and Vision
3D compatible
Front panel connections
Wi-Fi enabled
Cons
The receiver does not come with an enhanced audio return channel (eARC) function
---

Some consumers may look at the STR-DH790 as a basic A/V receiver. It is lacking some connectivity, but it has plenty of strengths. You get 7.2 channels with 90W of power, you won't have a problem filling a room with clear audio.
Auto calibration optimizes audio, along with Dolby Atmos and DTS:X technology. You get multi-dimensional sound without annoying dead zones. If you want to stream music, you have a USB port on the rear control panel.
Video is just as clear as audio. The receiver is 3D compatible and comes with a 4K passthrough. Dolby Vision enhances image quality, along with HDR10 and Hybrid Log Gamma technology. You get a bright, dynamic picture whether it's movies or live TV.
Pros
Bluetooth connectivity
4K compatible
3D ready
Powerful audio
Dynamic images
Cons
The A/V receiver is not Wi-Fi enabled which can limit content streaming abilities
---
Conclusion
If you are looking for budget-friendly A/V receivers, the Denon AVR-X1500H and Sony STR-DH790 are both great options. Audio capabilities are similar, along with the video. You do get a more powerful sound with the AVR-X1500H, along with more connectivity (>>> Find on Amazon).
However, the Sony receiver comes with eARC technology, along with a lower price point. If streaming online music stations isn't a priority and budget is, give the DH790 another look.